Kandal province residents whose homes fell into the Bassac river said Thursday that they're sleeping in plastic tents while they wait for the government to respond to their concerns over the collapsing riverbank and nearby sand dredging.

Four houses were completely destroyed when the Bassac riverbank collapsed in Raka Khpos commune's Koh Kor village on February 22, and another six homes are perched on the new edge of the river, villagers told VOD.

Muon Laisiem said her house fell completely into the river, and she's now living in a tent on the land next to where her house previously stood. When authorities came to talk to affected families on Sunday, Laisiem said she asked them to provide some form of housing for the sake of children in the village.

"Our children are suffering without shelter, especially small children," the mother said.

She said three companies, whose licenses to dredge were shown to villagers by authorities and company staff, had been dredging sand from the river near her house throughout the last year, but she did not recall the companies' names.

Kandal provincial governor Kong Sophorn told VOD that the three companies operating on the waterway are not dredging but "restoring the river," and they were licensed to do so by the Mines and Energy Ministry.

Sophorn blamed the residents for choosing to live along the river, denying that the riverbank collapse was related to sand dredging.

But a report published in the journal Nature Sustainability last month says that dredging, combined with hydropower dams that capture sediment, can lead to more riverbank collapse. It notes that sand is being extracted from the Mekong River and its tributaries like the Bassac at a rate far faster than it moves naturally down the river system, which makes banks unstable and increases the likelihood of collapse.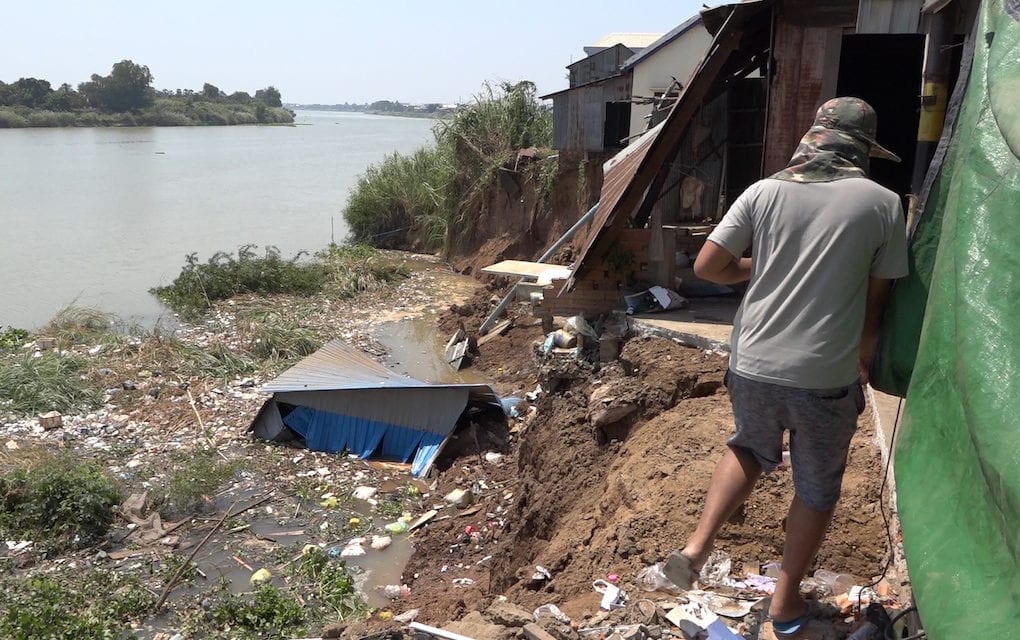 Sophorn said authorities collected names of the people who lost their houses in order to help, and the Cambodian Red Cross provided some equipment, rice and money to the affected 10 families.

"We lack the capacity to buy land or buy a house for them," Sophorn said. "We don't have such capacity, but we won't abandon them. We will try to help them step by step."

Yom Sokha, another Koh Kor resident who was displaced by the riverbank collapse, said camping near the unstable land was dangerous, but the authorities had not provided any other option and the residents don't have enough money to buy land or a new house.

"We asked them to find a solution as soon as possible because our children are suffering," Sokha said.​

Villagers told VOD that they had previously raised concerns about dredging after the banks behind their homes had partially collapsed, but the government failed to respond.
In June 2017, some 200 people protested in the same village in Takhmao City — where they said about 10 homes had collapsed into the river in the last year — in order to demand an end to sand dredging, the Phnom Penh Post reported at the time.

Two months later, an activist from environmental group Mother Nature was arrested after witnessing a negotiation between Koh Kor villagers and a company that had been licensed to dredge near the village. Activist Hun Vannak was accused of inciting villagers to protest against sand dredging in their community and flying a drone to film a demonstration, the Cambodia Daily reported.

The next year, five stupas at a Buddhist pagoda in Phnom Penh's Chbar Ampov district were damaged due to a riverbank collapse.

Samrith Thach this week said that he and other displaced villagers will only suffer more if the government doesn't help resolve their problem soon, because they don't have toilets or running water on the land near where their homes previously stood. He said he was anxious to leave the site because he was afraid the riverbank might deteriorate further.

"I am worried of another collapse but I have no option. I have to stay temporarily," he said.
(Translated and edited from the original article on VOD Khmer)