Plunging fish exports this year point to the widespread disappearance of fish in the Tonle Sap and Mekong rivers even as fish farms expand to meet domestic demand, fishers and officials said on Friday.
Fish exports fell 84 percent in the first nine months this year compared to the same period a year earlier, according to Agriculture Ministry figures.
Fresh fish exports decreased from 5,502 tons to 1,498 tons, while processed fish products fell from about 5,000 tons to 232 tons, said Srey Vuthy, ministry spokesperson.
The goal for fresh fish exports this year had been 15,000 tons, Vuthy added. Vietnam and Thailand are the main fish export markets for Cambodia, he said.
Long Sochet, a 62-year-old fishers association chief living along the Tonle Sap in Pursat province, said the fish catch in his area was down about 70 percent compared to last year.
"The water level has become much more unstable," Sochet said. "The fishermen are struggling more with their living."
Small fish — used for making prahok, or fermented fish paste — could be exported to Thailand and Vietnam, while small shrimp could be sold to China, he said. Otherwise, the best fish caught during the dry season from March to May were most apt for export, he said.
But the Tonle Sap had been several meters lower than usual this year, Sochet said — a phenomenon observers have argued is caused by dams along the Mekong river, especially in China and Laos, restricting water flows.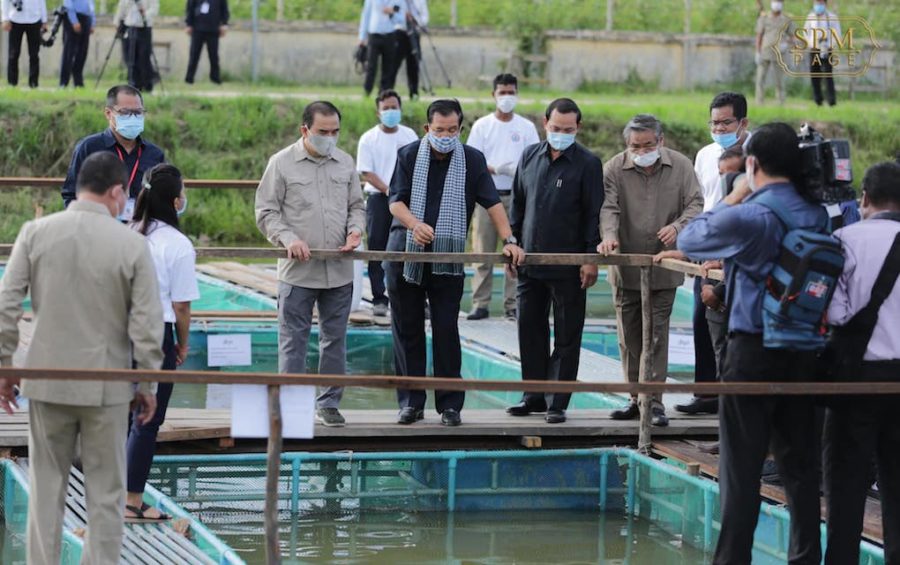 Phorn Rany, who has fish farms in Pursat and Prey Veng provinces, said farmed fish were not wanted in export markets.
"This is the natural problem. We see that river fish are disappearing along with fish in the fields because we use too much chemical fertilizers," Rany said. "So natural [field] fish are almost gone and river fish decline from year to year."
A fish merchant in Pursat's Bakan district, Bun Lyhour, said the supply of fish had plunged this year. Last year, he bought 2 to 6 tons from fishers every day, but this year it was between 100 kg and 1 ton. The supply had been on a steady decline, but this year was the worst, he said.
"It's really very different," Lyhour told VOD. "This year is far different."
Agriculture Minister Veng Sakhon said the decline in fish exports won't affect the economy because quantities were already small, but it was still a worrying trend.
"The important reason, as we know, is that the Tonle Sap is lower than before, because there is the problem of less water flowing from the Mekong," Sakhon said. "The amount of natural fish is less than before. So [exports] decline too, because buyers prefer natural fish."
Climate change was contributing to the decline of fish stocks — especially less rainfall in the upper Mekong, he said, denying that dams were the problem. The government was working to crack down on illegal fishing and the clearing of flooded forests, he added.
"It's really a concern," Sakhon said. "But that's why the government … is pushing people to do fish farming to fulfill the demand."