Prek Russei commune, Kandal
Orm Youreth recalls her past, around two decades ago, when she would have to ride a bicycle to the market in the middle of the night while she was pregnant just to buy flowers and fish to sell and support herself and her husband.
She stops talking to reporters, her eyes starting to water: "I don't want to talk. When I talk, my tears come out." Youreth was married twice, both times to abusive partners who would drink alcohol and beat her, and she explains that recalling those past experiences is painful.
"My life was full of tears every day, but I had to be patient for my child," she says. Cambodian women have so much patience, she reflects from her own experience with domestic violence.
After divorcing her second husband last year, Youreth says she's now pursuing what she wants: to change her community.
Youreth is running for chief of Takhmao city's Prek Russei commune in hopes of dismantling the discrimination she sees against women and lower-income families in the commune.
As she's gotten more involved in volunteering in her community, she noticed all the commune officials were men. Youreth doesn't think that's a coincidence, believing that local leaders have been unsupportive of women, discouraging them from taking on leadership positions of their own.
"They have the perspective that women should never be in a higher position than men, and there's no way women could do politics better than men, and whatever the women's position is, they still have to cook for the husband and children," she said.
On the contrary, Youreth thinks women would be able to resolve some issues even better than men, especially domestic violence cases.
"I want our women to be brave and stand up for ourselves both in personal issues and political issues," she said.
A Welcoming Environment
When asked about what she would like to do for Prek Russei commune, Youreth mentions constructing concrete roads and clearing the drainage systems, but she also talks about ideals she would like to instill in the local government.
The first would be transparency. Youreth recalls a big flood that hit the commune in the 1990s, and how officials said they would help poor families.
"Instead, the ones who lived in the big houses got help, and I got nothing, not even a can of rice," she says, referencing the tin can that market vendors use to measure out rice for sale.
Youreth is also planning to create a welcoming environment in the commune administration office, so that people feel comfortable to raise their concerns and volunteer.
She thinks a friendlier environment in the commune office would help those who are being abused by their partner report the violence, as they would have an empathic person in the office.
"An abusive husband would always pressure the wife till they're in so much pain and take a pill to kill themselves," she says. Youreth felt having more female commune officers would help relieve that pressure.
"We would understand the situation and be their consultant because we're women just like them," she says.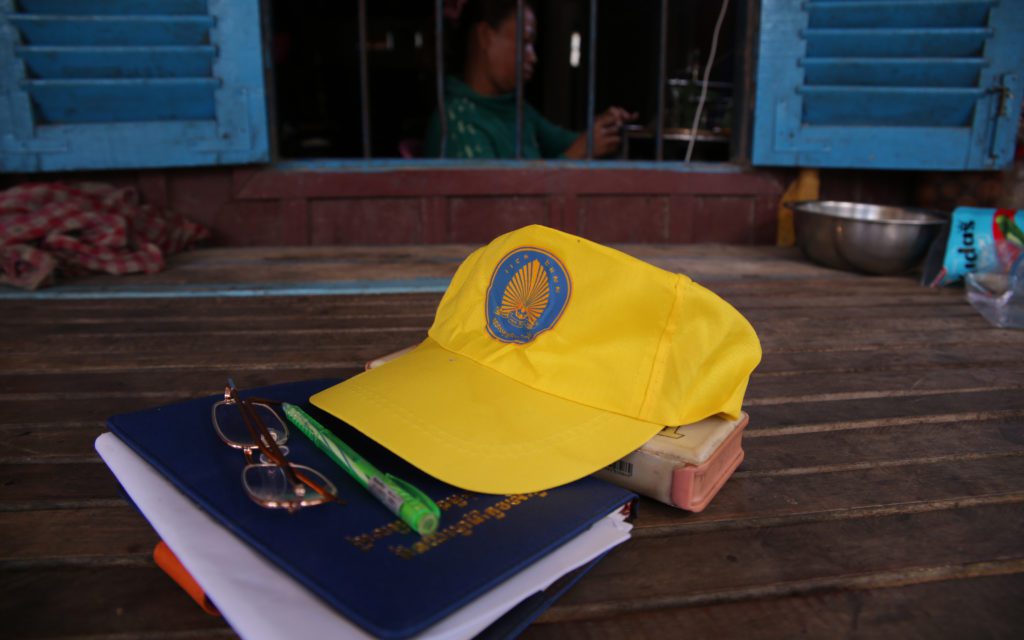 Party Culture
Youreth expresses frustration with the way officials treat people in her commune. Before beginning her campaign, Youreth did volunteer work in the commune, mainly cleaning the stormwater drains and assisting with construction. But when she came into the commune building, officials called her a cleaner and laughed at her.
Youreth's experience during the flood in the 1990s shaped her to loath bribery and discrimination, and she felt that the Funcinpec Party most aligned with her beliefs.
"The Funcinpec Party is impartial, as I see citizens from the CPP or whatever party, and Funcinpec recognizes them as siblings," she says. "[They] never discriminate against the poor. That's why I love this party and won't change my mind."
Cheng Chhay, the current Prek Russei commune chief and ruling CPP candidate, disagrees with Youreth's characterization of discrimination in the commune administration.
"No, that is not true. In fact, in my commune the first deputy commune chief is a woman," he says.
He adds that domestic violence issues in his commune are mostly settled down now, as he and his colleagues tried their best to help out victims of domestic abuse.
His focus, instead, is to construct road drainage in all the areas where it hasn't been done yet. Chhay says the CPP won four out of seven elected positions in the commune last time, and he is confident they will be victorious again. "Now I expect to win five out of seven positions with a 70% chance of winning this upcoming commune chief election."
When asked about her own potential, Youreth feels it is a 50-50 chance that she can win the commune. She notes that many residents don't support her openly, but they admire her hard work for the community.
"Most of the villagers here, when they meet me they tell me not to worry, they are rooting for me but they can't reveal it because of their family status and they're sorry for that," she says.
"The villagers said they would do it for me secretly," she continues, and she's grateful for that.
A win for Youreth would not just be for the leadership power; she wants to dismantle perceptions of what women can achieve. She takes exception to a saying she hears old men repeat: "Women can't even spin around their own kitchen," meaning they can't manage tasks on their own and need men to guide them.
"For me I must prove that it's wrong. I must manage to spin around the kitchen, and fight for my own right," she says.
If she doesn't win, she would be content to be a consultant under the Funcinpec party in the commune, stressing the importance of having multiple parties represented.
She says she lives in a rented room, taking odd jobs of sewing, construction work and sometimes as a motorbike taxi driver just to get an income. But Youreth revels in the freedom she now has.
"I'm content since there's no person to pressure me so I'm free to do politics. Now I'm free all the way," she says, with a big smile on her face.