At Phnom Penh's O'Russei Market on Tuesday, Chhim Savoeurn and her tuk-tuk driver used clear packing tape to affix a meter-high package stacked with household items to the roof of the three-wheeled vehicle.
Savoeurn had two more $70 palong gift baskets in the backseat to offer to her ancestors via Buddhist monks who she says will visit and bless her home in Takeo province this week for the Pchum Ben public holiday, which starts on Wednesday.
"This Pchum Ben, it's the third anniversary of my grandmother's death," said Savoeurn, a 40-year-old housewife. "I saved more than $2,000 to budget for such a big anniversary."
Yim Sokhen, the salesman who put the bow on top of Savoeurn's packages containing everything from pillows and blankets to metal cooking pots and a stove burner, said despite the Covid-19 pandemic and subsequent economic downturn his sales had slightly increased compared to last year.
"There may be more people doing good deeds," said Sokhen, 65.
But Sokhen's wife, Soeur Neary, 56, who collected payment from Savoeurn, later told reporters that their business had suffered from the previous year due to the coronavirus-induced slowdown.
"I used to have a customer who bought 12 packages," Neary quipped, giggling as Savoeurn, the customer's driver and Neary's daughter-in-law taped the third package down sideways to the tuk-tuk's roof.
Still, she added that the couple had sold 20 palong units by around noon on Tuesday.
In celebrating the Pchum Ben festival, Cambodian Buddhists traditionally buy households items — mostly candles, incense sticks, tea, sugar and packaged milk — individually or as prepackaged, plastic-wrapped sets, as well as prepared food and drinks, to offer to monks in honor of their deceased family members, as a means to earn merit and please their dead ancestors.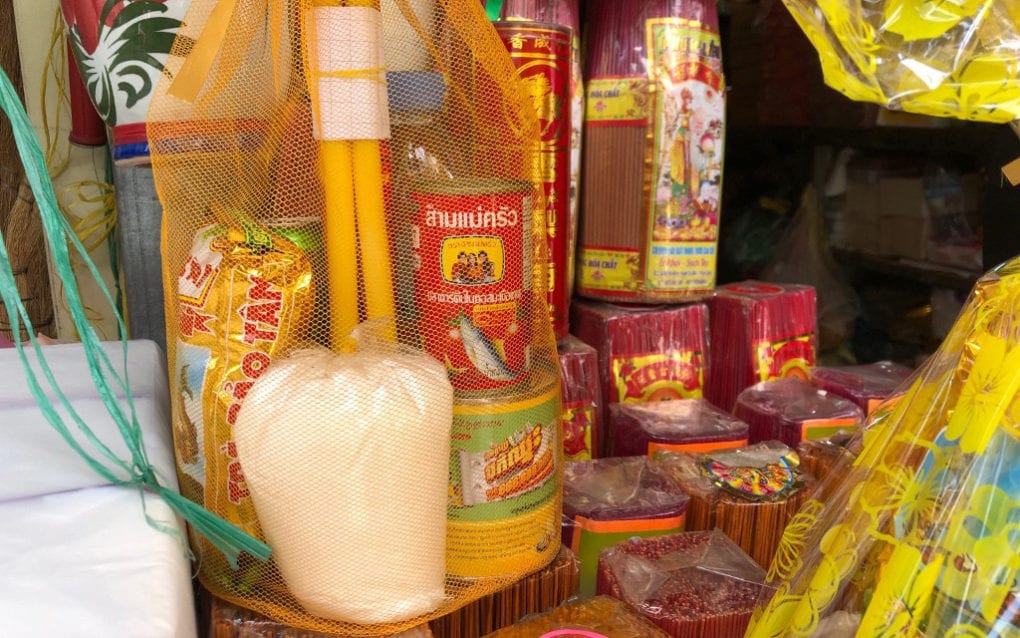 While a few sellers at O'Russei Market said business was good during the busy holiday season, some said customers likely had less cash to spend and were cutting back on pagoda-offering purchases this year.
Another seller with a smaller operation, Ly Lim Heng, 40, said he started hawking Pchum Ben wares on the first day of the religious festival, September 3, but this year sales were not as steady as the previous year.
"Last year, people had a lot of money. This year, they have less money, [so] they can afford less," Lim Heng said.
Sitting down in front of his stall and playing a card game on his phone, the man said he would close up shop from Wednesday to Friday while visiting relatives in his home province of Kampong Cham.
A potential customer then pulled up on a motorbike and inquired about beeswax candles. After Lim Heng handed him a bag of yellow candles, the man took a look and returned the bag, deciding they were not the kind he was after.
Another customer was in the market for a gift box filled with miscellaneous offerings, such as canned milk and a piece of orange cloth for monks. This man attempted to negotiate the price of a golden-colored box with ornate gold ribbon around the edges, but Lim Heng said it would cost $8. A similar box with less intricate edging ribbon could be bought for $5.
The customer selected the $5 box, along with a bundle of incense sticks, pack of yellow candles and small gift basket. The man said he planned to spend $50 on offerings this year and an additional $25 in cash to donate to monks at two pagodas in Siem Reap province.
Across the street from the market, Mom Chanthy, 34, and her 83-year-old grandmother Bun Sam Art were selling large palong gift packages at their shop for $55 and $75, with the latter including more than 40 items.
Sam Art said she opened the business in 1979, following the fall of the Khmer Rouge regime.
According to Chanthy, sales this year were normal despite the pandemic because they had regular customers who returned to them each year.
In fact, she said Pchum Ben sales had increased this year compared to last year; perhaps, she speculated, because there were fewer street sellers stocking Pchum Ben offerings, possibly out of concern that they would have fewer customers and end up with surplus stock.
The threat of Covid-19 didn't seem to deter shoppers, Chanthy added, noting that fewer people were coming in with masks, compared to earlier this year when both she and her customers were covering their faces.
Back at the market, her competitor Sokhen, the other palong seller, said some among the Buddhist faithful preferred to buy pre-wrapped packages over individual items to offer monks and their ancestors because it was easier for them.
Plus, he knew what needed to go in the plastic-wrapped gift baskets.
"Those things [inside] are items we use for daily living," he said.