UPDATED — At 47 years old, Chhun Sovath has worked in garment factories for more than a decade. The steady income — less than $200 per month — allowed her to take a $6,000 microfinance loan in order to pay for a house in Takeo province. But after her Phnom Penh factory suspended operations until at least the end of June, Sovath is now concerned about her debt.
With the Covid-19 pandemic and global economic downturn contributing to more than 100 factories halting production this year, Sovath and other suspended garment workers are struggling to figure out how they will make their loan payments.
"We want Amret to suspend our payments because we aren't being paid properly by the factory anymore," she says, referring to Amret Microfinance Institution, one of Cambodia's largest MFIs by loan portfolio size.
Sovath says she may have to sell her family's rice farm, further reducing her ability to repay her loan.
For indebted garment workers earning less due to coronavirus-related work suspensions, debts to MFIs are a more immediate threat than the virus, leading some to consider selling assets like land or other collateral before they're repossessed.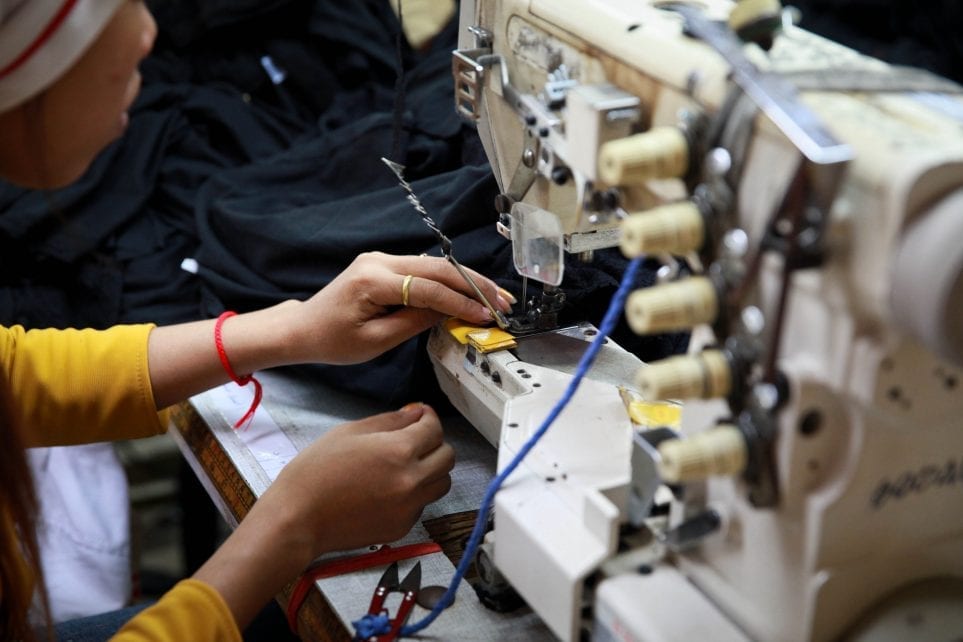 Though Prime Minister Hun Sen has asked lenders to give borrowers a break and allow payment delays during the economic slowdown — and the financial sector has voiced support for the move — specific guidelines have yet to emerge and lenders have no obligation to ease debtors' hardships.
Many of workers' debt-related struggles are not new.
According to a 2019 report from two human rights organizations, debt owed to MFIs in Cambodia has resulted in "serious and systematic human rights abuses," poses a "significant threat" to indebted families' land holdings, and has also been linked to coerced land sales, child labor, debt-driven migration and food insecurity.
While industry leaders and officials have dismissed the report's findings or claimed they were overstated, report authors Licadho and Sahmakum Teang Tnaut (STT) conclude that rights abuses "form a key component of the microfinance business model in Cambodia."
Micro-lending was originally intended to provide small amounts of credit to low-income borrowers, despite the risk for lenders, as a means of alleviating poverty. Today, it has ballooned into a multibillion-dollar, profit-making industry.
In Cambodia, more than 2.2 million borrowers held some $7.3 billion in microfinance debt in the fourth quarter of 2019, according to the Cambodia Microfinance Association (CMA).
Licadho and STT note that while Cambodia's MFI sector ostensibly looks healthy — with a non-performing loan rate of just 1.8 percent at the end of 2018 — this is achieved in part by coerced sales of assets that allow borrowers to make loan payments on time.
Microloan growth has outpaced income growth in the country. The penetration rate of MFI loans in some provinces exceeds 80 percent of households, and many borrowers take additional formal or informal loans to pay back other debts, the 2019 report says.
If one worker gets infected, the rest of us will too, so we need the government to intervene.

Chhun Sovath, suspended garment worker
Meanwhile, in Cambodia, only the garment and footwear sector has a set minimum wage, which rose incrementally from $80 per month in 2013 to $190 per month this year.
Garment workers held nearly 1 in 5 microfinance loans in the country as of the end of last year, a CMA representative says.
Sovath, the out-of-work garment worker, estimates that the vast majority of her colleagues at Canteran Apparel factory owe money to MFIs, but notes that they only risked borrowing because their factory jobs seemed stable. At one point, some had been able to borrow small sums from one another to cope with cut hours and pay due to slowing production, but this proved untenable once more workers lost their jobs.
Sovath is desperately worried that she will soon have no money, no food and no home, but her and her colleagues also fear contracting the virus on the job.
"We want the government to temporarily shut down [the factories] because the risk of infection is growing. If one worker gets infected, the rest of us will too, so we need the government to intervene and prevent the microfinance lenders from collecting our repayments," she says.
'I Try My Best to Find Money'
With more than 800,000 Cambodians, most of whom are women, employed in some 1,500 garment factories nationwide, the prospect of mass unemployment poses a severe threat to hundreds of thousands of families' livelihoods and an industry that, in 2018, generated $10 billion in exports.
In early April, Labor Ministry spokesman Heng Sour said that 110 factories had made requests to the government to suspend operations with about 96,000 workers affected.
The garment and footwear sector has been an engine of growth in Cambodia, with industry exports accounting for more than two-thirds of the nation's total merchandise exports in 2018, according to a 2019 World Bank report.
While the government has restricted travel and ordered the nationwide closure of schools, museums, bars, cinemas, gyms, casinos, massage parlors and tourist access to the Royal Palace in an effort to limit the spread of Covid-19, Prime Minister Hun Sen has instructed factories to stay open. While canceling Khmer New Year public holidays this week, he claimed that citizens were "safest" at work.
But, earlier this year, the premier also proposed that lending institutions offer borrowers experiencing work suspensions a loan payment delay and reduced interest rates. The National Bank of Cambodia has expressed support for the idea, including offering "flexibility" to indebted workers affected by Covid-19, but the microfinance sector has yet to publicize clear restructuring options for those facing hardships.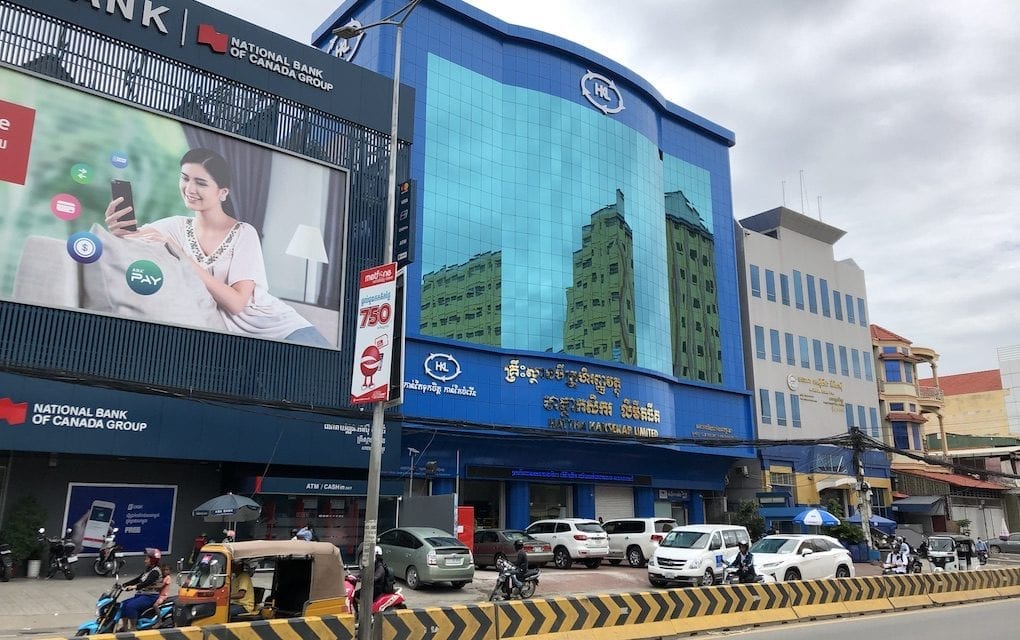 All the while, the nation's economy, like the rest of the world's, is expected to take a sharp downturn this year. Both the World Bank and the Asian Development Bank have downgraded Cambodia's GDP growth forecast to between 2.3 and 2.5 percent for 2020 as the pandemic threatens key industries. The World Bank even suggested that growth could fall as low as 1 percent in a worst-case scenario.
President of the Cambodian Labor Confederation Ath Thorn warns that while the government's efforts to procure raw materials from China have allowed some workers to go back to work, factories are losing orders as international retail demand drops and some brands fail to honor contracts and pay for ordered goods.
"Some workers are waiting for the factories to reopen, others are waiting for the government to help and many are trying to find other jobs," Thorn says. "But they can't travel abroad for work, there are no jobs in tourism, construction or the service industry, so what can they do?"
For many workers, there is little option but to leave their factories and go home.
That is exactly what Choeum Sokhon did in January as operations at the Dignity Knitter factory were suspended, line by line, over Covid-19 concerns. Production at the Kandal province factory ground to a complete halt on March 2, and Sokhon said she received half of her monthly salary of $190 until February but was refused a seniority payout. Sokhon notes that the longest serving staff were the first to be suspended.
We have no money to pay our debts and I think [the lender] will take our house.

Sony Dina, suspended garment worker
After a year of repayments, she has paid off $1,500 of the $6,000 loan she borrowed from Amret. But after losing her job in January this year, Sokhon is worried that it will all be for nothing.
"Many workers are moving back home without compensation because the factory owner has run away. Now, I work as a construction worker by day and a waiter by night," she says. However, she notes that competition for these jobs is fierce as tens of thousands of newly unemployed migrant laborers returned to Cambodia from Thailand in recent months.
Earning $7.50 a day from the construction job and $5 a night at the restaurant, Sokhon is safe for now but has no idea how long either job will last.
"I try my best to find money — I do everything to get [Amret] their money so they don't confiscate our things, but we have started selling our chickens, pigs and cows to pay the debt and we're worried about losing our land. If they confiscate it, we don't know where to go," she says, adding that her repayments amount to $180 per month and that she paid half while her sister covered the other $90.
Amret did not reply to a request for comment.
In 2017, Sony Dina, a 34-year-old employee at Wai Full Garments factory in Kandal province, borrowed $10,000 from Hattha Kaksekar Limited (HKL), one of Cambodia's largest MFIs, with outstanding loans of more than $1 billion as of January. Dina used her loan to open a family-operated restaurant, but was only able to do so by handing over the title deed to her home as collateral.
We won't collect from people with no income…. We're still working on restructuring possibilities.

Hout Ieng Tong, HKL president and CEO
Almost two years after taking the loan, her restaurant failed in late 2018 and she now relies on her husband's salary to cover their debt and basic needs. As a musician for hire at events, his earning capacity has also been hit by the Covid-19 pandemic.
"We're so stressed right now because the factory has closed and we don't know whether they will compensate us or not. We have no money to pay our debts and I think [the lender] will take our house," Dina says, adding that she's never missed a payment and has always cut her household expenditures to meet her obligations to HKL.
Having heard Hun Sen's request to MFIs in early March for delayed debt collection, Dina says she was hopeful and called HKL to find out whether they would follow the prime minister's proposal. But a loan officer told her that they would still collect both the principal debt and the interest.
However, Hout Ieng Tong, HKL's president and CEO, says indebted garment workers should not worry and that his company would not take borrowers' property or land during the Covid-19 pandemic.
"We won't collect from people with no income. So far we've had more than 1,000 borrowers call and we are analyzing the situation," he says. "We're still working on restructuring possibilities."
'The Whole Working Class'
In February, Hun Sen said that suspended garment workers would receive 60 percent of their $190 minimum monthly salaries. The original $114 promised consisted of $76 from employers and $38 from the government, but the garment industry association later said with a severed cash flow and operations stalled, factories wouldn't be able to keep paying suspended workers indefinitely.
Then, Hun Sen announced last week that all suspended workers would receive a flat $70 per month, with $40 coming from the government and $30 from employers.
Khun Tharo, program manager at labor rights group Central, says this will hurt workers' ability to pay debts, especially since the organization estimates about half of garment workers' income goes to loan payments.
Rising debt risk isn't even unique to the garment sector, Tharo says. "It's the whole working class."
Moeun Tola, Central's executive director, says government action is needed urgently.
"People just don't have the money. If the MFIs try to take the collateral of those affected by Covid-19, there will be big fights," Tola says.
"We meet with workers on a monthly basis. More than 90 percent of the ones we've spoken to have debts. Most of them have given their land titles to MFIs, so without government regulation on this Cambodia is facing a social crisis," he says.
Workers are also increasingly worried about the risk of infection at work, Tola adds.
With as many as 60 workers loaded into a single flatbed truck for their daily commute to and from a factory, as well as the close proximity in which garment workers spend much of the day, those who still have jobs must choose between risking their health or risking their livelihood.
A Bailout for Lenders?
In late March, the National Bank of Cambodia (NBC) released a circular that effectively requests all financial institutions — including MFIs — to allow debt restructuring for borrowers in priority sectors, such as tourism, construction, transportation and garment manufacturing. However, the notice leaves it to MFIs to identify which borrowers are facing real financial difficulties.
"The guide does not impose [what] financial institutions must do. The guidelines allow financial institutions to [work] according to their own policies and what happens to individual clients," explains Kea Borann, chairman of the Cambodia Microfinance Association (CMA) and CEO of microfinance lender AMK.
There are 2.24 million microfinance borrowers in Cambodia, including micro or small and medium enterprises, with an average loan balance of $3,265. But most rural loans are below $1,000, Borann says.
The chairman says he believes MFIs will take care of clients who have been impacted by Covid-19.
"We continue to watch the situation closely and CMA members agreed to provide loan restructuring options for clients who have experienced real impact to their income resulting from factory suspensions," he says.
When asked how many MFIs in the association would follow the NBC's guidelines, Borann says he thinks all would, but stresses that the guidelines are not orders to stop collecting debts, but an option for the MFIs.
People just don't have the money. If the MFIs try to take the collateral of those affected by Covid-19, there will be big fights.

Moeun Tola, Central executive director
Milford Bateman, author of Why Microfinance Doesn't Work? The Destructive Rise of Local Neoliberalism, sees the coronavirus pandemic as a potential tipping point for reform.
He estimates that Cambodia's microfinance sector is one of the most profitable industries in the country, worth approximately $10 billion.
"The ADB or the World Bank may facilitate some totemic intervention for ideological reasons, although in previous disasters the MFIs in Cambodia were bailed out after they'd seized land — it's possible that the Cambodian government will bail out the microfinance sector and demand change, but the MFI lobbyists are very powerful and will do all in their power to resist reform," he explains.
Hun Sen has said that the government has between $800 million and $2 billion earmarked to address the pandemic and is mulling over a $500 million to 600 million bailout of the financial sector, according to Chinese state press agency Xinhua. The Finance Ministry declined to comment on how this money would be spent.
Bateman suggests that more robust regulations are needed to bring MFIs to heel. The World Bank noted last year that Cambodia's microfinance sector has expanded rapidly, with both assets and credit growing at annualized rates of more than 40 percent since 2007.
This, Bateman notes, is despite the introduction of capped interest rates in 2017 and the 2016 Lending Guidelines memorandum signed by CMA members that says MFIs should not lend to borrowers who already have two active loans. According to Bateman, MFIs simply added new fees after they were forced to charge lower interest rates.
"I think you'll see foreign governments putting pressure on Hun Sen to bail out the MFIs, but it's possible that he might bail them out and then give shares to the Cambodian people, that could be one solution," muses Bateman.
He says he expects MFIs to merge if reforms are demanded in exchange for subsidies from the Cambodian government — and also notes that quiet land grabs are likely throughout the Covid-19 crisis.
"It should be clear by now that MFIs have not had the positive impact that was promised in 2003, when the EU-led microfinance projects began in Cambodia — all it's done is create indebted individuals," Bateman says.
"They need to be more pro-poor; the original concept has been lost."
Correction: The article originally misspelled Hout Ieng Tong's name.
Note: This report was produced with support from the Rosa Luxemburg Foundation under the financial support of the German Federal Ministry for Economic Cooperation and Development.