At age 48, Morm Chanthou says garment factories won't hire her anymore. She worked for 16 years at Dignity Knitter in Kandal province until the factory began failing to pay workers in December. It then laid off 1,000 employees.
In January, workers say they saw the company start to take equipment out of the factory despite owing the workers money. So on the 13th of that month, they started camping outside the factory all day and night on a rotation to prevent the factory owners from selling equipment, and leaving them in the lurch.
It's been 289 days since then. Chanthou still shows up at least once a week for her shift keeping watch on the factory, which closed earlier this year without paying out its workers.
"Our age is too old and our eyes can't see clearly enough," she says. "So nobody wants to hire us. We are old."
Sour Socheat, 40, faces similar difficulties. "We served in the garment sector for more than 20 years, but we've ended up with nothing in hand except the last hurtful memory," Socheat says.
"I'm like a floating plant just drifting around," she says. "I can't go forward or backward."
Dignity Knitter, along with the smaller Eco Base factory nearby, has been the site of the persistent protests all year. This week, the workers who are still keeping up the vigil, hoping for a payout, were mostly in their 40s, and said they were stuck with nowhere else to go.
Dignity Knitter and Eco Base are both chaired by the same person, Liu Wei, according to Commerce Ministry records. Seang Yout, a dispute resolution officer at union CCADWU, says workers at both factories — 1,223 employees in total — have faced the same problem of late payments since 2019, and formal closure in April.
The workers want to be paid severance, seniority, compensation for lack of sufficient termination notice, the year-end bonus and final salary. The total compensation would be $1.6 million, and the case is now at the Kandal Provincial Court, Yout says.
"We've already filed a motion to confiscate the [company's] property, and we're waiting for the process to sell it," he says.
CCADWU president Kong Atith says the workers camping outside Dignity and Eco Base are struggling, and he hopes employers are not discriminating against hiring some of the older workers.
"Everyone needs a job," Atith says. "They have to help all people to get a job. We can't opt against hiring anyone because they are old or disabled."
Ouk Ry, a temporary administrator for Eco Base, could not be reached for comment.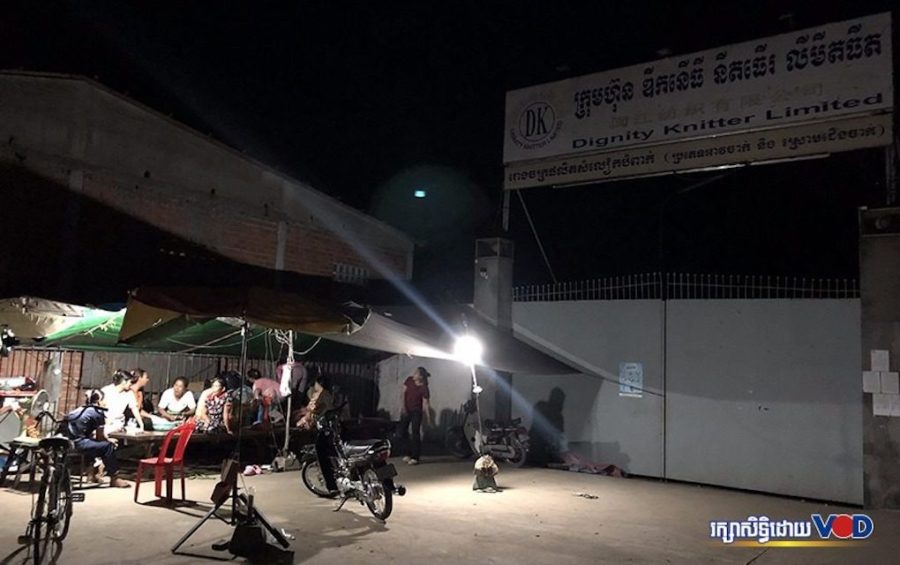 On Tuesday afternoon, about 30 gathered workers were mending and tailoring clothes as part-time work. They say they are doing whatever they can to make ends meet: small handicrafts, weeding, fixing brooms.
Khim Chaneng, 40, says keeping watch over Dignity has been tough. They sleep under a mere tarpaulin even when it rains, and on other days the road is dusty from heavy trucks driving back and forth.
"It's so long," Chaneng says. "As everyone knows, recently it's been raining so hard. It's very difficult."
After 10 months, it has become too hard for some. Heng Sreymao, 38 years old and five months pregnant, was outside Dignity on Tuesday, but says she is no longer able to come every week.
"We are powerless," Sreymao says. "Our hands are empty, and we wouldn't dare to do anything outside the law."
Chanthou, the 48-year-old, says her commute to the factory to come keep watch is more than an hour by motorbike. But if she's not too busy, she still comes more than once a week.
She is $2,500 in debt and has two daughters who are still dependent on her.
For now there are few other options, she adds. "My vision is blurred from working under the [factory] light bulbs too long."
Socheat, the 20-year industry veteran, says she is prepared to keep going with the protest indefinitely. "I will stay until [we] get the money," she says.
Additional reporting by Khut Sokhun