Jailed unionist Rong Chhunn had "intent to incite social disorder" by releasing statements containing fabrications about the Cambodia-Vietnam border demarcation, the government told the U.N.'s human rights office in response to questions about his arrest.
The reply was part of the latest exchange between the two institutions, the sixth set of such communications publicly released by the U.N. office this year. Previous exchanges have discussed the suspected abduction of Thai activist Wanchalearm Satsaksit, intimidation against human rights monitor Am Sam Ath, the arrest of an online seller over "sexy" clothing and the new State of Emergency Law.
"The content of the materials that Mr. Rong Chhun had disseminated deceitfully seeks to confuse national and international opinions as well as to cause social chaos," the Justice Ministry says in a letter dated October 30.
Chhun, president of the Cambodian Confederation of Unions, was arrested on July 31 over comments he made in an interview with the U.S.'s Radio Free Asia and in a statement for the Cambodia Watchdog Council that was posted on his Facebook page.
In the post, he says the council visited border markers 114 through 119 in Tbong Khmum province's Trapaing Phlong commune on July 20 and was told of "a lot of irregularities in planting border markers." There were 106 "victim families" who were "pushed" about 200 meters into Cambodian territory by "yuon authorities," and "grandmothers and grandfathers older than 70" could no longer farm 60 hectares of "ancestral land," it claims, using a common word for Vietnamese that some consider derogatory.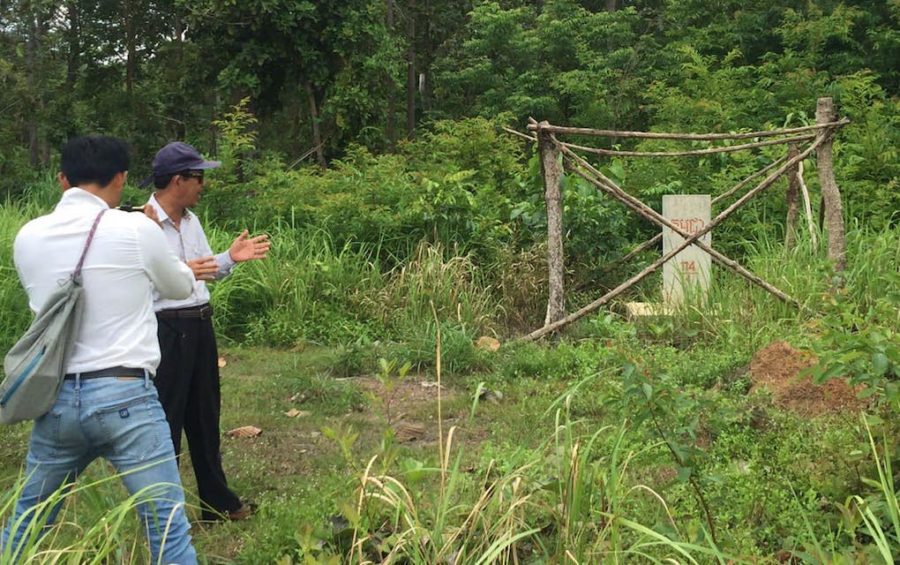 The Vietnam border has long been a sensitive issue in the country, with the political opposition frequently stoking fears about the neighboring country to rally supporters.
This week, the National Assembly passed a law confirming last year's supplemental border treaty, finalizing 84 percent of the border, the latest step in a drawn-out demarcation process.
In its original letter, dated August 18, the U.N. says it is concerned that authorities' actions against Chhun "might contravene with international law." They arrested him without a warrant claiming a red-handed crime despite the evidence being a 10-day-old Facebook post, the U.N. letter says. It also raises concerns about the "criminalization of his speech."
The five U.N. officials who signed the letter also say they have been told that Ouk Chhayavy, president of the Cambodian Independent Teachers Association, visited Chhun in prison on August 10, and later was pushed off her motorbike on her way home by two men in black clothes. She was knocked unconscious. Protesters rallying for Chhun's release have also been kicked and pushed by security forces, the letter says.
"We are further concerned at the disproportionate use of force exercised against peaceful protesters," it adds.