UPDATED 10:15 a.m. — Prime Minister Hun Sen said a new law on declaring a state of emergency is coming soon as the country's confirmed cases of the novel coronavirus climbed to 107 on Monday.
The premier said a draft law, which was motivated by the Covid-19 pandemic that has seen more than 730,000 infections globally, was being reviewed before it would be sent to the Council of Ministers on Friday.
"For us at this time, we have not had any law to control the situation of putting the country in a state of emergency, so we need to create this law, whether we want [this law] or not," Hun Sen said during a press conference at the National Assembly.
Though he did not share specifics of the draft's content, Hun Sen noted that a state of emergency would effectively mean martial law, so troops could be deployed if needed.
"I want to tell people about this law and ask for their understanding about the need for the government to control the country in a state of emergency," the prime minister said.
"Please do not be worried about this law. I don't want to use this law, but I just want to have it in hand," he said, adding that the government would only utilize the law if a situation became uncontrollable.
Last week, Hun Sen objected to the constitutional requirements of declaring a state of emergency, including approval from the king and presidents of the National Assembly and Senate, both bodies led by the ruling party. He said he should be able to declare a national emergency without a consensus agreement.
Political analyst Em Sovannara said he did not see the point of strengthening the government's control under a state of emergency, as the ruling CPP already dominated all levels of government. He said declaring a state of emergency would harm citizens' civil rights and promote fear.
"The ruling party has total control already," Sovannara told VOD. "There is nothing that would be an obstacle."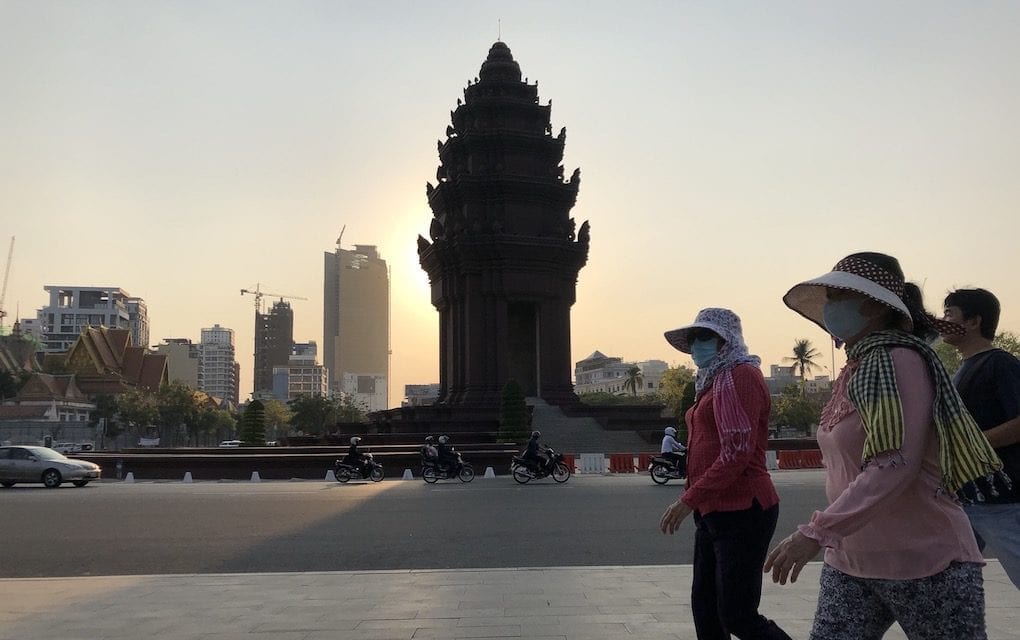 The Health Ministry on Monday announced four new confirmed cases of Covid-19, bringing Cambodia's total infection count to 107. The new cases included three Cambodians and a French national. Some 23 people in the country have recovered from the respiratory disease.
During his speech, Hun Sen also criticized Am Sam Ath, monitoring manager and spokesman for human rights group Licadho, over comments he made related to the Covid-19 pandemic to an unnamed foreign radio station.
"You have to be careful with your words in this circumstance," the premier warned. "Even though the state of emergency law has not come into effect, I can still arrest you."
Sam Ath said Radio Free Asia (RFA) recently cut short his comments to the U.S.-funded news outlet, taking his remarks out of context, which "could cause confusion" about his intended meaning.
"I as well as Licadho would like to state that I have never protected any person who violated the law or any person who causes chaos in society," Sam Ath said in a video statement published by government-aligned media outlet Fresh News.
He said his and the rights group's aim was to "do whatever it takes" to push for enforcement of the law and respect of human rights.
Licadho last week said it had documented 18 cases in which Cambodians have been arrested for sharing rumors about Covid-19 on social media, in some cases over private messages.
"The users were either 're-educated', promising they would stop spreading government-labelled 'fake news', or charged and sent to pre-trial detention," according to the rights group.
Naly Pilorge, Licadho's director, said authorities should ensure they're not violating an individual's freedom of expression before making an arrest, and any arrest should be done with just cause and a warrant.
"Any threats against civil society members are not helpful during a public health crisis," she said in a message.
On Monday, the National Assembly and the king approved a cabinet reshuffle that included the appointment of four new senior government ministers, including the ministers of justice, religion, civil service and telecommunications.
In addition, Cham Prasidh will lead the newly named Ministry of Industry, Science, Technology and Innovation, which was formerly the Ministry of Industry and Handicraft that was also headed by Prasidh.
Among the other changes, Justice Ministry secretary of state Keut Rith will replace outgoing Justice Minister Ang Vong Vathana. Alongside other replaced ministers, Vong Vathana, who was linked to two Cambodian-Americans convicted of fraud in the 2016 release of offshore company documents known as the Panama Papers, will become a senior minister in charge of special missions.
Commenting on the cabinet shake-up, analyst Sovannara said that all the new ministers had been working as secretaries or undersecretaries of state, so there would be no new ideas among the top ranks. He also noted that the government had not made redundant any of the high-ranking officials whose salaries continue to cost the state.
"This [change in ministers] does nothing to give people hope that there will be changes or developments from new leadership," he said.
Additional reporting by Matt Surrusco
Clarification: The article has been updated to note that four senior government ministers were replaced in a cabinet reshuffle, while a fifth minister, Cham Prasidh, will lead the newly named Ministry of Industry, Science, Technology and Innovation, which was formerly the Ministry of Industry and Handicraft that was also headed by Prasidh.