Speaking at times behind a lectern adorned with familiar yellow flowers and at one point taking up a bullhorn outside a hotel, Prime Minister Hun Sen gave a string of speeches during his tour of Washington for the U.S.-Asean Summit.
At one stop at a conference hall on Wednesday, Hun Sen joked about the complications the U.S. had faced due to postal voting in its 2020 election — when supporters of then-sitting president Donald Trump made widespread, largely unsubstantiated allegations of voter fraud.
Amid laughter from attendees, Hun Sen ordered that the Cambodian Embassy issue Cambodian IDs for its citizens living in the U.S., and encouraged those expatriates to come back to their home country, especially to vote.
"You can have the right to vote. But please come to vote in the country. This is Cambodia's election law, which doesn't allow you to vote via post — and don't be deceived by the U.S.'s example," Hun Sen said.
He ruled out the introduction of measures to allow Cambodian citizens living abroad to vote from outside the country.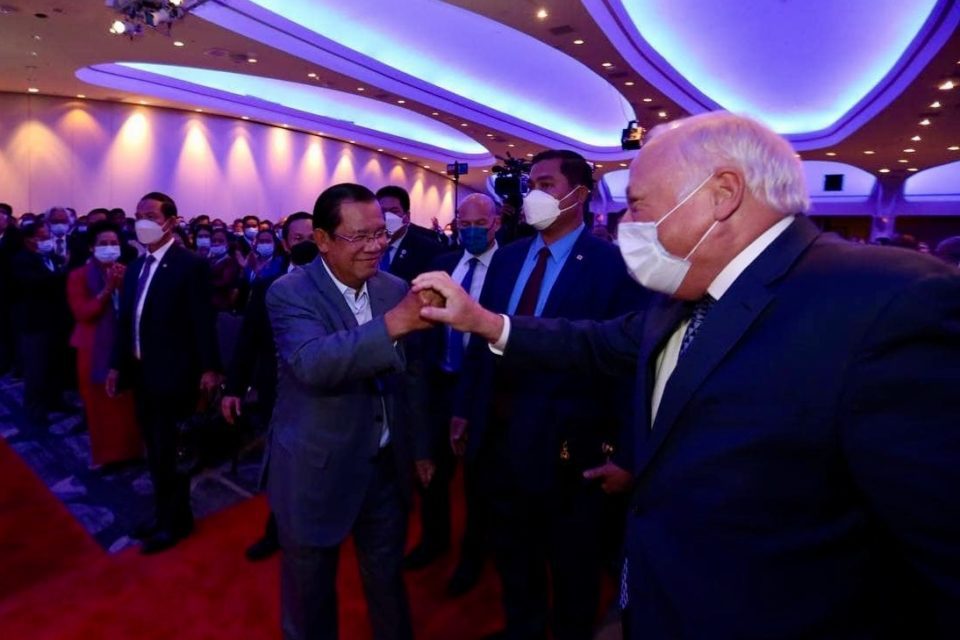 Such measures have been demanded in the past, including the then-leading opposition party, the CNRP, proposing amendments to the national election law in 2017. At the time, the party estimated there were around 1.8 million Cambodians living overseas, largely in Thailand. Sizable diasporas of Cambodian workers also live in South Korea, Japan and other countries. Criticism of the ruling party has been common from Cambodians living overseas.
Suos Bunthol, 36, a migrant worker in Thailand, said he had never missed voting in an election when he was in Cambodia. But it would be too expensive to travel back this time, Bunthol said.
"I want to go vote. And I want the government to offer an arrangement for migrant workers to be able to go," he said.
He migrated in 2019, and works as a plantation worker in Thailand's Chanthaburi province, on the border with Battambang, he said.
Many Cambodians had recently arrived for the harvest season, he added. "If it were possible without going back to Cambodia, there would be a lot of migrant workers who would vote."
Previous suggestions have included polling places set up on the Thai-Cambodia border.
Leong Sophen, a project officer in Thailand for labor rights group Central, said most migrant worker groups he was in contact with were passionate about wanting to vote, but were hindered by the necessary travel and the need to get leave from their workplaces, which were often factories.
"The workers encourage the government to arrange voting at the embassy [in Bangkok]," Sophen said.
Civil society election observers have previously said that overseas Cambodians should be better enfranchised by creating mechanisms to allow them to participate in elections. Opposition politicians have suggested that the ruling party was dragging its feet because those voters would likely vote against the CPP.