KOH ANDET DISTRICT, Takeo — It is late July in Takeo province, as Lor Sam Ath opens a large, neon orange cooler, removing a massive slab of ice. The Takeo resident then proceeds to hack away at the slab, icy shards flying in every direction as he carves pieces of ice the size of a grapefruit.
The bare-chested man inserts a hunk of ice into each of the 10 large, wire-mesh cages in his front yard. Each cage is packed to the brim with squirming — and a few dead — rice field rats. The ice allows the rodents to stay hydrated and survive the journey to neighboring Vietnam where they will be sold.
Sam Ath and his wife Tum Sok are among the many brokers who collect rats caught by villagers in Takeo's Koh Andet district. During the rainy season, the rising waters in the rice fields surrounding the district provide an ample supply of palm-sized, gray rodents.
The rats, which usually feed on rice stalks, are then exported to Vietnam, where they are cooked up and consumed. A number of villagers are coy when asked about the exported rats' fates, with only Sam Ath loudly exclaiming: "They eat them!"
Sok, 48, says they had to stop buying rats from villagers in April and early May because the Vietnamese border was closed in March due to the coronavirus pandemic. It was only in late May, she says, that they could resume sending live rats across the border, either by road or small waterways. After restarting their business, Sok and Sam Ath, 51, say they have seen an increase in people catching rats and selling the rodents to the various brokers in their district.
"There are many people who are now selling rats because they do not have any employment to buy food," Sok says.
One of multiple rat deliveries per day arrive in the morning in a large cage attached to the back of a motorbike driven by a woman, with her daughter seated in between her and the rats.
The two-wheeler enters Sok and Sam Ath's front yard, and their young son takes the cage, weighs it, and shakes out about 25 rats into the family's own cages. After a quick exchange of riel, the woman and her daughter leave, without much being said.
"There is too much supply," Sok explains. "As long as they catch, we will buy, but if our buyers in Vietnam don't buy then we cannot." Prices, she says, have dropped from 5,000 riel (around $1.25) a kilogram to 4,500 riel ($1.10) during the monsoon season, which started in May.
Sok says there has been an increase in people catching rats in the district, mostly because many have been out of work and have had few employment opportunities since the start of the global Covid-19 pandemic — except for work in the rice fields.
"It is helpful for the villagers," Sok says, referring to the rat trade. "They can at least earn 10,000 riel ($2.50) to 15,000 ($ 3.75) riel a day."
Yet villagers in Koh Andet say earnings from selling rats are meager and help families afford only the basic necessities, such as rice. The work is rigorous and exhausting, providing little payoff.
Competing for Rats
Chan Vandeth, a farmer in the district's Chambak Aem village, rides a boat daily for 30 minutes to rice fields near the Vietnamese border to catch vermin. Once in the fields, Vandeth does not use traps or nets. He only uses his bare hands to pull rats by their tails from holes, occasionally sustaining bites that leave scars on his hands.
His more rudimentary method of catching the rodents slows down the hunting process and makes it more difficult. To make things worse, there are an increasing number of people in the fields, competing for the same number of rats, he says.
"Almost the entire village hunts for rats and the village becomes quiet during the daytime," he says. "If there was another convenient job, I would not do this because it is difficult and we do not catch many rats."
His family has a rice field and they can sell the rice, he says, but only if Vietnamese traders transport the rice and provide a good price. He says rice prices are hovering around 700,000 riel ($175) a ton, down from 900,000 riel ($225).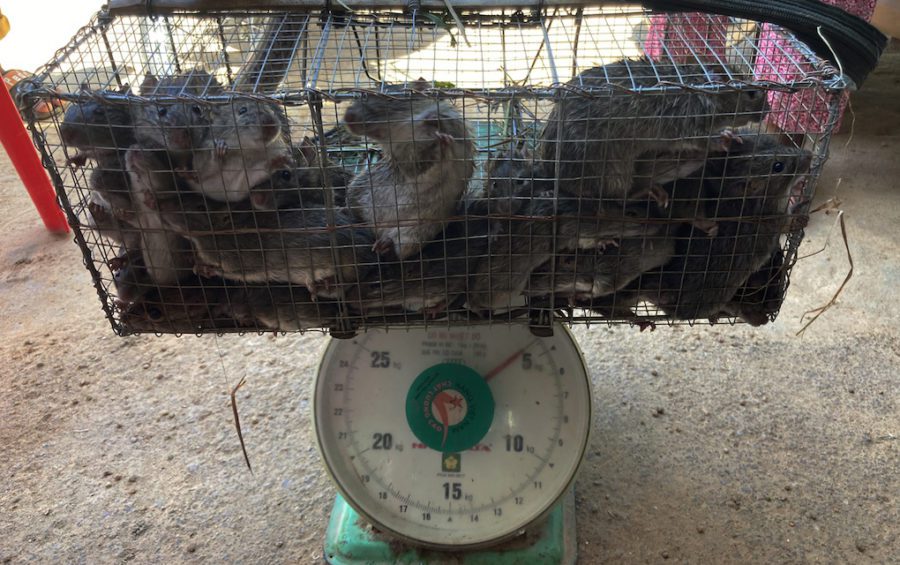 With lagging sales, Vandeth says the rat trade provides his family with a little disposable income, around $7.50 on a very good day, to afford food and other necessities.
Laying in a hammock, Khean Thach, his wife, says the only way to get a job nowadays is to travel to Phnom Penh, but there is no guarantee they will find work in hard-hit sectors, such as the garment and construction industries.
"People here don't have work to do. There is nothing else to do but catch rats," she says. "We are happy with the money because farming is not good right now."
Nheb Sron, director at Takeo's Department of Agriculture, initially denies rats are being traded during the pandemic but, when pressed, confirms that rats are being transported across the Vietnamese border.
He declines to comment on whether the transfer of live rats is a health concern, especially in the midst of a global pandemic, which has claimed more than 755,000 lives around the world.
The Health Ministry has reported 273 Covid-19 cases since January, including 238 recoveries, 35 active cases and no deaths linked to the virus. No cases have been announced in Takeo province.
Sron is quick to point out that the informal trade is helping villagers earn income and, in some Cambodian households, providing much-needed sustenance. He also touts the trade's benefit to rice farmers, because the rats can destroy rice fields if they are not captured.
"Without catching them to sell or exterminating them, they will destroy our crops," he adds.
The provincial official explains that most of the rats are sent to Vietnam, where he says Vietnamese people routinely consume rodents, adding that Cambodians also consume rat meat. "The field rats eat crabs, snails, rice stalks and grass. So, it is not unhygienic to eat rat meat."
The World Organisation for Animal Health (OIE) says in an emailed statement that rodents can be a "reservoir of many transmissible diseases."
"Awareness should be raised on zoonotic diseases in general and some simple precautionary behaviours should be encouraged, such as: hand washing, avoiding hand contact with mouth or eyes, [and] wearing a mask when capturing as well as when manipulating these animals," the organisation says.
In addition, OIE said in May that the international trade in live animals and animal products is "critical" to supporting food security and economic activity.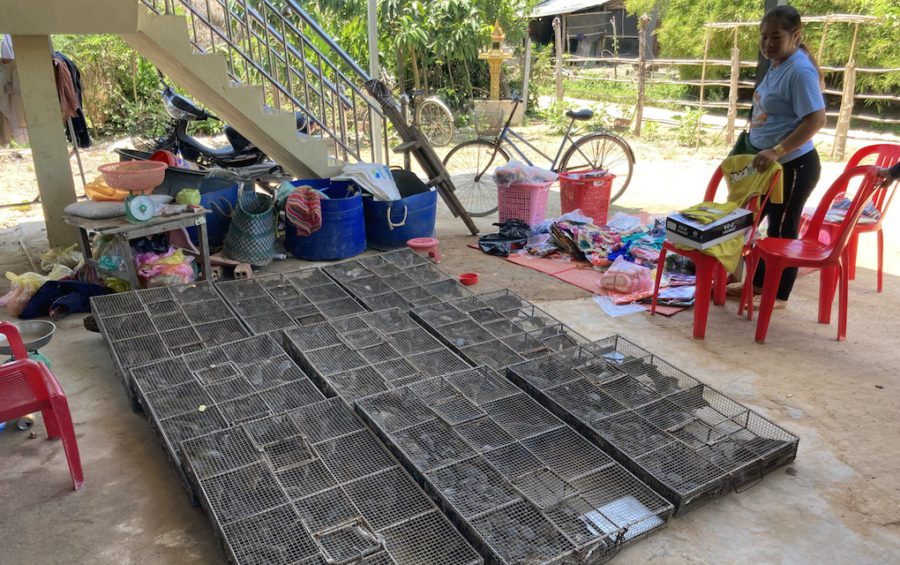 While OIE says there are some indications of likely transmission of COVID-19 from farmed, infected American mink to humans, as of late May, "evidence from risk assessments, epidemiological investigations, and experimental studies do not suggest that live animals or animal products play a role in SARS-CoV-2 infection of humans," referring to the virus that causes Covid-19.
"The current COVID-19 pandemic is sustained by human-to-human transmission," it adds.
Still, Nuth Sinath, director at the Takeo Provincial Health Department, says villagers should be careful when eating rat meat and ensure it is cooked properly before consuming it. He says the transport of the rodents in unsanitary conditions could pose risks of transmission of diseases to other animals or humans.
He admits that potential health concerns in the rodent trade are secondary to allowing families the opportunity to earn some livelihood during the pandemic. "If they do not run this business, villagers will not have any money to buy food," he says.
Tan Phannara, director-general of the Agriculture Ministry's Animal Health and Production Department, could not be reached for comment.
Tastes Like Chicken
The rodent trade has been a minor boon for 40-year-old Cheam Nuth, who lives on a small piece of land with two sisters, a brother and their respective families. The Koh Andet resident says eight members of her family have no option but to get up early every day and hunt rats in the rice fields.
The pandemic has severely affected her family's livelihood and economic prospects, especially after her husband, adult son, sister and brother-in-law had to return from Thailand in June and July, after unsuccessfully attempting to wait out the economic slowdown.
The four worked together at a wood workshop and routinely earned less than $225 a month, doing various tasks such as sanding and polishing wood products, Nuth says.
The four family members, who worked in Thailand, have to pay around $10 a month each to informal lenders for loans they took to process their passport, travel and work documents to Thailand.
According to Nuth, her husband and son borrowed about $500 for their documents, and have repaid around half their loan. Her sister and brother-in-law borrowed about $600 for their documents, and about $400 more for other expenses, says the sister, Cheam Chinda. Nuth has taken other small, informal loans, and Chinda, who returned from working in Thailand in July, is repaying a loan used to renovate their home.
"It is difficult because we have to pay a lot of costs," Nuth says.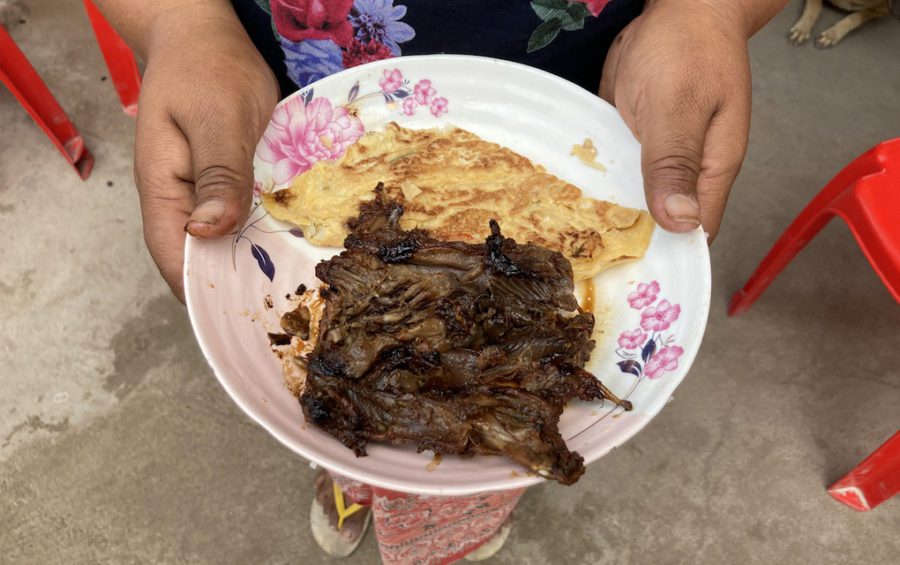 The family was able to afford the debt when the four members were working in Thailand. But on returning to Cambodia, they realized there were few or no jobs in the district or cities, making it hard to earn a living or repay their debt.
While officials in recent months have suggested returning migrants should go back to the land and take up farming to make ends meet, the World Bank reported in May that the nation's poor-performing agriculture sector was unlikely to accommodate jobs lost in the key export and tourism sectors due to the pandemic-driven economic downturn.
"People who have rice fields can do agriculture, but we do not have anything," Nuth says.
The family is able to catch around four to five kilograms of rats every day, selling the live vermin for little more than $1 a kilogram. The dead rats are quickly taken home and grilled for the next day's meal.
Nuth packs most of the grilled meat for family members headed to the rice fields, keeping a small portion for herself, which she eats with a fried egg or small portion of rice.
"It is like eating chicken, pork or beef," says Chinda, adding that it was common for villagers in the area to eat rat meat.
The sisters say catching rats is the family's only income and they are concerned villagers will face greater hardships if the economic downturn persists.
"If this continues then people will start to starve," says Nuth, unable to hold back tears.
This article was produced by New Naratif and VOD, who have partnered to publish long-form journalism from Cambodia that empowers our shared community with news and information.