DAUN KEO CITY, Takeo Province — Authorities blare announcements through speakers played from roaming trucks: Wash your hands with soap; wear a face mask; cough into your elbow.
Villagers are crafting scarecrows from old clothes, straw and household items to keep the novel coronavirus away. Buddhist monks are beating drums, chanting religious verses and sprinkling the faithful with holy water.
In Takeo province — where no one has been confirmed infected with Covid-19 — and other parts of the country, authorities are preparing health institutions and raising public awareness about preventative health measures, while religious leaders share blessings to ward off evil, ghosts and the respiratory disease.
Meanwhile, local residents in and around the provincial capital, Daun Keo City, are making scarecrows and using alcohol-based hand sanitizer to protect themselves and their families, while becoming increasingly worried about how they will eke out a living, and protect their health, while the pandemic continues.
"I dare not take risks because this disease can infect unexpectedly," says Chan Pha, a vendor in the city's Takeo market.
She watches out for news reports of any outbreak in the province. If a case is confirmed in Takeo, Pha says she will stop selling her goods at the market.
"If we hear the sound of gunfire, we can run to the north or south," she says, "but with Covid, we don't know where to run."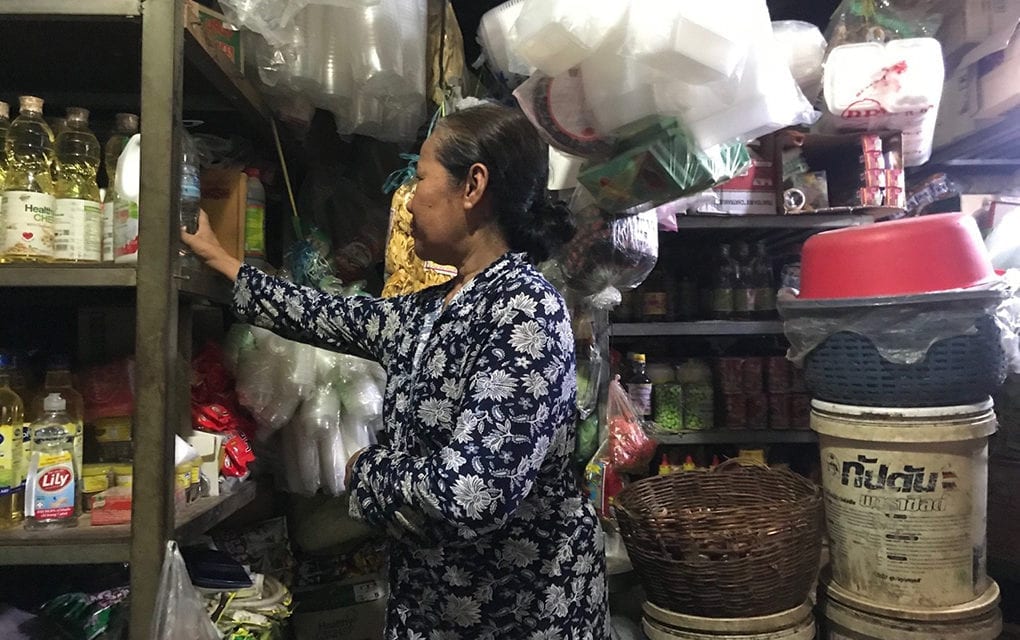 Patriots Stay at Home
As of Thursday, the Health Ministry has confirmed 110 total Covid-19 cases, including 48 Cambodians and 61 foreign nationals, with 25 people having recovered. Globally, the novel coronavirus has infected more than 930,000 people and killed over 47,000 in about 200 countries since it was first detected in China late last year.
As the number of confirmed infections in Cambodia rose last month from one to more than 100, the government ordered the temporary closure of schools, karaoke clubs, cinemas and museums, and banned concerts and religious gatherings. Travel in and out of the country has also been restricted.
Cambodia and its neighbors have closed their borders to people in recent weeks, prompting an influx of thousands of migrant workers from Thailand ahead of the closures, and raising concerns among officials and citizens about greater viral transmission in Takeo and other provinces.
"There are more people from Thailand and our working group is working to educate them not to wander around," provincial health department director Nut Sinat says. "If there is any suspicion [of illness], our doctors will go and get samples for testing."
According to the Health Ministry, more than 5,700 samples have been tested for Covid-19 nationwide since January.
Sinat says he has about 240 beds and 300 health officials on standby while authorities continue to educate and monitor people returning home from abroad.
"If they love the nation, they have to keep themselves isolated and don't bring suffering to families and communities," Sinat says.
While overseeing health officials spraying disinfectant at the Takeo market, deputy city governor Chan Thida says she started disseminating health messages about Covid-19 to the public in mid-March.
City officials informed commune officials about using soap to wash hands, coughing and sneezing into one's elbow, using face masks, and other preventative health measures, Thida says. Local officials then spread the messages to local people, in person and by driving around communities playing recordings of the advice on full blast.
Provincial health officials were spraying virus- and bacteria-killing chemicals at the market for the first time last week, following requests from vendors and other locals, according to Thida.
"We want to take precautions in order to maintain the safety and health of people who are vendors at the market," she says.
Authorities will carry on with other preventative means, including continuing to educate people in the city's three communes and 40 villages, she adds.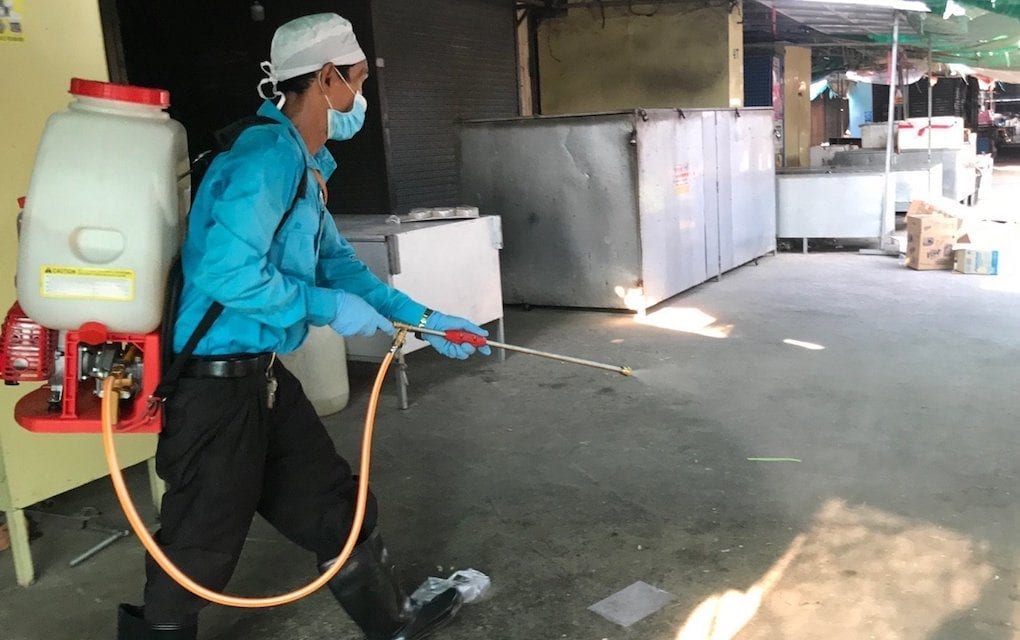 Village Lockdowns to Come?
While no Covid-19 infections have been reported in Takeo, locals say they are concerned about their health and safety.
"I am worried about coming to the market [and contracting the virus], and then going home and transmitting it to my children," says Pha, the market vendor, who sells spices and sauces, and now keeps alcohol-based hand sanitizer with her while she interacts with customers.
While preparing to close her shop before authorities sprayed chemicals in the area last week, Pha, 57, says that despite the lack of confirmed cases in Takeo, the number of shoppers at the market have dropped significantly in recent weeks.
Another vendor, Bun Kunthea, says her income from selling clothes has dropped since the outbreak began, and she will close up shop if any outbreak in the province is announced.
Kunthea, 46, says her customers fell by about 75 percent in recent weeks, to levels lower than she has ever seen in her 20 years selling at the market.
"If more cases happen, I will have to close my store and we will have no income," she says.
When she started wearing a mask and using hand sanitizer before many others, people laughed at her and told her she was too scared, Kunthea recalls. Now, face masks and bottles of hand sanitizers are nearly ubiquitous.
Still, Kunthea remains concerned about her daily interaction with customers, which she knows puts her at risk.
"We are careful, but I don't know how much it can be protected because I don't know who is positive or not," she says.
As of Friday, about 1,600 people have come to Takeo from various countries, with the most from Thailand, according to a report provided by provincial administration director Meas Uy.
The influx of people from overseas recently has made authorities and citizens both worried and more vigilant, Uy says. The Takeo government created a task force to monitor returning migrants at the commune and district levels, as well as educate them about preventative measures, check their temperatures and advise them to self-isolate.
"We are very careful at this point because in Thailand, they are traveling. I want to say that there are more [people] gathering along the road. That's why there are more worries," Uy says.
Authorities also planned to pick up migrant workers from border checkpoints and drive them home in order to better monitor them, based on an order from the Interior Ministry, he adds.
Villages may also need to be quarantined, according to Uy.
"If there are one or two [positive cases] in the village, we could close half of the village or the whole village," he says.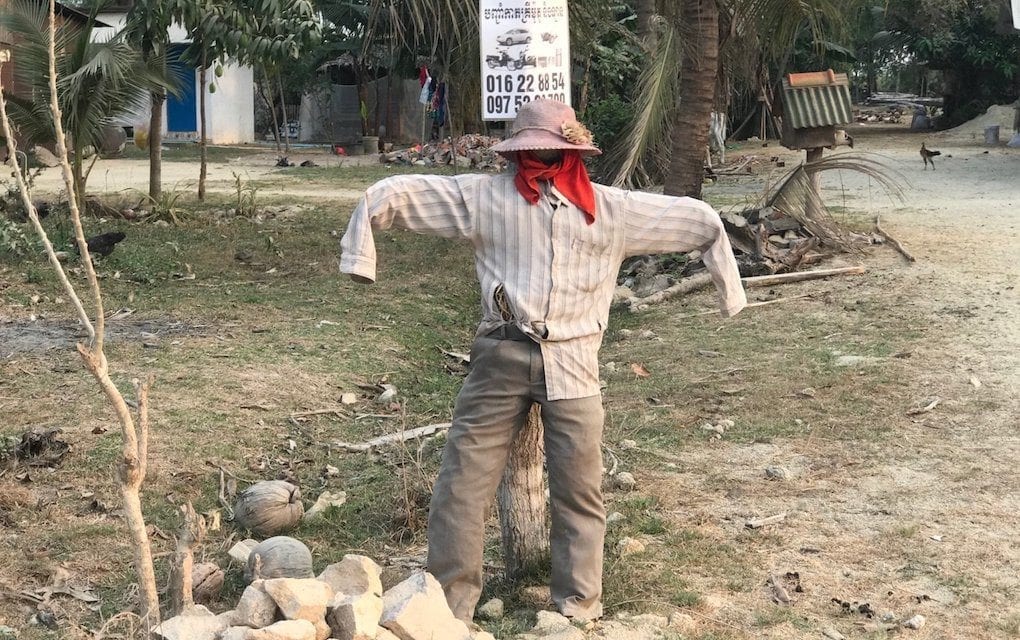 Chanting Against Evil
A few kilometers from Daun Keo City's downtown area, scarecrows of various colors are seen positioned at the front gate of most houses, the result of superstitious belief of some Cambodians who think scarecrows will help scare away ghosts, evil and diseases.
While few people are seen gathering in public in the provincial capital, health officials, local police, monks and laymen have been busy spreading messages from the Health Ministry to raise awareness among local people about how to prevent virus transmission.
Health officials and commune police drive around in trucks broadcasting messages about washing your hands with soap or hand sanitizer, using face masks, avoiding large gatherings and people who have fevers, and isolating oneself for 14 days after returning from abroad.
Last week in Tramkak district's Leay Bour commune, a pickup truck with two Buddhist religious flags on each side and a loudspeaker mounted on the top spread the call for prevention.
Meanwhile, a few monks and laymen in the bed of the truck blessed locals with water.
Venerable Hin Pirath, chief monk of Leay Bour pagoda, says last week was the second time he volunteered to travel around promoting health messages and blessing followers.
"I hope and believe that this [religious ritual] will help 50 percent, but we have to participate and keep [good] hygiene for another 50 percent," Hin Pirath says. "If we just rely on monks' blessings, but we don't keep ourselves clean, it will not help."
According to a letter dated March 16, Buddhist Supreme Patriarch Non Nget appealed to chief monks and followers across the country to be aware of Covid-19 and listen to public service announcements on TV and radio.
Non Nget also asked all chief monks to beat drums and chant Buddhist prayers on March 23 to eradicate disasters that come from the disease, evil and ghosts. He also reminded people not to gather in large groups.
Venerable Khan Sarath, chief monk of the Ang Khnar pagoda in Leay Bour commune, says he followed the call and organized a ceremony at his pagoda on March 23 with about 150 attendees, including monks, laymen and nuns.
A week earlier, on March 17, the Health Ministry had ordered a temporary ban on all religious gatherings in an effort to limit the spread of Covid-19.
"It is aimed to bring happiness and to avoid suffering and prevent disease from spreading to people," Khan Sarath says of the ceremony.
"Since the Buddha's time, whenever there is suffering, the monks chant … to prevent evil from harming people," he adds.
Uy, the provincial administration director, said he didn't know a religious gathering took place after the ban, but he laughed and said he would look into it.
'People Scared of Each Other'
At the north side of Daun Keo City, which is usually packed with visitors and food sellers along the road every afternoon and evening, Yan Kosal, 37, says everyone has been expressing their worries about Covid-19.
Speaking while waiting for his food order at a sidewalk restaurant, Kosal, a truck driver and father of two, says the park nearby is usually crowded with people in the evening, but is now as quiet as the local coffee shops. No one wants to visit either, he says.
"By this time, there are crowds of people, and children are running everywhere in the park. Now, I see only the lights of the lampposts," Kosal says. "People have become scared of each other."
Seeing the serious impacts of Covid-19, Kosal says he is less busy with work now and worried that his family's income and the national economy will suffer.
"This disease is savage because it affects all kinds of economies as well as our country's economy," he says. "If it prolongs one month or up to a year, people will have nothing to eat because people cannot go out to do business."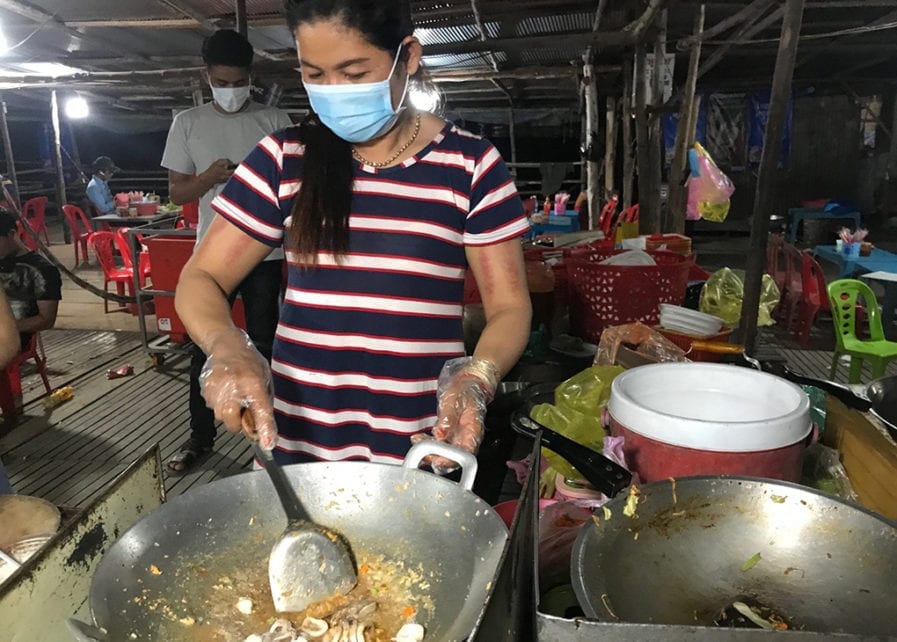 A World Bank report released on Tuesday projects that Cambodia's GDP growth this year could dip from 7 percent last year to 2.5 percent, or as low as 1 percent in a worst-case scenario.
Also sharing economic woes, Chan Mach, who owns the sidewalk restaurant, says her patrons have fallen off sharply since the outbreak began, with her income dropping from 600,000 riel per day (about $150) to less than 200,000 riel ($50).
Mach, 43, says she is concerned about not having enough money to cover her daily expenses since she also has to repay $200 per month in loans.
The restaurateur says she's not a farmer and has no means to grow her own food.
"I'm worried because I have to repay a loan," Mach says. "I buy milled rice to eat because I have no rice field."