More than 200 indigenous people in Mondulkiri province's Keo Seima district protested on Tuesday for access to farmland inside a wildlife sanctuary, which the Environment Ministry banned them from last month, citing conservation laws.
Bun Nat, a representative of the protesters, said 250 ethnic minority Bunong and Kuy people gathered at the Keo Seima District Hall to call on officials to allow them to use land that some say they have farmed for more than five years.
Nat said the farmland is the sole source of income for indigenous people in O Am and Orona villages in Sre Khtum commune, so cutting them off from the land prevents them from earning any money.
"We are farmers so if they don't allow us to farm and benefit from growing cassava, what do we have to eat?" he told VOD. "Some people borrow money from microfinance institutions for farming, and now they are not allowed to do so, so what do they have to pay the bank?"
Environment Ministry spokesman Neth Pheaktra said the villagers were banned from farming the disputed land because it was in a protected area.
He said the ministry did not recognize any claims to land acquired through illegal clearing and encroachment and asked people to stop building huts within state forests.
Authorities would take legal actions against offenders, and those who needed land should apply for social land concessions through local officials, Pheaktra added.
San Sokhom, another protester, said residents of the villages had farmed the land since 2013, but it was only in April that authorities ordered them to abandon the area. Sokhom said that he and his peers asked commune and district authorities for a solution twice, and decided to demonstrate in front of the district hall after receiving no response.
"We marched in order to ask district and provincial [authorities] to find a solution for us in time for the season," he said. "If the [farming] season ends [without a resolution], crops will not grow and next year, we will have nothing."
Sre Khtum commune chief Buth Sam El said he had referred the dispute to higher-level authorities.
"Whether the intervention will yield a solution or not, [I] don't know yet," Sam El said.
Keo Seima district governor Nuon Saran and Mondulkiri provincial administration director Hiek Sophan could not be reached for comment.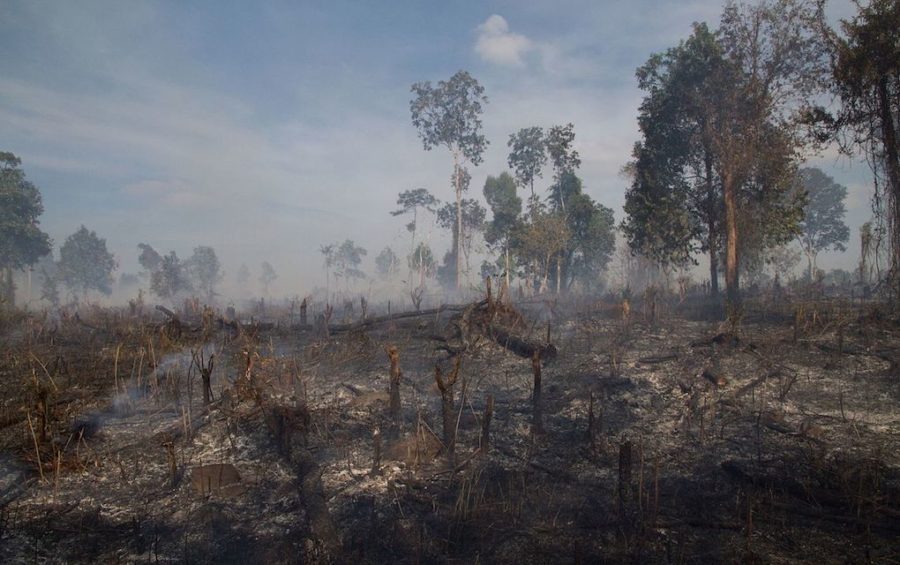 Kroeung Tola, a representative of indigenous groups in Mondulkiri, said the disputed land is located within the Keo Seima Wildlife Sanctuary, but he said indigenous people have rights under the Law on Protected Areas to use state land for traditional, communal farming.
The law allows for ethnic minority groups to use some types of designated land in protected areas to improve their livelihoods.
Tola said the community did not have communal land titles, which allow indigenous groups to hold communal land if they can complete the expensive, lengthy application process.
"We should think about politics [of the matter] but also think about social development," Tola said. "We should think about the impact [of this decision] on people's living condition. We cannot use and implement one law but forget to look at another law."
Ken Sereyrotha, country director for WCS Cambodia, which contributes to forestry conservation and patrols in Keo Seima Wildlife Sanctuary, said the conservation NGO approached land claims from indigenous groups in and around the sanctuary with caution, although he wasn't familiar with the specifics of the Keo Seima dispute.
Sereyrotha said he respects traditional indigenous use and protection of forest land, and the organization assists some indigenous groups in and near the sanctuary to acquire communal land titles. However, he said that some people in the province have tried to falsely claim indigenous heritage or history on the land in order to use it, or gain payments and benefits from WCS's carbon-credit scheme in the sanctuary, in which the Walt Disney Corporation paid the sanctuary $2.6 million to preserve trees in order to offset Disney's carbon emissions.
"For us, we don't think that [indigenous communities] are harmful to the conservation of forests, but they have to follow the protected area law," he told VOD. "We have to assess the issue and the context before we make judgment over [their land rights]."
Additional reporting by Danielle Keeton-Olsen
(Translated and edited from the original article in VOD Khmer)