As journalists and observers were again harassed and threatened at NagaWorld protests this week, the Information Ministry said lower-level authorities did not appear to fully understand their roles and acted outside of their remit.
On Monday, authorities expelled journalists and human rights observers from the NagaWorld rally site, including district security threatening VOD journalists to delete photos and videos of authorities' activities in public places.
Phos Sovann, the Information Ministry's information department director, acknowledged that some lower-level authorities did not fully understand their role and have acted outside their responsibilities.
The information and interior ministries, alongside other institutions, would need to work to disseminate instructions so officers can understand the requirements better and avoid following incorrect policies toward journalists, Sovann said.
"I've discussed this matter, and maybe the lower-level authorities do not understand the issue," he said.
Sovann said he was considering a new mechanism to help prevent future problems. "I have an idea, but have not yet asked for approval from the leadership to implement," he said. "Maybe I will require means [of identification] issued by the ministry to show that these reporters can go to those locations … something that can be seen from a distance."
Sovann did not specify what identification that could be seen from afar would be. Currently, journalists typically hang ID cards around their necks. Some human rights observers wear colorful vests with clear writing on the front and back, though they have still faced obstructions.
Phnom Penh City Hall spokesman Met Measpheakdey, however, argued there were only restrictions for operations in progress, and that did not amount to restricting coverage of the NagaWorld protests.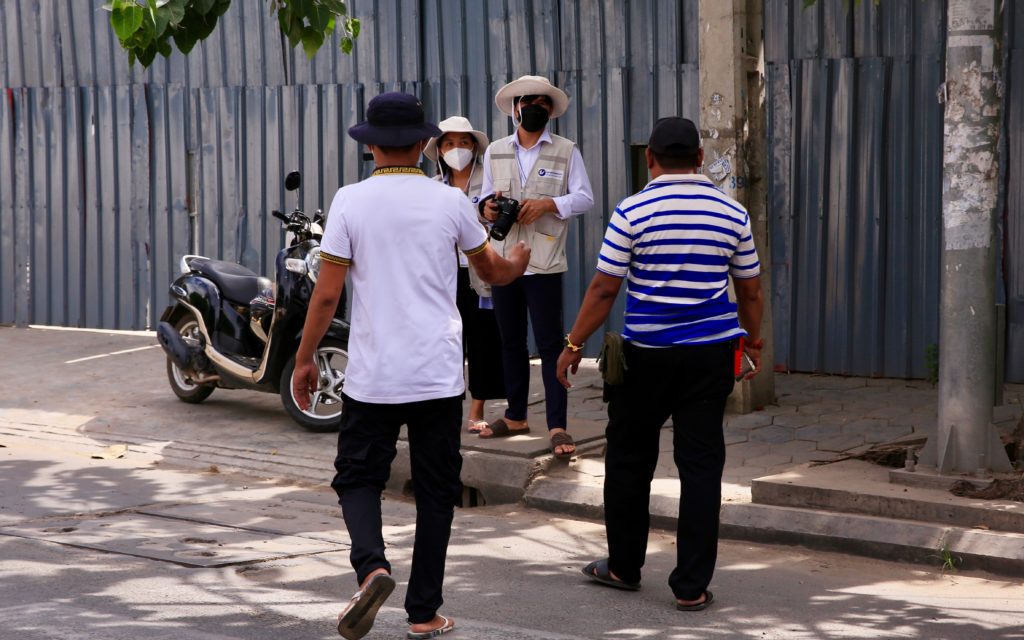 "There is no restriction on information, except for the operational zone for fear of any unforeseen incident. And it is their duty to keep everyone safe. [Journalists] should not be close to the site of operation [but] can film from a distance, because this generation of cameras shoot very well. It's about their own safety," Measpheakdey said.
Cambodian Journalists Alliance executive director Nop Vy said lower-level authorities were performing their roles inconsistently with higher-level orders, and they demonstrated a lack of understanding about the duties and rights of journalists.
"It is a serious violation of the freedom of the press, and presents a threat to performing their roles as journalists," Vy said.