For Hong Ly, the dispute over her family's hectare of farmland in Kien Svay district was frustrating, but it became personal on Monday when authorities arrested her 40-year-old brother.
As the woman recounted his unexplained arrest on Wednesday, dozens of people huddled in the shade of her stilted house, discussing how authorities have disappointed them in their response to a yearlong land dispute and to the residents blocking National Road 1 in protest, and now for a new offense: the arrest of Hong Sok.
"He's a gentleman. He never hurt anybody," said Ly, 52.
A Kandal province land dispute that was supposed to be solved in 2017 has continued, as residents of three villages say they've been forcefully stopped from using their land, leading residents to block roads in protest of the dispute and one man's arrest.
In less than an hour after reporters arrived, more than 60 people were murmuring to each other, occasionally raising their voices to explain the two-day protest and vent about the land they feel they're losing to neighbors.
The dispute ignited on Sunday, when residents of Kien Svay district's Banteay Dek commune decided to block National Road 1 in order to garner attention to their dispute, over about 3,000 hectares of farmland distributed among three villages.
The residents who were gathered under Ly's house told VOD that they were awarded 1 hectare of land per family a few years ago, when Prime Minister Hun Sen intervened in their dispute with Lok Hour, a CPP lawmaker, and granted the area back to residents of Prek Pol, Kandal Krom and Samrong Thom villages. However, villagers said they never received titles for the area.
About 3 km away from their homes, past fields of rice, eggplants and other crops, the residents constructed a number of farm shacks to guard their land, marked with Cambodian and Buddhist flags. At the intersection of two dirt motorbike paths, residents hung large laminated posters of Hun Sen, deputy prime minister Sar Kheng and Hun Sen's wife Bun Rany.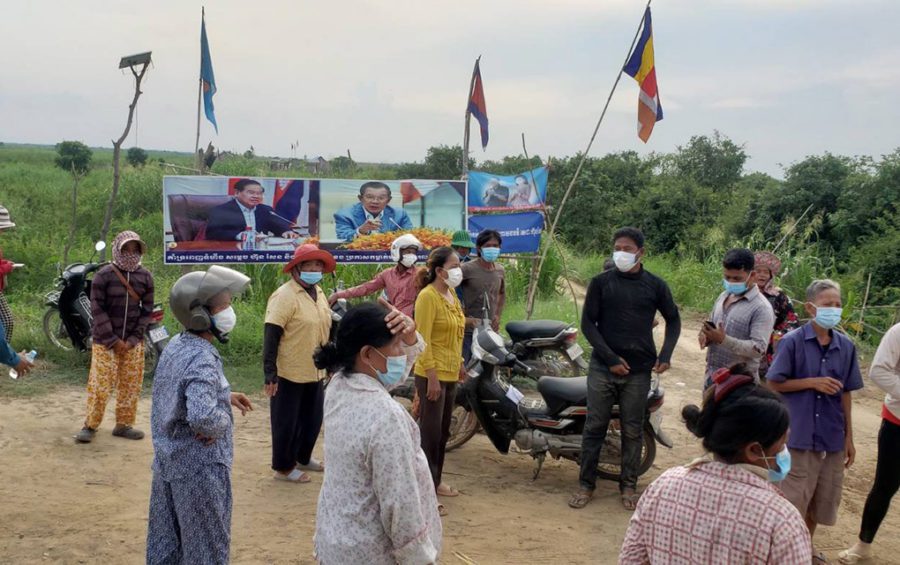 But since that government intervention, residents of another nearby village, Chong Ksat, have been trying to stop their community from using the farmland, explained resident Cheang Sinoun, 48. She said she had been able to clear and plow her land but wasn't able to cultivate it, and some of her neighbors had been attacked with slingshots while trying to clear the land.
When asked why people would be attacking others for their land, Sinoun said she did not know, later adding, "I think someone hired the people to claim this land." Powerful people have been interested in the area, she said.
Sinoun said a group of villagers — she couldn't remember how many — gathered at the Kien Svay district office on Sunday at 8 a.m. to meet with officials, alleging that residents from another village were trying to prevent them from using land that was granted to them. They were ignored by district officials, so instead they went to block the national road at about 10 a.m. to demand attention. Sok, the arrested man, was with them during this protest.
"They threatened us to stop blocking the road. Police told us they could arrest us for blocking the road," Sinoun said, saying this was the first time the frustrated residents took this action.
Recounting what she learned later from peers, Ly said her brother Sok had gone for a meal and coffee early Sunday evening, and was arrested at about 6:30 p.m. He participated in the protest, but Ly said she did not know why he was targeted, saying he wasn't a community leader.
"We do not know whether someone called him [for a meal] to target him or not," she said.
The residents then gathered again that night, blocking the road a second time, now to demand Sok's release as well as for a solution to their dispute, Sinoun said.
"Only this way can break through to them," she argued, saying authorities ignored their concerns before. "We are ignorant, but we don't think it's illegal."
Sok's 24-year-old daughter, Sok Kakada, said she saw her father briefly on Monday morning, when the residents reported to the Kien Svay district hall for a discussion. While others were worried about Sok's health because he has diabetes, he told the crowd he was okay.
"We wanted to ask authorities" what Sok was charged with, Kakada said. "But they wouldn't talk."
Sin Siphoeun, another resident who joined the roadblock protest, said the authorities had promised protestors they would release Sok on Monday morning, but they had not. She called Sok's short visit with the protestors an attempt by authorities to appease the angry residents, but she warned that they could block the road again. Siphoeun said she and her neighbors just wanted an explanation for his arrest.
"He has not killed anybody nor stolen anything from anybody, and what he has done was for all the people to find a solution, but [authorities] accused him of being a bad person and arrested him," she said. "We're not scared because we have not done anything illegal. … Why did they arrest [him] and what kind of offense did he commit?"
When asked about the dispute, Kandal's deputy provincial governor, Nouv Peng Chandara, told reporters to check the provincial administration's Facebook post from Monday, which said that residents who blocked the road had accepted the government's mediation.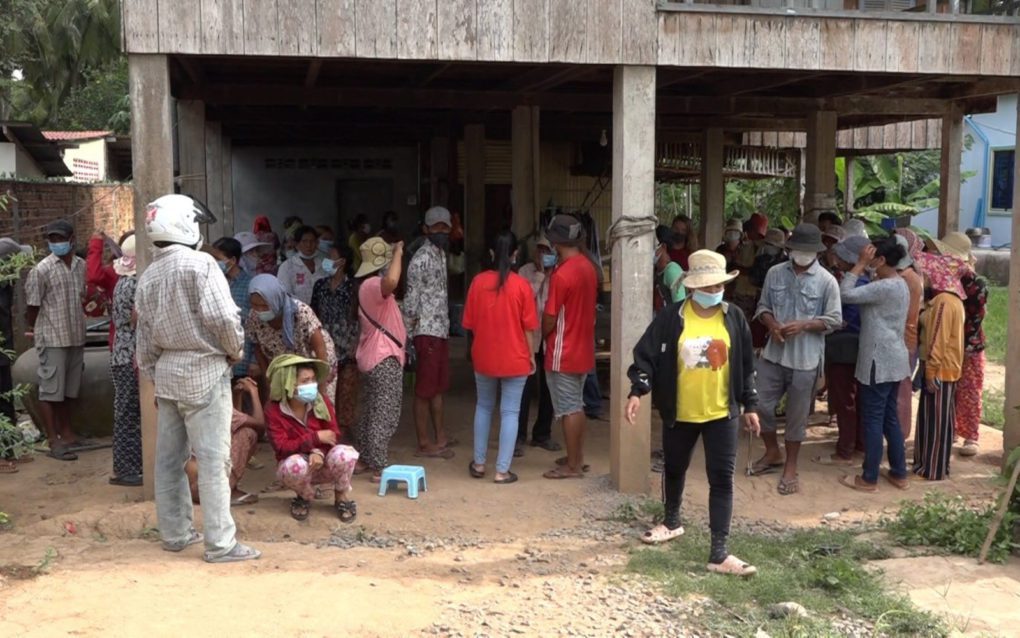 According to a Phnom Penh Post report from 2017, the Council of Ministers ordered the Land Ministry to return 2,997 hectares of land in Kien Svay and Sa'ang districts to villagers, with some 2,391 hectares taken from CPP lawmaker Hour.
Mao Phirun, a Kandal provincial councilor and former governor, said the land was returned to residents via a sub-decree in 2017 after Hour had taken the land illegally from residents. Hard titles from this area were made, he said, but people who were not granted land by the government could be jealous.
"People know it, and they have no land and they see other people's land. … They have been provoked by other people," he said.
"There are brokers behind this … the one who is behind it, they have been known [by the people], and the one who is being detained pushed the cyclo only to be crushed by the car," he said. "[The protestors] will be the ones to bear the blow."