When a pair of journalists tracked down Kaing Guek Eav in Battambang in 1999, he was an aid worker and born-again Christian. He went by the name Hang Pin, attempting to shed his former Khmer Rouge identity of Duch: head of the S-21 detention and torture center in Phnom Penh, responsible for overseeing more than 10,000 deaths.
Duch died aged 77 on Tuesday night, after two decades spent in jail and on trial. He was convicted of crimes against humanity in 2010 for extermination, enslavement, torture and other inhumane acts, and sentenced to life imprisonment by the Khmer Rouge Tribunal's highest chamber in 2012.
Of the three men convicted by the tribunal, Duch was noted for his expressions of remorse. According to one scholar, the ex-cadre's dramatic apologies, made during trial hearings, "will be remembered as a signature moment of the tribunal."
By the time of his death at Phnom Penh's Khmer-Soviet Friendship Hospital, Duch was struggling with respiratory issues, having been hospitalized in recent years. Spending his last days reading alone, he had also abandoned Christianity and began joining in Buddhist ceremonies in a provincial prison as he awaited his end, according to prison officials.
'Good News'
Norng Chan Phal, one of the very few S-21 survivors, said Duch's death was no compensation for seeing his mother tortured and killed in the detention center in 1979. His father was also killed there. But the former prison chief's death was still a kind of justice.
"We were children," he said. "[I was] 9 years old and shocked and scared. [I] saw the torture of my mother in front of us. … We suffered."
He said he knows that his father was in charge of a sawmill, but he was too young to know what he might have done wrong, if anything, to be sent to S-21. When Vietnam invaded in December 1978 and overthrew the Khmer Rouge the following month — six days after the family arrived at S-21 — Chan Phal was found by soldiers in the prison's kitchen.
"We felt relief when we learned that [Duch] had died," Chan Phal said on Wednesday. "This is very good news for us. … It's one part of reducing the suffering that we experienced during the Khmer Rouge."
Chief Torturer
Born in Kampong Thom in 1942, Duch, a former mathematics teacher, joined Pol Pot's communist party in 1967. From 1971, Duch ran M-13, a detention center where members of the insurrectionary movement reportedly collected detainees' blood in basins as they died and inserted needles under their fingernails, according to Documentation Center of Cambodia statements cited by the Cambodia Daily.
After the Khmer Rouge took over the country in 1975, Duch became the chief of S-21. The center — since turned into the Tuol Sleng Genocide Museum — was where the Khmer Rouge sent its most important "enemies" to be interrogated and killed. It sat at the top of five levels of 189 regime interrogation centers across the country, research by the Documentation Center of Cambodia says.
For several years, Duch operated S-21 with brutal efficiency. He recorded detailed notes, and almost 6,000 photographs and 8,200 complete records of prisoners have been recovered. Several thousand more inmates are thought to have died there.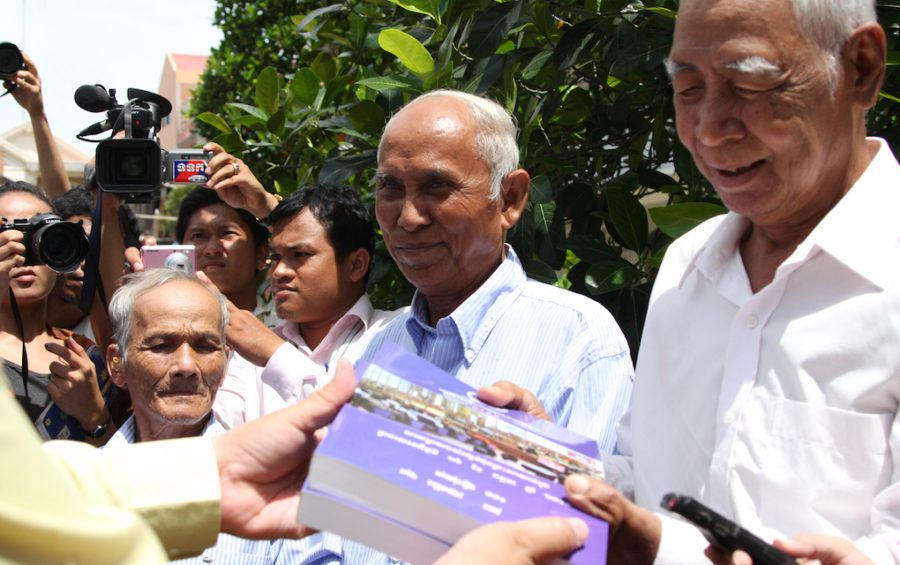 "There was no hot or cold [interrogation] method, as Duch said. It was always the hot method," recalls Chum Mey, one of Duch's victims, in his 2012 book "Survivor."
That meant S-21 guards pulling off Mey's toenails with pliers and administering electric shocks through wires attached to his ears.
People sent to S-21 were killed, almost without exception. As few as seven detainees survived S-21 when the regime fell in 1979, according to the Killing Fields Museum.
"Whoever was arrested must die. It was the rule of our party," Duch said in a 1999 interview. "S-21 had no right to arrest anybody. We had the responsibility to interrogate and give the confession to the central committee of the party."
'Crocodile Tears'
Journalists Nic Dunlop and Nate Thayer tracked down Duch in Battambang 20 years after the fall of the Khmer Rouge regime, under which 1.7 million people died from starvation, torture, execution and forced labor. Dunlop has said he was carrying around a photo of the former S-21 chief and ran into him by chance while traveling on another assignment.
"It is God's will you are here. Now my future is in God's hands," Duch told the journalists after realizing that his cover was blown. "I want to finish my life to pray to God, to bring the spirit of God to everybody in Cambodia."
Dunlop and Thayer wrote at the time that Duch's remorse appeared to be genuine. Others, however, were less sure as time went on.
Duch was detained by the military court from 1999 to 2007, then transferred to provisional detention awaiting trial at the newly formed Khmer Rouge Tribunal. His was the first case to be heard.
The hearings, held over eight months in 2009, examined about 1,000 documents and heard from 55 witnesses and civil parties. About 31,000 people attended the hearings.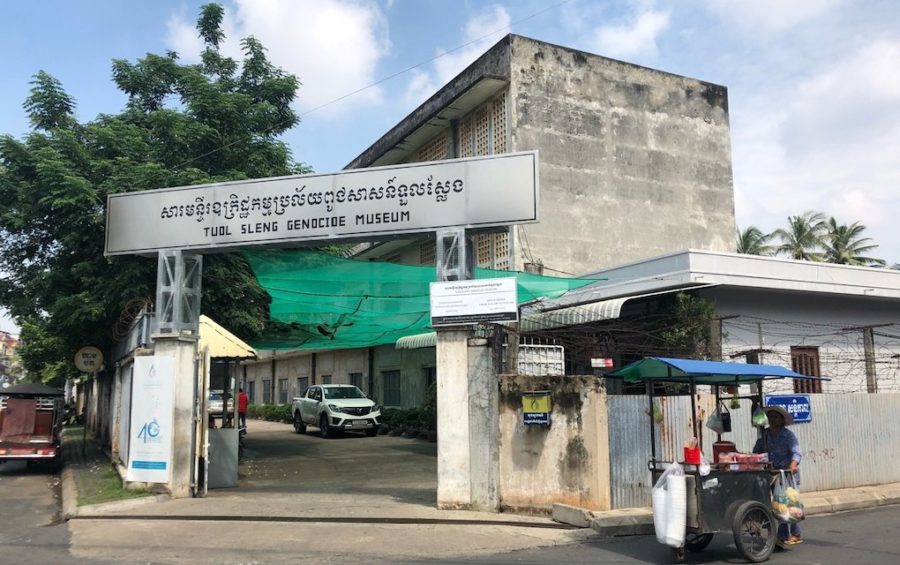 "I would like to apologise to all surviving victims and their families who were mercilessly killed at S-21. I say that I am sorry now, and I beg all of you to consider this wish," Duch said at one point, according to a Phnom Penh Post transcript.
But Alex Hinton, an anthropology professor at Rutgers University and author of "Man or Monster? The Trial of a Khmer Rouge Torturer," said many victims were unmoved.
"[A]t times his humanity seemed to emerge but more often he seemed emotionally wooden. So when he occasionally broke down in court, many of his victims believed he was just shedding crocodile tears," Hinton said in an email.
"Given the overwhelming amount of incriminating evidence he faced, Duch decided to admit his crimes while arguing that he was a cog in the machine and a remorseful one at that."
After more than a decade and $300 million, only two other Khmer Rouge leaders — "Brother No. 2" Nuon Chea, who died last year; and head of state Khieu Samphan — were convicted by the tribunal. With several former Khmer Rouge cadre in his government, Prime Minister Hun Sen has opposed further prosecutions. In 2012, a reserve co-investigating judge, Laurent Kasper-Ansermet, resigned alleging government interference in his investigations.
"Regardless of how authentic, Duch's apologies were dramatic and, like his case, will be remembered as a signature moment of the tribunal," Hinton said.
"Second only to Nuon Chea's genocide conviction, Duch's life sentence stood as a key marker of justice for many victims. Now both are dead. Of course, from a Buddhist perspective, karmic justice awaits — and a horrible rebirth."
Last Days
In a statement, the Kandal Provincial Court said Duch had died of bronchitis on Tuesday night after being transferred to Khmer-Soviet Friendship Hospital.
The Interior Ministry's prisons department spokesperson, Nuth Savna, said Duch died after recurring health issues related to exhaustion and respiratory problems, possibly related to heavy smoking in the past.
"He was old, and sick for a very long time," Savna said. "When he got worse, we rushed to send him [to the hospital]."
Duch was initially treated at the Kandal Provincial Referral Hospital on Tuesday before being transferred to Phnom Penh, he said.
"In the past, he used to complain to me about his high blood pressure and chatted with me. I often met with him," Savna said.
Duch was hospitalized for respiratory problems in 2018, according to news reports. He was also treated for urinary problems in 2005.
Duch was held in an isolated house away from other prisoners, Savna said. "We took care of him very well, and it was a priority. The doctors used very good medicine for him, and paid very close attention to him."
Kandal Provincial Prison director Chat Sineang said Duch had asthma and had been checked into the hospital four times since he was imprisoned.
"Every day, he read. In his small room, he stayed alone and there was space for him to exercise," Sineang said. "We did not allow any prisoners to go close to his room."
In the end, Duch had abandoned his Christian faith, he added.
"Before, he believed in Christianity, but later he kicked out the one who came to visit him and asked him not to come again," Sineang said. "In the last years, when we held [Buddhist] offering ceremonies, he came to worship and made offerings to the monks with us."
Sineang said Duch's quarters would be turned back into a break room for staff.