SVAY ANTOR COMMUNE, Prey Veng — Ahead of the third anniversary of his arrest on a treason charge this week, opposition leader Kem Sokha has been busy, holding meetings and traveling the country.
In addition to hosting ambassadors of foreign countries in his Phnom Penh home, the president of the outlawed main opposition CNRP has toured the provinces in recent months, making stops at pagodas, farms and slain political analyst Kem Ley's family home; visiting with monks, former colleagues and members of the public; and posting photos on his official Facebook page with those he meets along the way.
Last weekend, he went to Prey Veng province's Svay Antor commune, where he planted one of 50 tree saplings he donated to a pagoda, and dropped by a farm.
Sokha showed up at the farm for about 10 minutes, without advance notice, last Saturday, said the owner, who like two other people living in the area requested anonymity due to fear of political reprisals.
"I completely did not realize the presence of Kem Sokha at my farm. There was just someone who had my mobile phone number who called me," the farmer said. "Then, I was very surprised after seeing the customer was Kem Sokha."
During the brief visit, he said Sokha didn't talk to him much. He asked how his business was doing. The man didn't dare offer more than a few words to the politician.
While Sokha's trial proceedings were suspended in March due to coronavirus concerns, his treason charge and bail conditions, including a ban on leaving the country and participating in politics, remain intact.
His recent provincial visits — which Sokha and his lawyers say are merely goodwill jaunts outside the capital — may be a way for him to test the boundaries of his court-imposed restrictions, gauge his grassroots support or even bid for the future leadership of a reinstated opposition party, while upholding the court order to abstain from politics, observers and CNRP supporters say.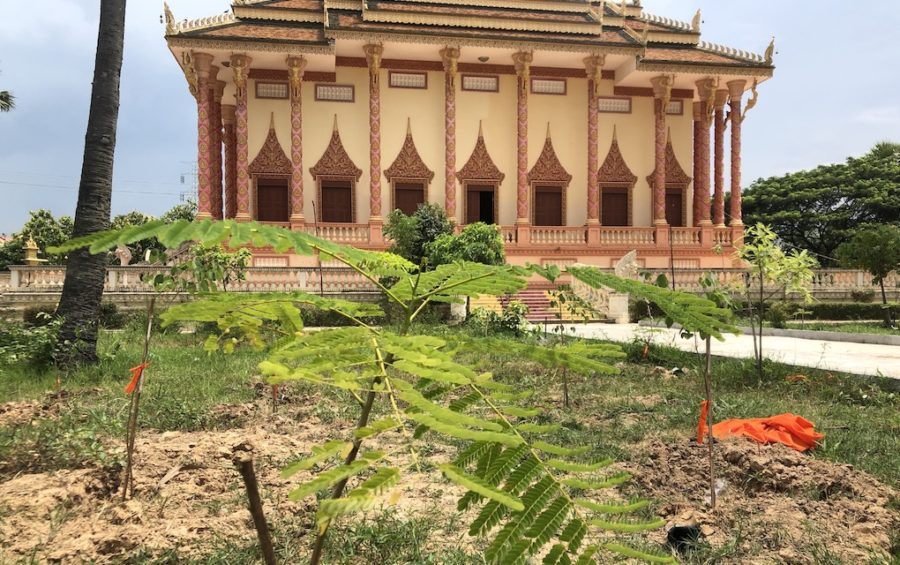 "He wants to signal that there is hope, both for himself and for the future of the Cambodian opposition," said Katrin Travouillon, a researcher of Cambodian politics at Australian National University.
Against Cambodia's political backdrop — in which most understand that what is considered political, or permissible, is determined by government leaders rather than the nation's Constitution — Sokha's visits show his political skills, Travouillon said.
"He puts on an interesting performance of defiance and submission, determined to use the space that is available to him, yet careful to signal that he respects its boundaries. At least for now," she said in an email.
"For the same reasons, these visits and pictures demonstrate what is still possible, but they also serve as a stark reminder of the freedoms that have been lost over these past few years."
I don't dare go to see my boss [Kem Sokha] as the political situation today is still too hot.
Sokha was arrested just after midnight on September 3, 2017, and accused of conspiring with a foreign power to overthrow the government, a charge he has repeatedly denied. Sokha faces up to 30 years in prison if convicted.
The party was dissolved by the Supreme Court two months later and more than 100 senior party officials were banned from participating in politics for five years, including Sokha.
He was jailed for a year before being released to de facto house arrest, and later had his bail conditions relaxed, although he is still not allowed to engage in political activities, a condition which his lawyers have said has not been clearly defined by the court.
'He Is on His Way'
Some living in stops along Sokha's provincial tour, including former CNRP officials, claimed they have no interest in Sokha, his trips or politics, with many expressing fear of associating with the opposition party co-founder.
In Tbong Khmum province's Memot district, former Treak commune chief and ex-CNRP official Sou Yen said he knew Sokha had visited his province in July but he was too afraid to go and meet him.
"I don't dare go to see my boss [Kem Sokha] as the political situation today is still too hot," Yen said. "If we [try to] meet him, authorities would not allow us to do so easily."
Som Chakriya, a former CNRP lawmaker who owns a convenience store in Kampot province, told VOD that she had ceased all political involvement due to her age, 68.
She said she didn't even know where Sokha had been visiting or what he was up to.
"Previously, he was my friend and schoolmate. Now, as we know, he is on his way, and I am on my way," Chakriya said. "I am running my business to support my [five] grandchildren who are studying abroad. So I have to work hard."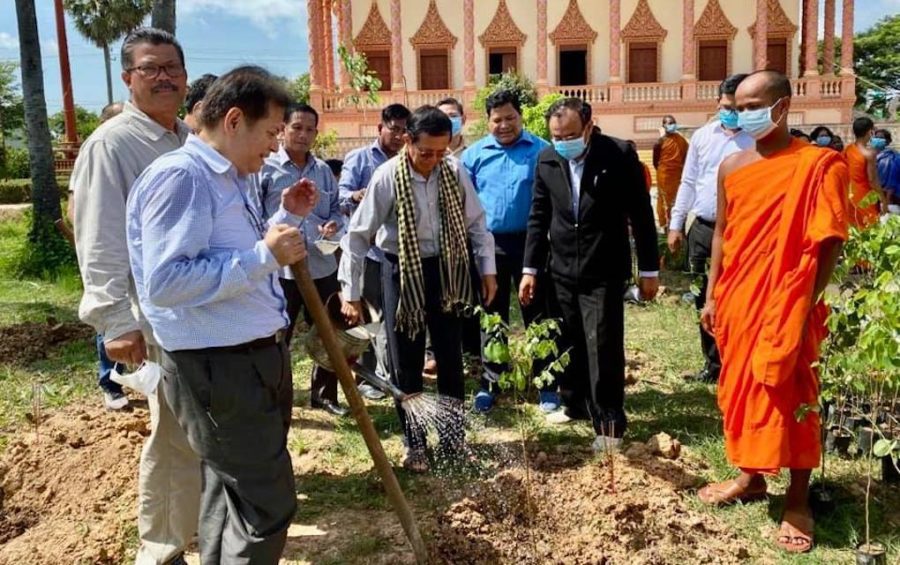 In July, the Phnom Penh Municipal Court issued a reminder to Sokha to uphold the conditions of his bail after authorities accused him of violating the terms of his release by visiting supporters.
Attorneys have denied Sokha's provincial trips have broken any of the court's rules, with one arguing in July that he has "the right to meet with politicians, former colleagues to express that he misses them" as well as the right to travel for leisure and partake in religious ceremonies.
A Phnom Penh court spokesperson could not be reached on Friday, but Judge Koy Sao said in a July letter that Sokha's recent actions could stretch the limit of his bail terms, or break them.
Judges reminded Sokha that "he needs to maintain the spirit of firm and serious respect and adhere to the duties that the court required of the accused," according to the letter.
Sokha himself has suggested that he is merely trying to reconnect with people.
"I still miss and want to meet, listen and talk [to people] and ask how they are doing in other places whenever I have a chance," Sokha said in a Facebook post. "I wish for people to have good health."
'His Mouth Is Closed'
In Svay Antor, one supporter of Sokha said this week that he had hurried to nearby Wat Pothivong to see the party leader face to face.
Sopheak* said he didn't know in advance that Sokha would be visiting his commune last Saturday morning. But when one of Sokha's bodyguards sent him a message informing him that Sokha was coming to town, Sopheak said he disregarded the guard's advice to stay home and rushed to see the CNRP co-founder in person.
"We all wanted to see him because we had not seen him for several years," since 2017, Sopheak said.
But other than a quick hello, the man said he didn't dare to speak with Sokha during the hourlong visit.
The politician didn't talk about anything related to politics, sticking to small talk with about 30 people gathered at the pagoda for a tree-planting ceremony, including monks; Sokha's 10-person entourage, including his lawyer Chan Chen and spokesperson Yem Ponhearith; and a few locals.
"What he tried was to not speak much," Sopheak said, adding that he mostly inquired with elderly people about their health, families and businesses.
Asked about why he thought Sokha, a "hero" to Sopheak and other CNRP supporters, was touring the provinces now, the man said Sokha's trips were firstly about relieving stress, participating in social activities around the country and trying to relive good memories of the past by visiting places he had been before.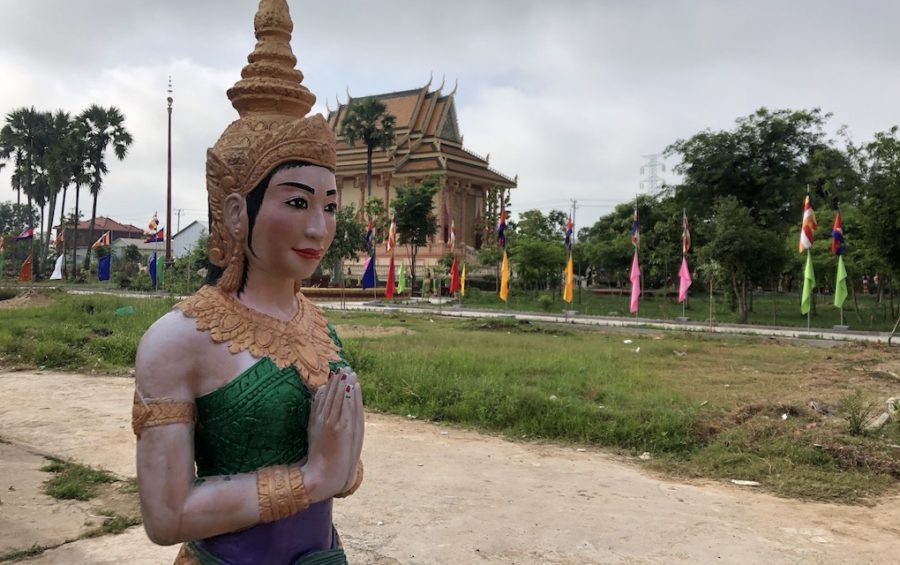 But Sopheak also said the visits could be a kind of surveying of people to see whether they still support Sokha — an indirect way to conduct politics.
"I think the visit is a way to do politics, to show others, especially government leaders, that he could go anywhere to do environmental, religious and agricultural activities," Sopheak said.
"His mouth is closed, but he can go anywhere. It's a [political] movement to show others that he still has influence," he said.
It would be surprising if the accused politician was to get arrested while planting trees or visiting a pagoda, said Sopheak, adding that he was glad to see Sokha visiting people outside the capital and not just saying home.
His mouth is closed, but he can go anywhere. It's a [political] movement to show others that he still has influence.
But Wat Pothivong's chief monk was less enthused when asked about Sokha's recent visit, donation of trees and a painting inside the pagoda meeting hall that Sokha had funded four or five years earlier.
The monk, who declined to give his name to reporters, said Sokha had planted one of the 50 luxury-grade rosewood, or kra nhung, saplings he donated last Saturday, and after that the politician didn't say much beyond asking some old women about their health.
Asked if he thought Sokha's visit was altruistic charity or a photo op, the monk replied that the tree planting was meant to beautify the pagoda.
"I don't want to see my pagoda's name involved in politics," he told VOD.
"My pagoda welcomes all political parties," he added, even the minor LDP, whose leader has often publicly criticized Buddhist religious leaders.
Later, the monk added that the multicolored flags lining the path near the trees were always there, noting that they were not put up for Sokha's visit.
'We Have Lost Connections'
Sokha has traveled to at least eight provinces in the last two months, including Kampong Cham and Prey Veng last weekend, according to one of his lawyers, Chan Chen, who has also accompanied Sokha on some of the trips.
Chen described Sokha's traveling as private social activities, and said his itinerary was not released to the public.
"Mr. Kem Sokha always respects the court's bans as well as follows the laws of the Kingdom of Cambodia," Chen told VOD. Other than leaving Cambodia and engaging in political activities, the lawyer said Sokha has the right to do anything else, including travel around the country freely.
According to Chen, the reasons behind the trips included praying for Cambodians' happiness, peace and health; observing the economic situation, including the tourism sector, during the Covid-19 pandemic; and worshiping ancient Khmer heroes, like Lok Ta Khleang Moeung​, a warrior renowned for defeating the Siamese army centuries ago.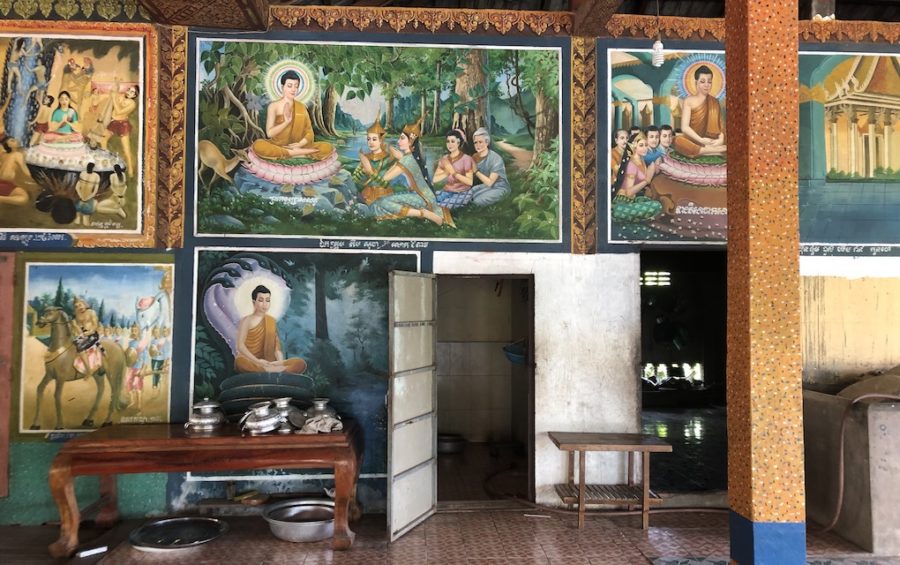 While photos on Sokha's Facebook page show him posing with smiling Angkor Archaeological Park staff and visitors, not everyone is excited about his excursions around the country.
Soy Sinthart, the former chief of Speu commune in Kampong Cham province's Chamkar Leu district, said he hasn't cared about Sokha's recent visits to the provinces, including a trip to his district — Sokha's hometown — in July, because Sokha has not seemed to care about the former CNRP members who were arrested and jailed in the last year.
While Sinthart acknowledged that Sokha may not have expressed concern due to his ban from political activities, the ex-commune chief said he is now focusing on his coffee-selling business, and taking care of his five children.
"He has been under [court] restrictions, so what his strategy is, I don't know. Because we have lost connections in the last few years," said Sinthart, who was jailed for more than three weeks last year on incitement and conspiracy charges in relation to his participation in exiled CNRP co-founder Sam Rainsy's failed plan to return to Cambodia on November 9.
Sinthart was released on bail on November 15, according to a release order issued by the Kampong Cham Provincial Court. Like Sokha, Sinthart said he was also banned from leaving Cambodia and engaging in political activities.
"Because he's never released any statement to express concern about us when we were in prison. I've never heard that he's doing so. He's cared about other things, so I've done other things too," he added. "What he has done, people will consider that."
'Never Saw His Trial on TV'
Back in Svay Antor, speaking in his front yard, shirtless with a krama tied around his waist, Chamroeun* said he had heard that Sokha had visited Wat Pothivong a few days prior, but he didn't see the politician himself.
"I wonder if Kem Sokha wants to be involved in politics," he pondered.
In the 2017 commune elections, the CNRP lost to the ruling CPP by just a few votes in Svay Antor, the elderly man recalled.
Nationally, the CPP captured about half the votes to the CNRP's 44 percent, but the ruling party won more than 1,100 communes to the main opposition party's fewer than 500. After that election, the CNRP was dissolved and banned from participating in the following year's national election, which the CPP swept.
Still, Chamroeun speculated that if Sokha could make a political comeback and campaigned again, he might win. And Sokha would win in his commune, he added.
In 2017, the CNRP lost to the CPP in Svay Antor by less than 400 votes, according to National Election Committee figures.
Before that election, hundreds of people in the commune would rent trucks and vans to travel to CNRP rallies in the capital and listen to speeches by Sokha, according to Chamroeun.
Back then, even though some people feared showing support for the CNRP, they were not too afraid because they had strength in numbers, he said.
He had attended one or two CNRP rallies in the past, the man added, but declined to share whether he would like Sokha to return to politics or even visit his commune again.
He would be fine whether Sokha rejoined the political arena or not, Chamroeun said.
"If he comes, I'm happy. If he doesn't come, I'm also happy," he added.
Asked about Sokha's postponed treason trial, the man said he has not been following the proceedings anyway.
"I never saw any of Kem Sokha's trial on TV," he said.
CNRP Spirit Needs a 'New Body'
Political observer Meas Nee doubted that Sokha's visits outside the capital were meant to show he still has supporters, and compared the politician's trips to that of any other Phnom Penh resident who might travel to the provinces during holidays.
"Some people might claim the Kem Sokha provincial trips are to assess his popularity, but I think that he just uses his rights [as allowed by the court] to travel," Nee said.
According to the analyst, Sokha had the right to meet supporters and former CNRP activists, although he might avoid meeting them in order to stave off accusations of politicking.
"I believe that he would try not to discuss anything related to politics, such as the future of his party or what the opposition party should do, but just ask about how people are doing, and social issues, which are not political activities," Nee said.
Between pressure from the ruling party and Rainsy-Sokha factionalism within the banned CNRP, it was difficult to see the opposition's future, he added.
Rainsy stands next to international leaders in Geneva, Sokha stands next to villagers in Kampong Cham. When it comes to deciding leadership hierarchies, Sokha knows how powerful these images are.
While the CNRP's body was dead, its spirit remained, but it needed to find a new body if it were to find new life, according to Nee.
The future of the CNRP depended on how its leaders decided to transform the party for upcoming elections. "It's a thing which only the party itself knows," he said.
Travouillon, the Cambodian politics researcher, said the "optics" of Sokha's visits were "quite powerful for those who want to believe in a future of the Cambodian opposition," and could be thought of in terms of a bid to lead a reinstated CNRP or alternative opposition party.
"Rainsy stands next to international leaders in Geneva, Sokha stands next to villagers in Kampong Cham. When it comes to deciding leadership hierarchies, Sokha knows how powerful these images are," she said.
Sopheak, the CNRP supporter in Prey Veng who caught a glimpse of Sokha last week, said the chances of the CNRP being revitalized seemed slim.
He said the government doesn't care about human rights and people's economic livelihoods — which the opposition has attempted to use as pressure points against the government in lobbying foreign nations to hold Cambodia to account. Sopheak cited the government's willingness to allow the E.U. to suspend 20 percent of goods eligible for duty-free trade access under the European bloc's Everything But Arms (EBA) trade agreement. The garment industry has said the move, which went into effect in August, could cost the sector jobs and the economy growth, even as more than 150,000 jobs were lost and 400 factories suspended operations this year during the pandemic-fueled global economic downturn.
But perhaps the CNRP could make a comeback if the government faced international pressure, he said, adding that he hoped the international community, including Japan and the E.U., put more weight on the government to negotiate with the opposition. He suggested the E.U. could even fully remove EBA trade preferences.
The other option would be for the people to "stand up," according to Sopheak. But without a leader present to rally CNRP supporters — as Rainsy remains abroad and Sokha is under court-imposed restrictions — opposition members would be "arrested immediately," he said.
"How would they stand up if they have no leader leading the way?" Sopheak said. "If we had leaders, no one would keep quiet. They would be standing up."
Whatever the path, he said there would be some kind of talks between the government and the opposition in the future.
"Everything has an end. Every conflict in Cambodia eventually has a negotiation to end it."
*Sources requested anonymity to avoid possible reprisals and have been given pseudonyms.