Relatives of infamous Pheapimex CEO Choeung Sopheap received forest land in the center of Kirirom National Park, while a minister, tycoons and an apparent relative of first lady Bun Rany all received state land, according to official documents published in late December.
According to a new batch of government sub-decrees — signed in June but published online last week — a company called One More received 221.94 hectares of forest on June 27, all within Kirirom National Park in Kampong Speu province's Phnom Sruoch district.
One More's directors includes Choeung Sokuntheavy, the daughter of Pheapimex CEO Choeung Sopheap, a tycoon also known as Yeay Phu, who is married to senator Lau Meng Khin.
The other two directors listed in the Commerce Ministry's business registry are Lau Jia Hao and Lau Jia Zhen. Both directors share the same address in Phnom Penh's Daun Penh district as Sopheap's Pheapimex Group, though it was not immediately clear how they were related to the tycoon or senator.
When asked about the new landowners, Kampong Speu provincial governor Vei Samnang hung up the phone, while deputy governor Long Bonareth said she didn't handle this kind of work.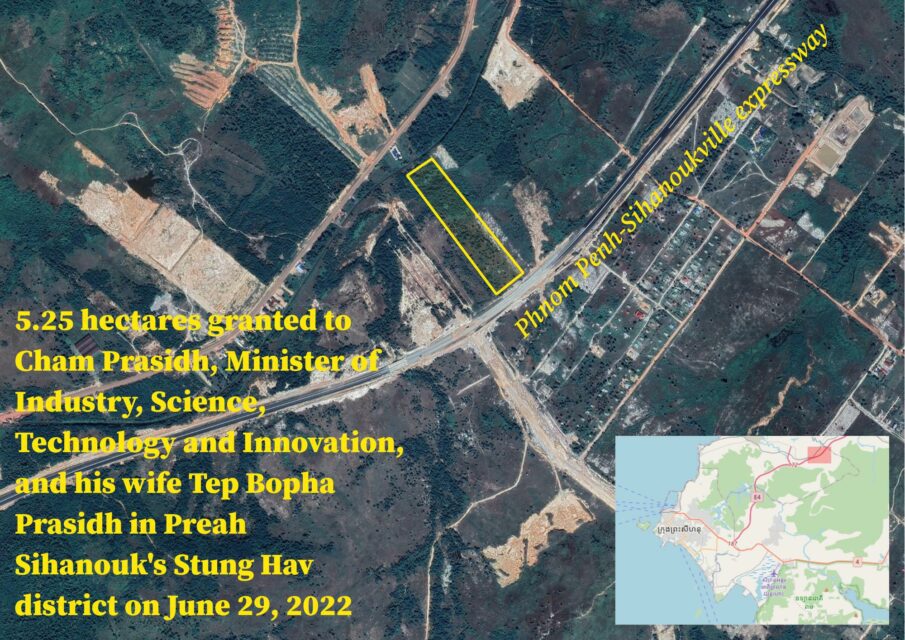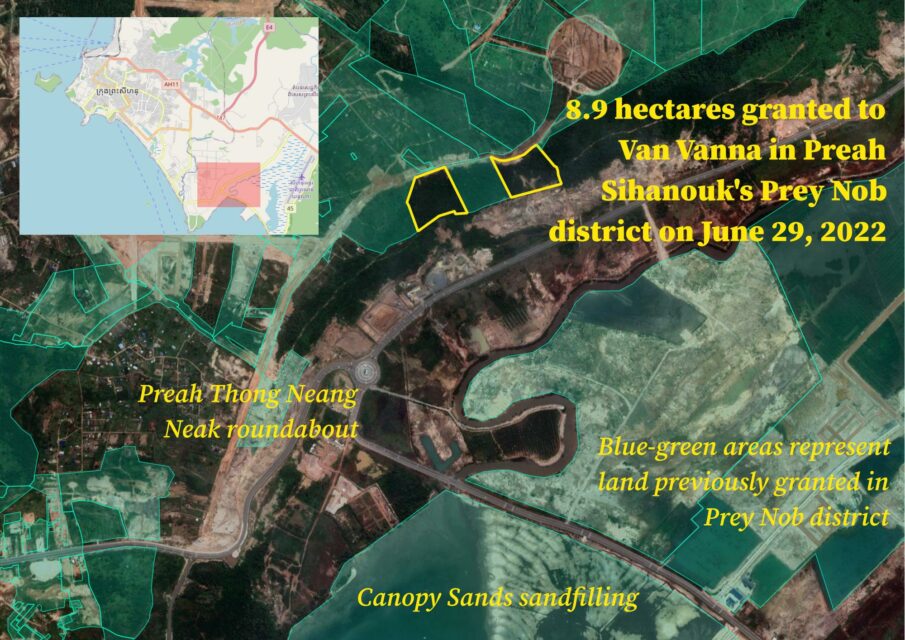 In another decree, Cham Prasidh, minister of industry, as well as his wife, Tep Bopha Prasidh, received 5.25 hectares of land along the new Phnom Penh to Sihanoukville highway in Preah Sihanouk's Stung Hav district.
Most of the area, 4.4 hectares, was taken from a social land concession, while the rest is from former forest, according to the decree signed June 29.
Another individual named Van Vanna received 8.9 hectares in Preah Sihanouk's Prey Nob district. The identity of Vanna was not immediately clear. The land — which was granted June 29, according to the sub-decree — is in a development hotspot in Prey Nob district, where Hun Sen's children, businesswoman Lao Annie and the company Fu Hai have all received land.
The sub-decree also transferred 641.46 hectares of a reservoir in Takeo's Bati district to TP Moral Group in exchange for "preparing a reservoir" that spans 154.93 hectares. According to the sub-decree, signed June 13, the reservoir spans three communes — Doung, Champei and Pea Ream in Bati district — but exact location was not clear because the decree did not include maps.
TP Moral Group is owned by tycoon Khun Sea, who has previously received land from the government in exchange for services. The company was positioned to benefit from the razing of Bati district's Phnom Tamao Forest, according to documents released last year, but Prime Minister Hun Sen canceled development plans for the forest area.
Sub-decrees released in February and March last year indicated that the government also planned to give away parts of the popular tourist resort Tonle Bati.
Takeo Provincial Spokesperson Meas Uy said he didn't know about this sub-decree handing land to TP Moral Group. Two of the directors listed on the Commerce Ministry's website could not be reached.
Elsewhere in Takeo, 61 hectares of Tram Kak district's Sre Ronong and Leay Bor communes were granted to an individual named Tan Panhavuth, according to a document signed on June 13. The exact location was not clear, but Panhavuth appears to be the brother-in-law of Bun Rany, according to an obituary for the first lady's mother published in 2020.