Bor Bet, a monk who last month fled extradition from Thailand over his criticism of the Cambodian government, says the tradition of rebellion among monks dates back a century.
Chuon Nath — born in 1883, and also known for his Khmer-language dictionary and statue on Phnom Penh's Sihanouk Blvd. — pioneered a push for Khmer nationalism in the face of French colonialism. One of his students, Hem Chiev, then became a symbol for the independence movement.
Preaching across the country, Chiev told people: "Wake up, you are not children. Take charge of your destiny, fight, take initiative," historian Henri Locard told the Cambodia Daily in 2013.
Arrested by the French colonial regime and unceremoniously stripped of his monk's robes in 1942, Chiev sparked the first large demonstration against French rule in Cambodia. Around 1,000 people — including 500 monks — marched in Phnom Penh, leading to violence.
Bet recalled both Nath and Chiev as he criticized a new draft law, currently before the Religions Ministry, to regulate monks' behavior. In an early draft, the law proposed jail terms of seven to 15 years for monks joining demonstrations against any political party. Another article suggests six months to five years in jail for monks who "act against the decisions of authorities at all levels."
Activist monks in Cambodia have long worked in tension with politics, authorities and the law. But a new draft law to specifically restrict their behavior comes as leading monks have been forced into exile, others have been silenced, and serves to stamp out the legacy of resistance, they said.
Bet said that before fleeing Cambodia — and later Thailand — he had participated in advocating for the environment, including protesting against sand dredging.
Now a refugee in Switzerland, Bet said the draft law was intended to finally eradicate activism among monks.
He said he believed it was part of a monk's responsibility to educate people about bad people and bad leaders.
"So this is not a breach of Buddhist discipline and law," he argued, a point that has caused divides among religious scholars.
"The draft is a serious threat, in particular violating the rights of monks who do work in society or protect national resources, and keep their eyes on political developments in Cambodia," Bet said. "When we only participate in protecting the forests, or protest some other thing that is opposed to the CPP, they would prosecute for seven to 15 years."
Top monks in Cambodia have openly supported the ruling party, he added. Bour Kry, great supreme patriarch of the Dhammayuttika sect, issued a statement last month on behalf of the sect's council supporting the planned succession of Prime Minister Hun Sen's son Hun Manet.
Since Nath and Chiev, Cambodian monks joining political and environmental movements have routinely harkened back to their predecessors as paving the way for activism in the monkhood.
In 1998, major protests erupted — and eventually turned violent — in the wake of a national election.
In 2007, Vietnam arrested protesting monks in Kampuchea Krom, leading to rallies in Cambodia. Photos from the time show authorities swinging batons against monks.
Luon Sovath, winner of the Swiss Martin Ennals Award for human rights defenders, has been a long-time activist monk, taking the lead in campaigning against land evictions for well over a decade.
He spoke last month from exile that the new draft law was politically motivated.
Monks had historically played a key role in the country not only for Buddhism but for society, using their rights to expression to protect the peace as well as others' rights and freedoms, Sovath said. This was their duty, he added.
"This law is a weapon …. to threaten, frighten, silence," he said.
Threats and intimidation in recent years had already served to silence many activist monks, and many had fled the country or been defrocked and jailed. They were currently under immense pressure, he said.
"We are very concerned for Buddhism in Cambodia, which has helped to protect the territory, forests, and natural resources," he said. "This will force them to abandon those social activities. This will cause various difficulties in Cambodia. The monks will not dare to express their views and preach about human rights, nor speak about the country's issue because they are afraid of being defrocked. Buddhism's value will decrease — it's moving backward, away from Buddhism's role."
"The law is intended to destroy and eliminate the monk's role in Buddhism," Sovath said.
Religions Ministry spokesperson Seng Somony said officials had heard the criticism. The draft article against demonstrations was being removed, as it was already covered under the Criminal Code.
"It is not finished yet, and it keeps changing," Somony said. "Since it already exists in other laws, the minister accepted the comments from civil society and other media and other religious leaders."
He added that the law was not intended to serve any political party, and was about religion.
It touches on other aspects of spiritual life, including six months to three years in prison for using sorcery to force someone to believe or disbelieve any religion.
But "we have to make a law to make peace last forever," Somony said.
"Like in the Khmer saying, 'The cow has already eaten [rice] and we are trying to build a fence.' So we need to build the fence before the cow comes to eat our rice."
The ministry had also looked into whether ruling-party support from top monks was legal, he added. But it was not their expressions of support, but cursing, "making chaos" and demonstrations that were illegal.
"The law bans monks from cursing other people and making chaos," Somony said. "They use violence, burning police cars or military vehicles, and that is burning state property, which is illegal. So they are guilty. We do not take sides."
Activist monk Phorn Sipheang disagreed. He said the law would restrict only monks who supported the opposition, while those who supported the ruling party would be fine.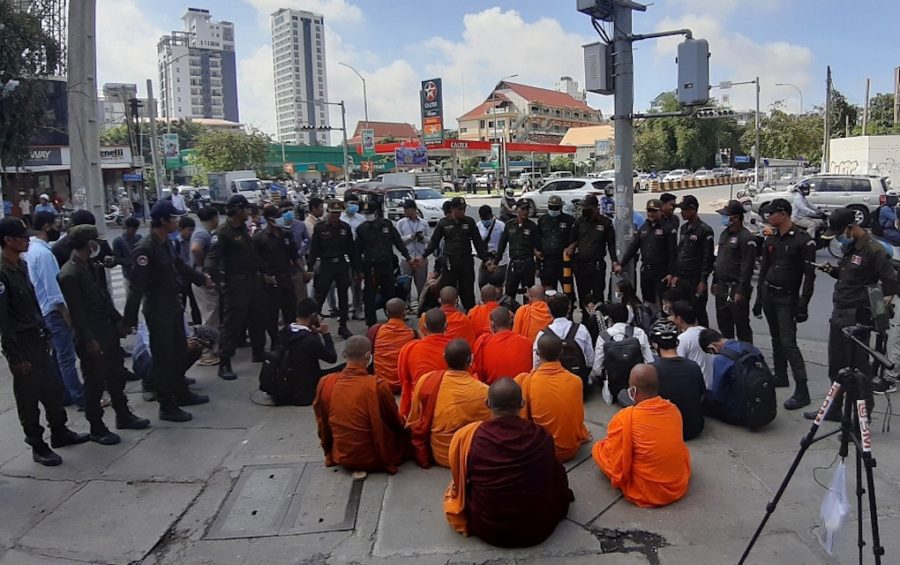 He added that he expected the law would be introduced before upcoming elections this year and next.
"When a monk gives constructive criticism to promote and help society, it should not be a crime," he said. "When the law comes out, it will serve only one group of people."
At Phnom Penh's Wat Chas pagoda, Nuth Vanny said he believed social justice, especially counterbalancing the rich and powerful, was part of the work of Buddhist monks.
"As we know, currently, the one who has money always wins," he said. Without monks preaching about human rights and other issues, society will get worse, Vanny said.
"When they use the Criminal Code [against monks], it looks bad for the public … so they've made the draft law for Buddhists to persecute monks, so their actions are legitimate and legalized."
With the new draft law, "it will be difficult to protest, to demand justice, because when we do it, it will be illegal. So I cannot support this law."