The government has allocated more than 200 hectares of land in Pursat province to the military's Region 5, according to a sub-decree issued in August.
The document, issued by Prime Minister Hun Sen, orders the allocation of 238 hectares of land from the Phnom Samkos Wildlife Sanctuary in the Cardamom Mountains in Pursat's Veal Veng district. The sub-decree was issued in June.
Chhum Socheat, a Defense Ministry spokesperson, said that the land would be used for "army affairs" and would not reveal further details about how the land would be used.
"It could be a training area and there are a lot of confidential affairs, or it could be a warehouse or to store weapons," Socheat said.
He said that it was needed to develop the army for the future and so that forces are "prepared in advance."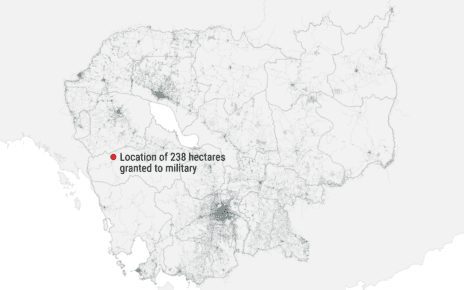 Pramoy commune police chief Hun Ren said the army had a presence in the area, and a regional office a few kilometers away, but that the building was demolished by environment officials.
"There is no forest there, it has been cleared long ago," Ren said.
The land allocation comes two months after the Koh Kong provincial government gave the military 1,102 hectares of land for the creation of the "Samdech Pich Sena Tea Banh development project," which purportedly will become a holiday area for the military. According to the Koh Kong government, the land is in Koh Kong district's Chrouy Pras commune.