Four opposition activists were arrested this week amid recurring protests calling for the release from prison of a prominent labor leader as well as members of the outlawed opposition CNRP, some of whose family members continued to demonstrate in the capital on Friday.
The four activists affiliated with the dissolved opposition party — Ouk Samoun, Chhin Sovanna, Chhuo Pheng and Chum Puthy — were arrested between Tuesday and Thursday by Phnom Penh police, lawyer Sam Sokong said on Thursday.
The four had participated in protests calling for the release of unionist Rong Chhun, who was detained on a charge of "incitement to commit a felony" last week in relation to comments he made about the alleged loss of Cambodian territory to Vietnam near the border, Sokong said. Officials have denied Chhun's claims, calling his statements "fake news."
The four activists had also visited Chamkarmorn district's Than pagoda to meet with eight monks who had traveled from Battambang province to Phnom Penh to protest for Chhun's release but were stopped by authorities, the lawyer said.
"Whenever there is an arrest or demonstration, they always participate, and that's why they were arrested by the authorities at this time," said Sokong, who is representing Chhun and regularly represents opposition members.
Phnom Penh Municipal Police chief Sar Thet said Pheng and Puthy were provisionally charged with incitement on Thursday, while the other two were questioned and released.
Thet said the two charged men were named in an audio recording heard by the chief which he said was from leaders "inside and outside" of Cambodia, suggesting the pair was directed by leaders of the banned CNRP — many of whom are living outside the country — to organize protesters. A speaker in the recording allegedly sought to recruit three people from each of Phnom Penh's communes to participate in protests calling for Chhun's release.
"Why were [they] accused? Because the two of them received a clear plan from their leaders, both inside and outside, to gather their forces, with three [representatives] from each commune, to protest for the release of Rong Chhun," Thet said.
Pheng's wife, Dos Kimteang, said her husband had previously participated in opposition party activities but he had stopped after the CNRP was dissolved by the Supreme Court in November 2017. The 42-year-old said she would struggle to take care of their three daughters without her husband's income from selling furniture.
"I ask for the release of my husband because my husband has [made] no mistake," she said. "He is a breadwinner, so I feel like I am in the middle of the river."
Chum Puthor, one of Puthy's six children, said his father was working as a tuk-tuk driver in Phnom Penh since the CNRP was dissolved, and his family in Svay Rieng province was not aware of whether Puthy was involved in political activities.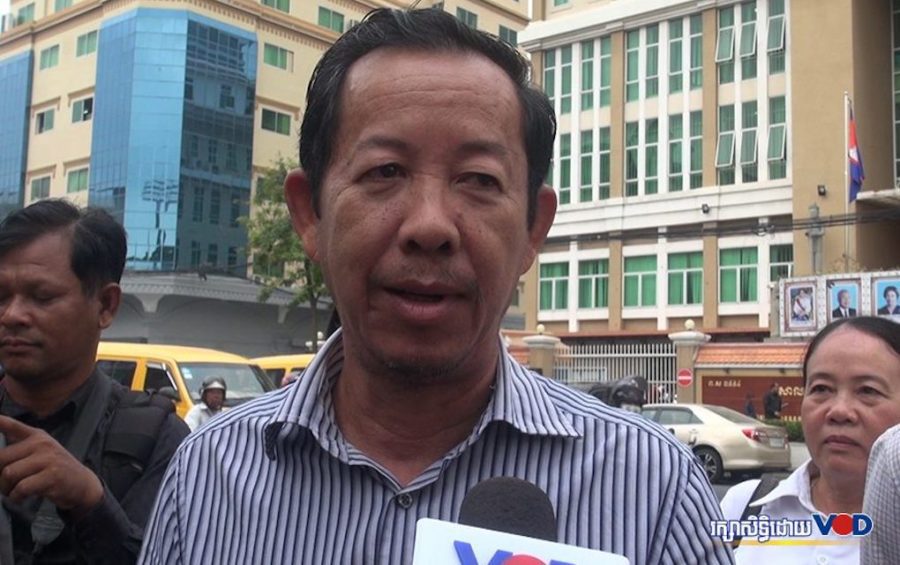 Social analyst Seng Sary said the heavy clampdown on peaceful protests was problematic, especially as life is getting harder for citizens due to the Covid-19 pandemic and prolonged political crisis.
"When problems happen again and again, and the government does not use [democratic] means to solve them, and it adds more problems like this, I suspect a social crisis will happen," Sary said.
On Friday, outside the Supreme Court, a group of about 50 relatives of jailed CNRP activists demanded permission to visit and bring food to their detained relatives, as the court conducted a bail hearing for 10 opposition activists inside. Some of the family members wore shirts depicting the jailed activists' photos.
Sokong, the lawyer, said he had requested bail for the detainees because they were experiencing health issues including high blood pressure, high cholesterol and joint pain.
Rithy Dina, a prison officer who met with some of the family members on Friday morning, said a superior had ordered him not to allow the relatives to visit their family members in prison.
Protester Sam Chenda said she was disappointed that authorities would not allow her to see her husband, Keo Thai, a teacher and former CNRP official in Kampong Chhnang province who was arrested and jailed in March.
"It is so unjust," Chenda said between sobs. "Others can sit and eat together but won't allow my family to bring [food]."
The court's decision in the bail hearing is expected on August 14, Sokong said.
In a statement on Thursday, Phil Robertson, deputy Asia director for Human Rights Watch (HRW), condemned Cambodian authorities' treatment of protesters during demonstrations in front of the Phnom Penh Municipal Court last month, raising alarm over video clips showing law enforcement officers shoving and dragging protesters.
"Videos of police dragging peaceful protesters on the street and forcibly jamming them into vehicles should raise global concern for police abuse in Cambodia," Robertson said. "The authorities should immediately end violent tactics against peaceful protesters and respect the rights to free expression and assembly."
More than 20 CNRP members are currently detained, "primarily based on fabricated charges of 'incitement to commit a felony' connected to their political statements or social media postings," according to HRW.
In separate statements this week, the rights watchdog and a group of 142 civil society organizations urged the government to release Chhun and drop the charge against him.
(Translated and edited from the original articles on VOD Khmer)