Justice Ministry officials need more room, so "empty public land" will be used to store court documents by filling in another part of Boeng Tamok, one of Phnom Penh's "last lakes" that feeds hundreds of families and protects the capital from flooding.
In a Council of Ministers letter dated September 25 and circulated on Wednesday, the government handed over eight hectares of the lake to the ministry for a storehouse to keep documents and equipment from the ministry, Appeal Court and Phnom Penh Municipal Court.
Government spokesperson Phay Siphan said ministry officials needed more space to work.
"The ministry is crowded. … We need more offices and rooms to work in. We do not have any public land that can accommodate [it]. So, we use empty public land," Siphan said.
There was no other public land available, he said, adding that the government promotes both conservation and development.
"We will still keep a conservation area, but it will just be a smaller size. We need to give priority to the prioritized need," Siphan said.
Justice Ministry spokesperson Chin Malin declined to comment, referring questions to the Council of Ministers.
Portions of the 3,200 hectare lake have steadily been given to various individuals and institutions since 2018. The largest part will go to the Defense Ministry, which has planned a 300-hectare military base on landfill.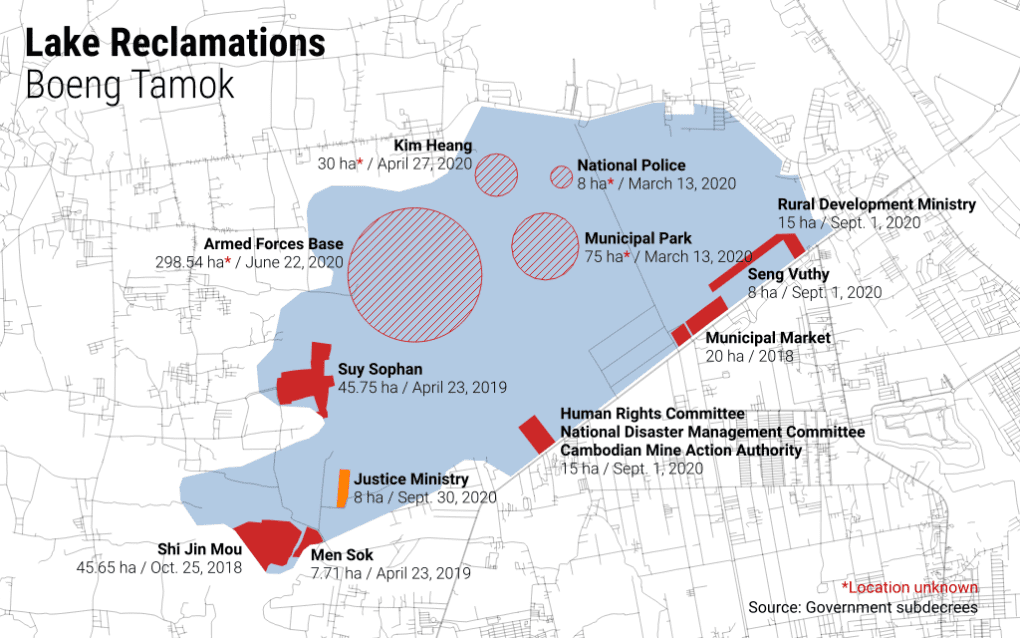 Environmental group Mother Nature was advocating for the preservation of the lake earlier this month when authorities arrested three of its members.
Em Khemara, program manager for urban land rights group Sahmakum Teang Tnaut, which has previously issued research about Boeng Tamok's importance to livelihoods and flood protection as one of the capital's "last lakes," declined to comment.
Yong Kim Eng, president of NGO the People's Center for Development and Peace, said the government's decision to allocate part of a natural lake for governmental buildings was regrettable.
It should keep Boeng Tamok for its unique benefits, including potentially developing it as a tourism area, Kim Eng said.
The government "should find other places for developing and building state offices," he said, adding that if it keeps filling in more and more of the lake, "it will increase the risk of flooding in Phnom Penh because there will be no place for the water to release into."
The filling in of the many lakes and swamps in Phnom Penh has been controversial, notably with violent evictions erupting around inner-city Boeng Kak after the lake was leased out to a private development company in 2007.