4:06 p.m.
After more than two weeks of protests and more than 20 arrests, the head of the NagaWorld union attempted to join an ongoing strike outside the Phnom Penh casino this afternoon despite an active arrest warrant against her.
Just before 4 p.m., however, Chhim Sithar was arrested by police officers on National Assembly Road, outside the Australian Embassy, as she entered barricades cordoning off the workers' rally.
In addition to uniformed officers, undercover officers also pounced on her, and pulled her into a white sedan.
The strike and protest, which began last month, relate to the termination of more than 1,300 workers from the casino, including, in particular, top union leaders at NagaWorld.
Sithar, president of the Labor Rights Supported Union, was among those fired, and had been largely absent at rallies as authorities deemed the strike illegal. She was among nine names listed in an arrest warrant issued on Monday by the Phnom Penh Municipal Court prosecutor. Ten people were arrested on Friday and a further 17 on Monday.
5:45 p.m.
The remaining two wanted NagaWorld workers have turned themselves in, police said, on the same day union president Chhim Sithar was violently arrested outside the Phnom Penh casino.
Seventeen workers arrested on Monday either have been or will be released by tomorrow at the latest, police said.
Near NagaWorld, worker Chhuon Saman started crying as she described her reaction to Sithar's arrest.
"It's been 16 days that I've been here. My representative came and they arrested her. I feel heartbreak. They are so cruel," Saman said. "I wanted her to come here. … But she wasn't here yet. They caught her. I can't accept this."
"Today this made my conscience more and more powerful to keep going," Saman added.
Pov Kalyan, a woman who witnessed Sithar's arrest from close, shouted furiously
"They arrested one Sithar, but we still have a thousand Sithars. Arrest us as they wish," She said.
Kalyan said she was not one of the more than 1,300 fired workers. But she could not go back to work seeing the pressure NagaWorld was putting on her coworkers, she said.
"I cannot step into work like this when my friends receive injustice from the company," she said. "I'm scared. I must be brave. If they want to arrest me, I'm standing here."
Phnom Penh Municipal Police chief Sar Thet confirmed Sithar's arrest and said all nine people in an arrest warrant issued by the municipal prosecutor were now found. Six of them had been arrested on Friday.
"Two men came to make a confession," he said, referring to two workers, Sok Narith and Sok Kongkea. When asked about potential leniency for turning themselves in, he said: "This is the judge's right and power."
Asked about 17 people arrested on Monday — none of whom were on the arrest warrant — Thet said a pregnant woman was already released and the others should also be out soon.
"Sixteen people are being educated, and will be allowed home this evening or tomorrow at the latest," he said. "They have nothing to do with it. They just follow others."
Sithar's arrest was reported enthusiastically on government-aligned Fresh News: "Finally! Ms. Chhim Sithar, Mastermind of Incitement of Illegal Gatherings in Front of NagaWorld, Has Been Arrested by Authorities."
At the rally, authorities could be heard telling workers to leave by 6 p.m.
Related Coverage
6:03 p.m.
Workers began leaving the rally together as a group near 6 p.m.
Naly Pilorge, director of local human rights group Licadho, said the union had done everything it could to resolve the strike peacefully, but the government and NagaWorld had chosen to intimidate, harass, and arrest peaceful strikers.
"Chhim Sithar's courage in showing up to today's strike, knowing that she faced absurd and false charges of incitement, is a sharp contrast to the cowardly violence of those who arrested and assaulted her. This violent arrest of a peaceful unionist is outrageous, and shows the government has given up all pretense of respecting its own laws on labor rights," she said.
Peaceful strikes were not crimes, unions were not illegal, and workers' rights must be respected by both employers and the government, Pilorge added.
"The government has abused 'incitement' charges to the point that they are meaningless, and are now regularly used to criminalize legal and peaceful speech and association. These unionists are, in effect, being prosecuted for daring to organize a peaceful and effective union. They must all be immediately and unconditionally released."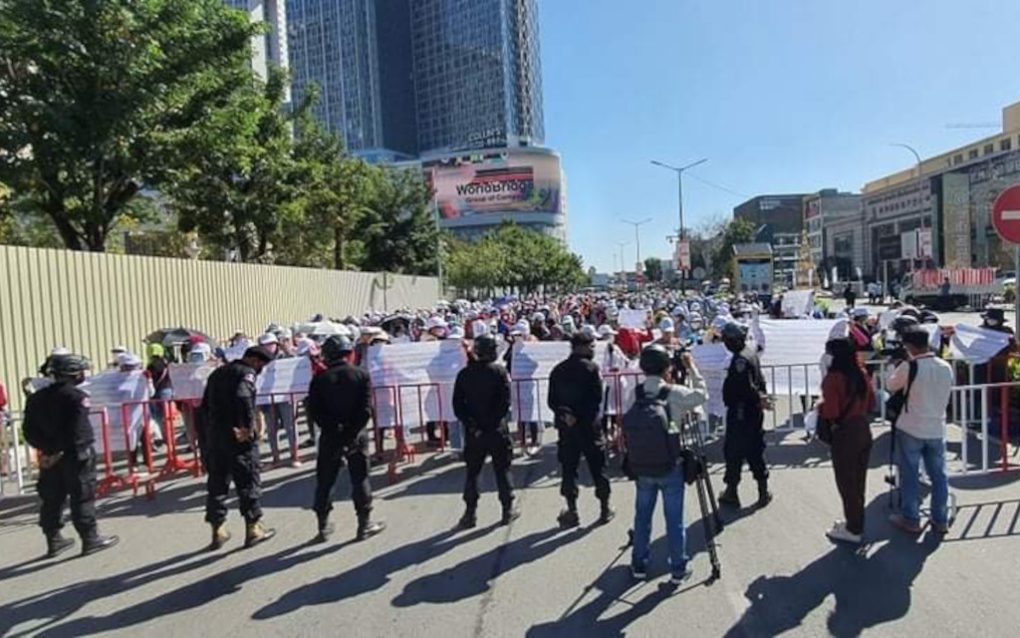 Protester Lou Mei Fong said earlier in the afternoon that she was not scared and would continue to rally.
"I do not have any concerns because I do it legally, and I will continue to do so until there is a solution for us," Mei Fong said. "As long as NagaWorld comes out to solve the problem for us, we will return to work as normal."
"We're striking against the company, not against authorities."
The protests began again on Tuesday around 2 p.m., attracting more than 100 workers.
The U.S. Embassy said on Twitter that it was closely following "the troubling arrests" of NagaWorld workers.
Reporting by Keat Soriththeavy, Mech Dara, Kuoy Langdy, Ananth Baliga and Danielle Keeton-Olsen