NagaWorld union representatives said they will not attend the third negotiation meeting to resolve their dispute on Wednesday because the casino corporation refuses to discuss reinstatement of workers.
The union has attended two negotiation meetings with the Labor Ministry and NagaWorld, saying that both meetings had resulted in no compromise. The Labor Ministry on Monday told attendees that Wednesday's meeting will be the last, after which the two sides can approach the courts.
Union president Chhim Sithar told VOD on Tuesday that the union representatives had decided to boycott the final meeting because NagaWorld refused to discuss the reinstatement of laid-off workers, and was instead sidestepping the issue.
She said the representatives felt there was no point attending the meetings unless the issue of reinstatement is addressed and solved.
"One-hundred percent we will not attend the meeting tomorrow if the company has the same position as yesterday," she said. "If my team goes, we go together. If not, we won't go together."
VOD was unable to reach senior NagaWorld executives Hein Dames, who attended Monday's meeting, and Mike Ngai.
Sithar added that there were around 300 workers in the casino who wanted to leave their jobs if the casino gave them a monetary package for exiting. She suggested to NagaWorld they could replace these workers with those who were laid off last year. Only around 200 of the 1,329 workers laid off last year want to return to work.
The Labor Ministry interjected and told the workers only the company had the right to decide who to hire, she said. Then a NagaWorld representative added that the company might fire around 600 additional workers, she recalled from Monday.
Sithar said she couldn't gauge the seriousness of the claim, and it could have been a diversionary tactic to prevent further discussions on reinstatement of workers.
"It is weird when the Covid-19 situation is improving and the business is doing well. They get a lot of customers," she said, referring to the potential redundancies. "And they themselves are hiring more workers.
Workers have posted about new job postings for NagaWorld as part of their advocacy efforts online.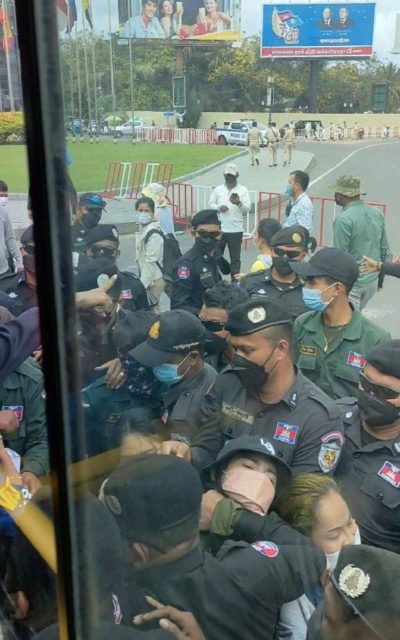 Police officials again prevented workers from reaching NagaWorld casino to resume their strike on Tuesday, instead forming a human chain to direct and push workers into waiting buses. Workers said around 140 workers were pushed into buses and that some of them were injured in the crush.
Mam Sovathin, a worker who was detained, said the buses then proceeded to drive around the city, making a stop at Phnom Penh Safari near the new stadium in Chroy Changva district.
"Brother, they take us by bus for a visit at the zoo. At the safari," she said. "They don't let us stand nearby Naga. They want us far from Naga."
The workers were then taken to the new Freedom Park and were released Tuesday evening.