12:45 p.m.
The NagaWorld union president Chhim Sithar said striking workers were bracing for potential arrests after the municipal court banned the strike on Thursday.
Sithar told VOD on Sunday that employed workers could face disciplinary action from the company starting Monday, while those who don't work for the casino could face criminal charges. She said she was "sure" there would be arrests.
"We already knew in advance and ready to stand up to fight against this unfair court order," she said.
She estimated that 1,500 total active and laid off workers were participating in the demonstration. As of noon Sunday, there appeared to be around 300-400 workers at the strike.
10:10 a.m.
The first major series of rallies since Covid-19 lockdowns continued with high spirits. Most wore red NagaWorld uniforms and white caps that they waved with loud cheers to passing traffic. Through a relatively chilly, overcast morning, workers sat on the grass on the corner of Sothearos and Sihanouk and regularly broke out into chants. Some had "strike" written across their cotton masks.
Inside a corner coffee shop, workers formed a long line for the toilets while others ate noodles and breakfast.
Fired casino worker Ment Kanika said the workers were not happy to be pushed away from protesting in front of NagaWorld.
"We want to be in front of the company to do the strike," Kanika said. "They don't want us to be in front of Naga."
She said the rally would continue all day again until 5 p.m., when they would go home, and prepare to return again tomorrow.
"We'll continue until we have a solution. We need the union," she said. "We need stability in our jobs."
As Kanika spoke, organizers reiterated the workers' demands over megaphones.
She said it had been a long time since she had seen many of her colleagues, though some had kept in touch online.
The Phnom Penh Municipal Court has declared the strike illegal, but Kanika said this would not stop her.
"I'm not worried at all because we know what we do and we volunteer to do it. We do it from the heart."
8:50 a.m.
Around 50 workers are close to NagaWorld 2 at the Chuon Nath roundabout and are now blocked by local authorities and private security guards. To the west on Sothearos Boulevard, more than a 100 workers are continuing their protest outside the Phnom Penh Center and their numbers are growing.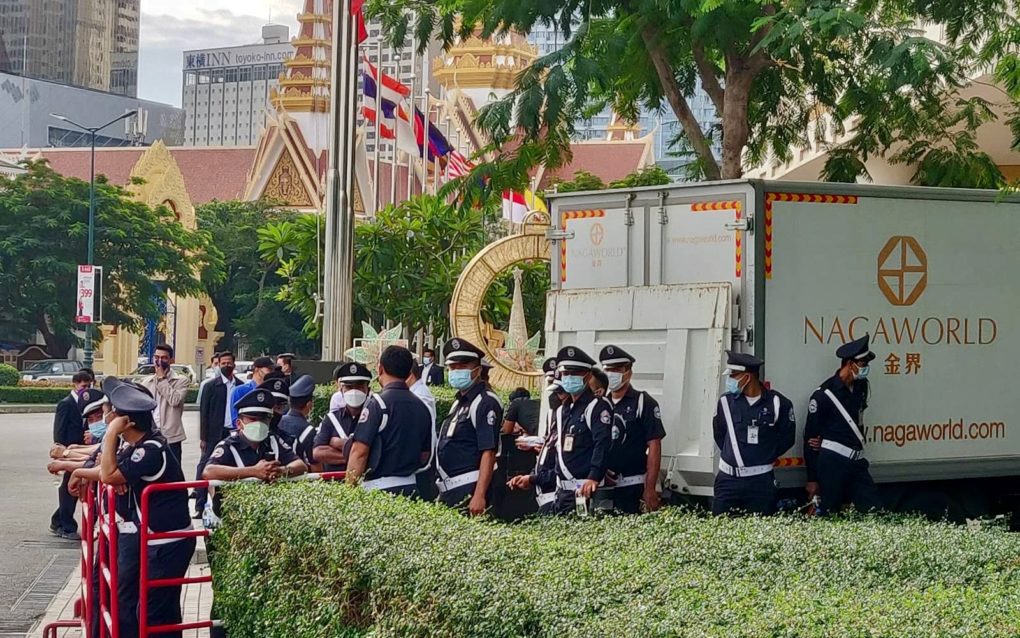 8:25 a.m.
Casino workers' protests resumed before 7 a.m. Sunday, as authorities put up roadblocks on several locations along Sihanouk Blvd.
The street in front of NagaWorld 1 was completely blocked off, as around 100 workers gathered across the street near NagaWorld 2 and the National Election Committee headquarters, surrounded by dozens of officers and security in suits.
As workers continued to arrive, authorities prevented them from entering from the west past Sothearos Blvd. By around 7:45 a.m. around 100 further workers had gathered on the corner of Phnom Penh Center and began holding up signs and chanting slogans.
Hundreds of workers organized a strike outside the casino's premises in Phnom Penh, demanding that NagaCorp rehire the more than 300 workers who haven't accepted termination compensation, and to recalculate their layoff pay and benefits to match the standards set in the Labor Law.
A Phnom Penh court ruled the strike illegal on Thursday, a decision that was made public on Saturday. Local officials also deemed the congregation a violation of Covid-19 protocols and ordered the striking workers leave the park opposite NagaWorld 1. Workers left around 5 p.m. Saturday and said they would return on Sunday.