Nagaworld workers ended the second day of their strike at 4 p.m. on Sunday, saying they will return Monday even if authorities enforce a court order banning the strike.
After nine hours of protesting in a barricaded area set up by security personnel along Sihanouk Boulevard and stretching from Phnom Penh Center to NagaWorld 2, strike participants departed together at 4 p.m. on Sunday, with police taking apart the barricades to let them through.
Workers were in a celebratory mood most of the day, singing songs, chanting slogans and dancing — even playing a Khmer-language song sung to the tune of American singer Beyonce's Halo multiple times. They routinely chanted "Khmer help Khmer," "Thank you, peace" and " Khmer can do it," the last two coined and used often by the government to promote its activities and development work.
Teams of workers brought out black plastic bags to pick up their trash from the second day of striking, which was then neatly piled up on the corner of Sothearos Boulevard. Phnom Penh governor Khuong Sreng and deputy governor Mean Chanyada were at Independence Monument park observing the end of today's strike.
Workers waved goodbye as they left the protest site and said "we will come back." After taking a few photographs and selfies, security personnel were loaded into flatbed trucks and then left the area.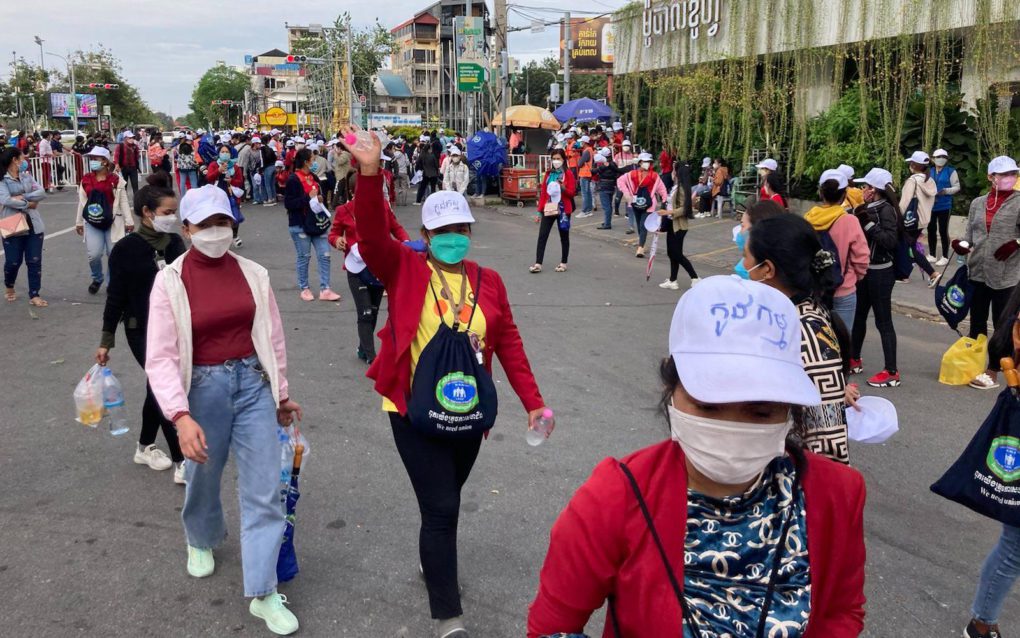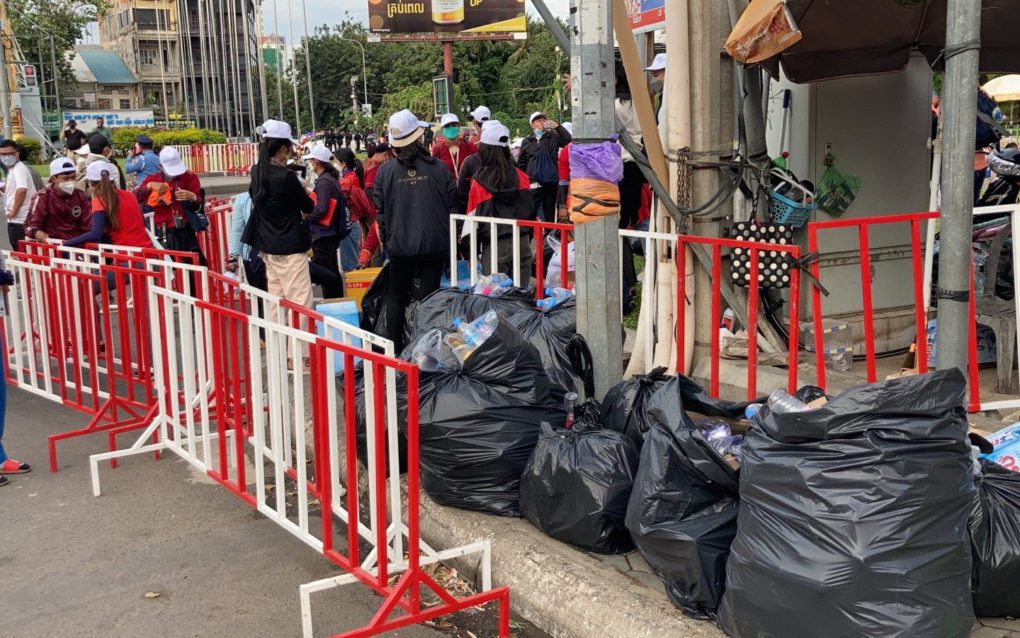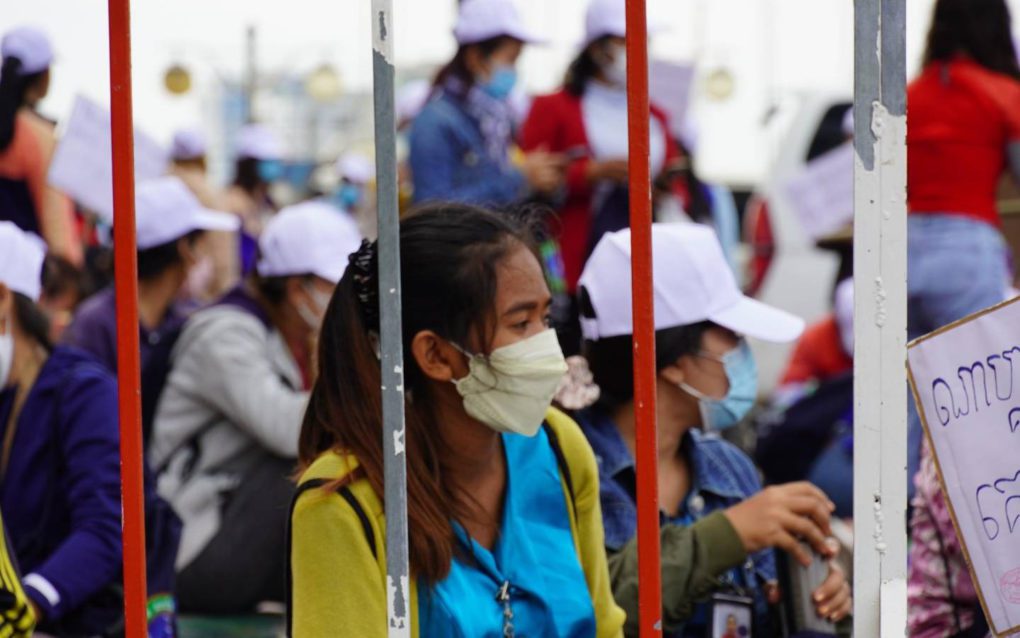 The Labor Ministry on Sunday released a letter to NagaWorld workers and the public saying the ministry had been trying to resolve the labor dispute with the casino behemoth, which is controlled by Hong Kong-listed parent company NagaCorp and majority held by its CEO, Malaysian billionaire Chen Lip Keong.
The letter urged striking workers to agree to three conditions: peacefully and silently participate in dispute resolution overseen by the ministry and Phnom Penh City Hall, suspend the strike and allow government officials to resolve the labor dispute.
The letter also told workers not to be fooled by people with bad intentions, saying it could "cause instability to the company and public order which can impact the employment of other workers currently working and receiving wages from NagaWorld."
Union president Chhim Sithar told VOD late Sunday morning that the union expected authorities to take action on Monday and use a Phnom Penh Municipal Court decision from Thursday ruling the strike illegal. The court injunction goes into effect after 48 hours. Terminated workers who had not yet accepted compensation packages could face criminal charges and active workers could face punitive action by the casino company, she said.
"We already knew in advance and were ready to stand up to fight against this unfair court order," she said.
Kleang Soben, a NagaWorld union organizer participating in the strike, told VOD that she has spent the morning and early afternoon at the intersection of Sothearos and Sihanouk boulevards, trapped in by police who she said were talking to them aggressively.
"We the people need to eat and pee," she said.
Soben, who was fired during NagaCorp's mass layoffs in May, said she was aware of the risk but the union had been fighting the Hong Kong-listed company for proper termination pay for eight months without response from them.
"I'm not worried because I did not do anything wrong," she said. "If the police arrest us, it means the prison is only for innocent people. But the Naga Company was the wrong one. We were pressured by them."
She said there was a chance that fewer people would show up to the strike tomorrow, when authorities and the company will likely threaten workers with action, but she said she would accept the charges.
"If we were arrested for our strike to get the compensation, we are happy to get on the police truck," she said. "We have prepared brushes and soaps, and we won't go against the police."
Mey Vanna, a casino supervisor who still works at NagaWorld, said those who are still employed are having a harder time at work because their tasks remain the same but there are fewer people to manage casino floors.
Workers also have fewer hours due to the lack of visitors during the pandemic, so they take home smaller paychecks than before Covid-19.
"[NagaCorp] had promised to provide full-time work for us, but some of us only work 15 to 19 days per month," she said.
"I cannot stand and watch them like this," she said. "I must get out to get their freedom back. I'm not scared of anything [and will strike] until they get back their compensation," she said, referring to the union's demand to recalculate termination pay for all laid-off workers in line with the Labor Law.
Pou Soleap, 27, said she retained her job as a dealer after the layoffs but decided to join the strike, saying the workplace became more difficult after union leaders were fired. Soleap, who worked for the company for eight years and is currently pregnant, said they're working 12-hour shifts and cannot challenge any of the company's requests, calling Nagacorp exploitative.
"If the union can't return, we will sooner or later be fired automatically too without compensation," she said.
Her decision to strike came from her "spirit and heart," she said, adding no one pressured her to join.
Labor Ministry spokesperson Heng Sour posted earlier that pregnant women were being urged to protest as a "color revolution" tactic, but Soleap disputed the claim. A previously dormant and anonymous Facebook account has also posted photos from the strike alleging it was organized by foreigners.
She said that no other people, including foreigners nor general citizens, were involved in the protest, only NagaWorld employees and families: "We do it for our union and our union is for us."
"I can't accept that they said we are protesting and importantly they said we do it illegally," she said. "What is the point that I did illegally? I have been trying to seek a solution to keep our jobs for eight months. It's my rice pot."
Reporting by Keat Soriththeavy, Tran Techseng, Mech Dara, Danielle Keeton-Olsen, Michael Dickison and Ananth Baliga