The National Assembly on Friday passed a sweeping state of emergency draft law, which rights advocates say is ripe for abuse, as the number of Covid-19 cases in the country has slowly, but steadily risen since last month.
The draft Law on the Management of the Nation in Emergencies gives the government broad powers to restrict people's movement and communications and implement martial law in times of war, pandemics or other national security crises, according to an unofficial translation of the text published by state media outlet AKP.
During an assembly session on Friday morning, newly appointed Justice Minister Keut Rith defended the draft law, saying that a state of emergency was necessary for the government to protect national security and public health.
"Cambodia is not alone in establishing a law to manage a state of emergency," Rith said. "In the context of the global Covid-19 pandemic, many countries have used an emergency law, as well as introduced necessary measures in order to save people's lives and protect public health."
After about two hours of assembly members singing Prime Minister Hun Sen's praises and touting the government's achievements, the 115 lawmakers in attendance — all members of the ruling CPP — unanimously voted in favor of the law. Ten others were absent.
The legislation must now be approved by the Senate and Constitutional Council, which are also controlled by the ruling party, before going into effect.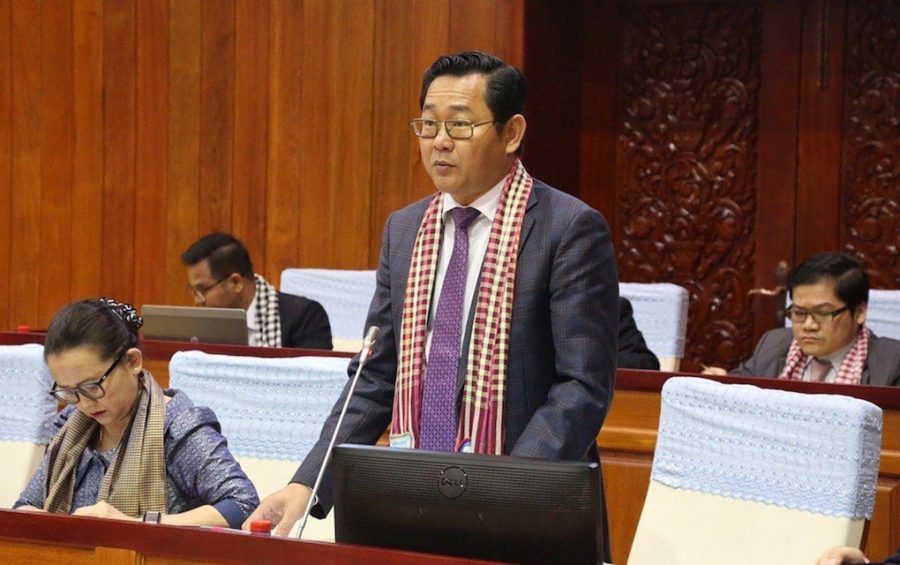 Last week, international human rights groups criticized the draft law for offering vague, open-ended powers to the government which they said threatened fundamental rights.
Pech Pisey, executive director of corruption watchdog Transparency International Cambodia, said civil society had concerns about the law because the situations that could trigger a state of emergency — such as a threat to national security — were vague and open to interpretation.
Pisey said a state of emergency law was important in principle, but the way the government implements the law should be monitored carefully.
"In Cambodia, there's no one in a viable position to scrutinize and [provide] checks and balances [on the use of the law], so it can potentially be abused," he said.
Under the draft law, during a state of emergency, the government may impose:
– bans or limits on the freedom to travel, assemble, leave one's home or broadcast information that can "cause public panic or turmoil, damage to national security or confusion" about the state of emergency
– quarantine or isolation measures in cases of public health threats
– measures to seize and use property and services of legal entities, fix prices of goods, surveil digital communications and close public or private institutions
– martial law in "cases of war or any other circumstances in which national security is seriously jeopardized"
Measures may be applied nationwide or to specific locations, and authorities may use the armed forces to enforce measures, according to the draft law.
Punishments range from one month to a year in jail for intentionally disregarding emergency measures, and can be as high as 10 years for obstructing an emergency response in a manner that disrupts public order or affects national security. Fines for individuals range from 100,000 riel to 10 million riel ($25 to $2,500).
The draft law also says that civil servants who use their authority in a way that "differs from the objectives" of the law and damages others' property must be held responsible under the nation's laws.
Pen Panha, chairman of the assembly's Commission on Legislation and Justice, said a state of emergency would be limited to three months if declared, but the premier could extend it.
The draft law does not specify limits on extensions of a state of emergency.
But political analyst Em Sovannara said the law should be more clear.
"Time is important for people and the nation. Whenever we put [the country in a state of emergency] for a prolonged period of time, we will lose the opportunity to develop the nation," Sovannara said.
Still, he said he didn't think the government would order a state of emergency, since the Covid-19 outbreak was not out of control in the country.
The Health Ministry has confirmed 119 Covid-19 cases this year, with more than half of those infected said to have recovered from the respiratory disease. No deaths have been reported in Cambodia.
In the region, Thailand has confirmed some 2,500 cases and 33 deaths, while Vietnam and Myanmar have reported 257 and 27 cases, respectively.
Sovannara said the state of emergency law would make it easier for the government to take action during a public health crisis like the Covid-19 pandemic, and in situations in which prices of goods increase rapidly or people violate government orders.
The law would also help the state avoid accusations of authorities acting arbitrarily or outside the law, he said.
Since January, 26 Cambodians have been arrested and accused by authorities of spreading false information about Covid-19 or similar allegations, with about 10 currently detained, human rights group Licadho said on Friday. Eight of those charged were affiliated with the outlawed main opposition CNRP.
If a state of emergency was declared in Cambodia, Sovannara said citizens would lose their rights.
"The people will no longer be the holders of full [political] power. The power will become the power of the state," he said.
Yet Sovannara acknowledged that the government already had control over all situations, political and economic, and the ruling CPP dominated the legislature.
"In general, the benefit of putting the country in a state of emergency is for the ruling party to take further advantage over other parties," he said.
Additional reporting by Danielle Keeton-Olsen and Matt Surrusco
(Translated and edited from the original article on VOD Khmer)