The explosion of an underground sand pipe caused a 20-meter length of asphalt to bulge and crack open along National Road 2 Thursday morning, blocking traffic for more than an hour near the Australian Center for Education.
A photo widely circulated on Facebook showed a fissure across National Road 2 at least a few feet wide — filled with muddy water — in front of a chunk of roadway protruding upwards like a large bump. A car and several motorcycles appeared to drive over the bulge while other motorcycles had pulled over to look at it from the sidewalk.
Six hours later around noon, more than a dozen construction workers had blocked off one side of National Road 2 and were digging on and around it, cleaning up broken chunks of roadway. Several workers who would not share their names said that they were told the area would need to be replaced with a new road, but said they weren't sure how long it would take.
Business owners and nearby residents also declined to share information about the incident or local sand dredging operations with their names.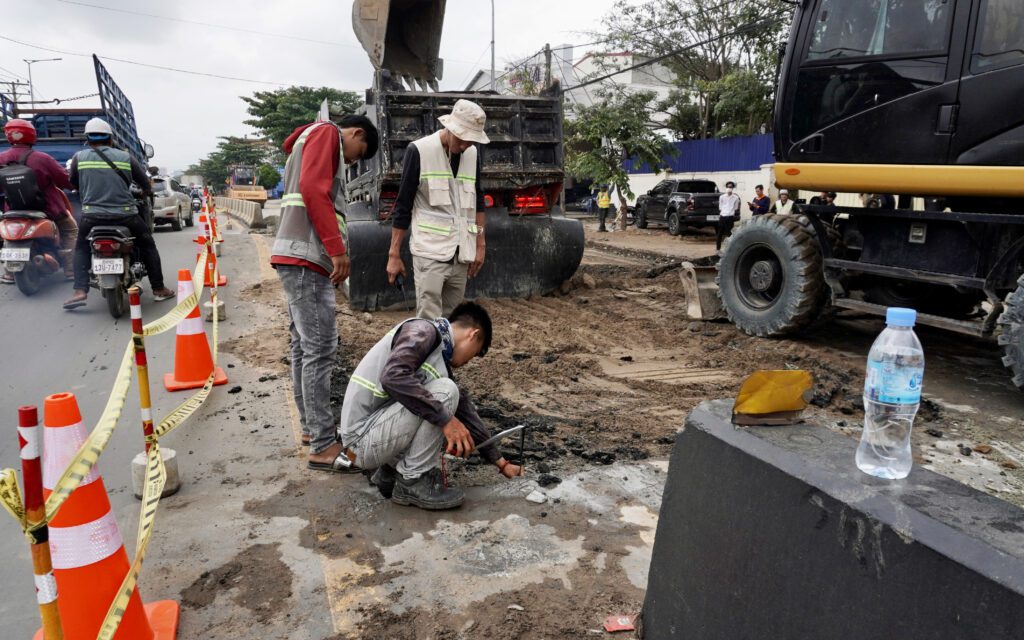 Seng Chunheng, deputy commune chief in Chak Angre Krom, told VOD the incident began at around 6 a.m. when the road began ballooning outward, "caused by the booming of the pipeline that pumps the sand."
"I wondered if the pipeline was too small or what?" he said, adding that he believes the pipeline is big enough but that its connectors may have failed.
Sand is first pumped into the pipe from the Bassac River and runs below ground before being stored in an area near the Meanchey district hall, Chunheng said. No people or construction workers nearby were harmed as the roadway began bulging and cracked open.
ChenHung said that the workers would repair the roadway "day and night" in order to reopen it fully to traffic.
Phnom Penh deputy governor Keut Chhe said he was in a meeting all day and did not have information about the incident and City Hall spokesperson Met Measpheakdey did not respond to queries sent on Telegram. Transport Ministry spokesperson Va Sim Sorya said he did not know about the incident and directed queries back to City Hall.
The Bassac river and the area around Boeng Tompun is a hotbed for sand dredging operations, with boats, barges and heavy machinery collecting and hauling sand to fill in wetlands to the city's south, as well as make cement.
Last May, the collapse of a Takhmao riverbank damaged a temple and provincial hall and renewed questions about the effects of dredging. Authorities blamed the incident on heavy rains at the time.