Over a dozen pages of court documents summoning former CNRP members, including several party leaders and ex-lawmakers, on charges of plotting and incitement were taped to an abandoned security guard booth at the banned party's former headquarters in Phnom Penh on Tuesday.
Combined with a second list of summoned opposition officials signed by the court and circulated online, 59 ex-CNRP members are due to appear at the Phnom Penh Municipal Court on November 26.
Those summoned include senior party leaders Sam Rainsy, Mu Sochua and Eng Chhai Eang, who are living abroad to avoid arrest, according to 14 court documents dated October 20 and posted at the former party headquarters.
All of them were charged with plotting and incitement to commit a felony, allegedly committed between January 20 and 27 last year and in June of the same year.
Sochua said in a message Tuesday that she was waking up on the East Coast of the U.S. to "court orders being glued to a guard post at CNRP HQ."
Authorities were seemingly selecting people to summon and charge on a whim, she said. One summoned man was living in Toronto and another in Manila.
"I think they just randomly pick from Hun Sen's black hat," Sochua said.
"The erosion of the justice system goes on till the total crash of the justice system and other fundamental democratic systems," she said.
Justice Ministry spokesperson Chin Malin, however, said the latest summonses were simply part of the legal process — a common remark from officials — and authorities had sufficient grounds to show that offenses were committed.
Malin also appeared to suggest that the accused needed to prove their innocence.
"If one did not commit an offense, one has to show evidence, testimonies or strong grounds to exculpate oneself, and the legal process is the only legitimate means of self-protection," Malin said.
He said expressing opinions or showing political support is a right but conducting activities that lead to a criminal offense is not a right.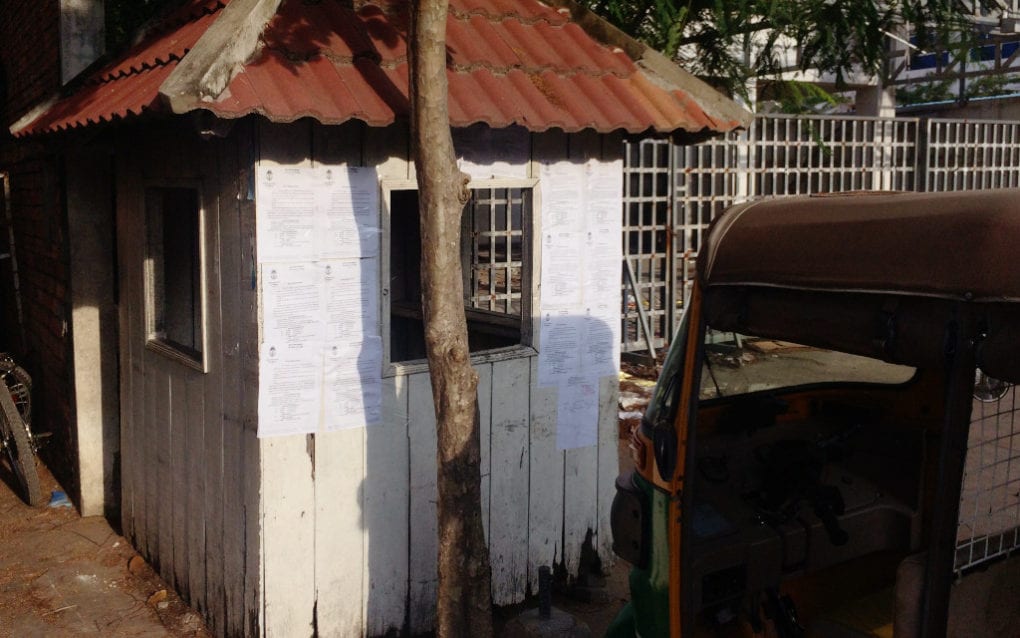 Among the 14 names listed was lawyer Lor Chunthy, who is not a defendant himself but represents imprisoned former CNRP politician Kak Komphear who Chunthy understands will be a defendant in the case.
A separate list, included in a letter from the municipal court to the national and Phnom Penh police and published by government-aligned media outlet Fresh News, has 47 names, including Rainsy for a second time and lawyer Sam Sokong.
Sokong said he also had not received official documents, but understood that all 46 ex-CNRP members, excluding himself, were defendants in the case. They were accused of participating in various campaigns in support of the outlawed party, he said.
He would likely defend most of the opposition members who had been summoned, though most were overseas or in hiding, he said. The court had the right to proceed with the case even in their absence, he added.
Sokong said 27 former CNRP activists were currently in jail after being arrested this year. "I would like the court to consider their freedom," he said.
Municipal court spokesperson Kuch Kimlong could not be reached for comment, while Phnom Penh Municipal Police spokesperson San Sokseyha said he did not have information about the summonses.
Rin Roath, a former member of the CNRP's youth wing and one of those summoned, called the court actions unjust.
The government regularly used the judicial system to harass activists and CNRP supporters, said Roath, who is living abroad.
"The Phnom Penh Municipal Court does not care about implementing the law against corrupt officials and bad people," he added.
The party activist said he was willing to return to Cambodia and attend the court hearing if the government removed a travel ban on CNRP leaders.
The circulated lists of summonses also include the names of former parliamentarians for the banned CNRP Ho Vann, To Vannchan, Isa Osman, Ou Chanrith and Long Ry.
Nine senior leaders of the party have already been called to appear on November 11. Most of the nine, including Rainsy, the party co-founder, and vice-presidents Sochua and Chhai Eang, were also summoned to appear on November 26.
They responded to the earlier summons by asking the government if they would be allowed to re-enter the country after having their Cambodian passports revoked and being prevented from boarding planes abroad last year.
Sochua said on Tuesday that she had received "no words from the regime" about meeting the CNRP's four preliminary conditions for returning to the country.
The party had asked the government to restore Cambodian passports to exiled officials; not compel airlines to block officials from traveling to Cambodia; urge Southeast Asian countries, specifically Thailand, to remove officials' names from travel blacklists; and allow citizens to peacefully gather at airports or border checkpoints to wait for arriving CNRP members.
Last week, Prime Minister Hun Sen accused Vann of orchestrating ongoing activism among CNRP supporters in Cambodia three years after the party was outlawed.
The premier also warned Vann, who is abroad, to "be careful" and noted that Vann's wife and children were in Phnom Penh and "must be frightened."
In 2017, CNRP president Kem Sokha was jailed on widely criticized treason charges. Sokha, who has denied the charges, and more than 100 other CNRP leaders remain banned from participating in politics by court order.
The latest court summonses follow some 50 arrests of government critics this year, including CNRP members, labor and environmental activists, and other dissenters.
Niv Chamroeun, of the party's steering committee, and former CNRP lawmaker Long Botta were also listed in court documents.
Additional reporting by Matt Surrusco