A new journalists' association, the Cambodian Journalists Alliance (CamboJA), vowed to promote press freedom and independent newsgathering, and defend and help professionalize local reporters during a launch event on Friday.

Speaking to about 200 attendees in Phnom Penh, including journalists, officials, ambassadors and others, Nop Vy, CamboJA's board chairman, expressed his hope that the group would positively contribute to the media sector, as well as promote citizens' access to information.

"CamboJA is an independent and professional institution, with no tendency or bias toward any political party, and has a mission to strengthen journalism and the freedom of journalists, strengthen the independence of news outlets and the power of media, and protect journalists," Vy said, according to his prepared remarks.

Vy is also the media director of the Cambodian Center for Independent Media, VOD's parent organization. Some VOD staff are among CamboJA's 15 founding members.

CamboJA, a membership network of local journalists, was registered at the Information Ministry in September, according to a statement from the group. It has nearly 100 members, including freelance and staff journalists, Vy said.

The organization also publishes news articles on its website.

Highlighting the problem of proliferating false information online, Vy said independent media played a key role in providing accurate news to the public.

Independent media are not the enemy of any political party, group or the government, he said, but rather offer comprehensive news reports that require journalists have full freedom to gather and publish news.

"Reporting in-depth and sensitive news is participating in pushing for a solution to social problems," Vy added.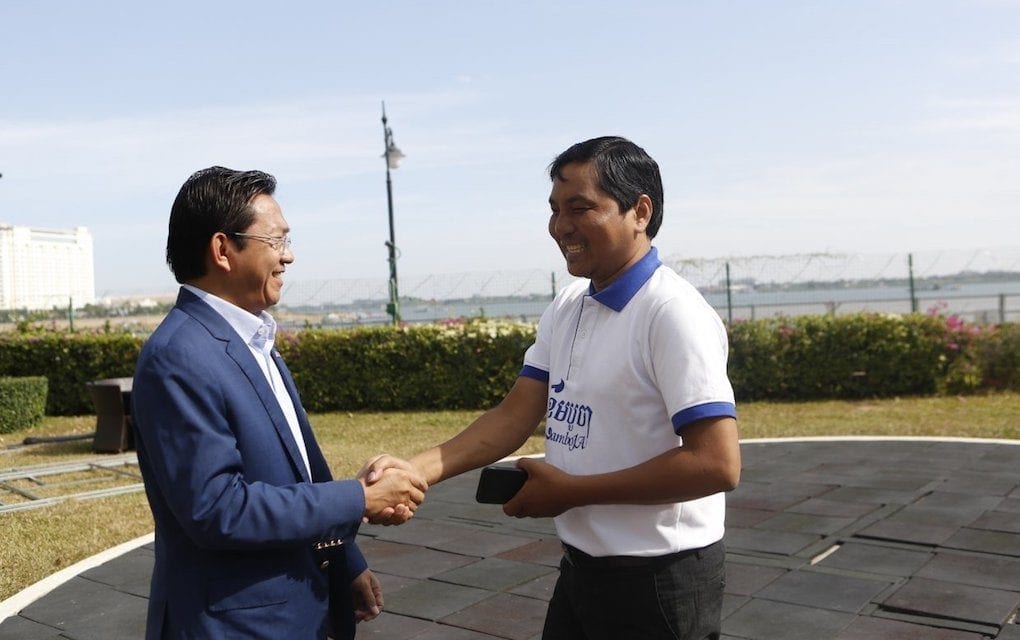 Huy Vannak, a secretary of state at the Interior Ministry, agreed that CamboJA should strive to be independent, but suggested that in addition to calling for journalists' rights and press freedom, they needed to "respect the rights of others."

"The basis of freedom is associated with the enforcement of law," said Vannak, who is also president of the Union of Journalist Federations of Cambodia.

He told the audience that what he feared more than "fake news" was what he called "mocking news," such as photos of expensive cars juxtaposed with images of poverty that pointed out economic inequality in Cambodia.

"The real purpose is to create conflict, conflict on the basis of [economic] status, on the basis of caste," the official said.

Those types of photos created "social clashes," misinterpretations and hate speech, and in some countries led to revolutions, Vannak later told VOD.

"If the intention is not to create social emotion or resentment then it's fine," he said. "But if you intend to create anger between people and people, that's not a contribution."

During the event, a video produced by CamboJA showed journalists speaking about their professional challenges, including one reporter who said he was threatened by authorities while covering illegal logging and another who said she was warned by a source to be careful or she could be disappeared.

Referencing the video, Vannak said when journalists cover protests they must carry identification. Otherwise they could be attacked by police, he said.

When facing legal challenges, journalists should hire a lawyer, rather than just having an advocacy group issue a public statement about their case, Vannak told attendees.

CamboJA members said their organization plans to offer legal services to its members.

Later, Vannak told VOD that he didn't think journalists should be scared. If reporters were threatened by authorities, the reporters should explain the situation and cooperate with officials, he said.

"Without cooperation I think there's some misunderstanding," the official said. "You work on that, you face the challenge, but don't victimize yourself."

He acknowledged that verbal threats against reporters from authorities occurred, but said they were "just temporary" and would not escalate to physical violence.

Last month, two VOD journalists were detained by authorities for three hours while reporting near the Thai border about the unrealized return of acting opposition president Sam Rainsy.

Committee to Protect Journalists says nine journalists have been killed in Cambodia since 1992, most recently in 2012, when reporter Hang Serei Odom's body was found in the trunk of his car at a cashew plantation in Ratanakiri province. He had frequently reported on illegal logging.

May Titthara, CamboJA's executive director, said in a statement that the alliance was set up to offer support to journalists, and help them work freely to produce quality news.

"Journalists still face intimidation, legal threats and other challenges. They need a journalists' association that is willing to help and fully support them in their work," he said.

Following commune elections in 2017, a government crackdown on media saw dozens of radio stations shuttered, the Cambodia Daily closed and the Phnom Penh Post sold to an investor with ties to the government.

Two former journalists for U.S.-funded Radio Free Asia, Yeang Sothearin and Uon Chhin, were arrested that year and charged for alleged espionage, which they deny. The pair, both of whom attended the event on Friday, remain on bail. The verdict for their case has been repeatedly delayed.

In a separate case, the trial of two former Cambodia Daily journalists on charges of incitement to commit a felony is set for December 25. Zsombor Peter and Aun Pheap, who live abroad, have denied any wrongdoing.

Reporters Without Borders has reported a steady slide in Cambodia's press freedom in recent years, from 132nd worldwide in 2017 to 143rd this year, out of 180 ranked nations.