The editor-in-chief of popular online news outlet TVFB was jailed on Thursday on incitement charges in relation to a Facebook post in which he shared remarks made by Prime Minister Hun Sen this week about struggling informal workers.
Sovann Rithy, the founder and face of the Facebook-page-turned-licensed-news-outlet TVFB, now faces up to two years in prison and a maximum fine of 4 million riel ($1,000), if convicted on charges of incitement to commit a felony, according to a court statement.
The Information Ministry on Wednesday revoked TVFB's broadcast license following Rithy's arrest on Tuesday night.
The 31-year-old journalist is being detained in Phnom Penh's PJ prison after he was accused by authorities of inciting social disorder with his Facebook post.
In the post, Rithy cited a quote from Hun Sen's speech on Tuesday, in which the premier said informal-sector workers who were out of work during the coronavirus crisis would not receive economic assistance from the government.
"If the motodop driver goes bankrupt, he should sell his motorbike for spending [money]. The government has no ability to help," the post says.
During his speech, Hun Sen said: "For those who have the ID poor card, the state will intervene. But as you asked me, motorbike-taxi drivers have asked if there is any solution. [They must] sell their motorbikes first for spending and buy rice to eat, because if they all come and ask for a solution, [we are going to] die. How could the state have this much money?"
"The state relies on taxes, and if we borrow money from foreign [countries] to pay unemployed people, we will die. No country is going to lend us money to pay for salaries," the prime minister added.
Hun Sen said earlier in his speech that the government had little money for people working in the informal sector, Voice of America (VOA) reported.
"The government will die if we help motorcycle and taxi drivers. If you are bankrupt, sell the moto first. Why [you] keep the moto for your good looks," he said, laughing, according to VOA.
On Wednesday, Information Ministry spokesman Meas Sophorn told VOD that TVFB aired news that incited the public, and impacted public order and security.
"We have subsequently enforced the law against reporters at media outlets that are doing something against the law," Sophorn said. "Having seen that the holder of this license had broadcast news that incited actions that are against the law, [the ministry] needs to enforce the law."
The ministry was investigating other broadcast news outlets, according to Sophorn, but he did not specify which ones. In order to avoid losing licenses, the spokesman said outlets should properly cite sources, respect the law and maintain professionalism.
Following the ministry's decision to pull TVFB's license, the Telecommunication Regulator of Cambodia said in a statement that it would block two of TVFB's URLs, tvfb.com.kh and fbtv.news. As of late Thursday, the latter site was accessible in Cambodia.
"A measure is a measure," spokesman Im Vutha said on Wednesday. "So if you cannot see [the page], it was blocked."
A TVFB representative could not be reached for comment.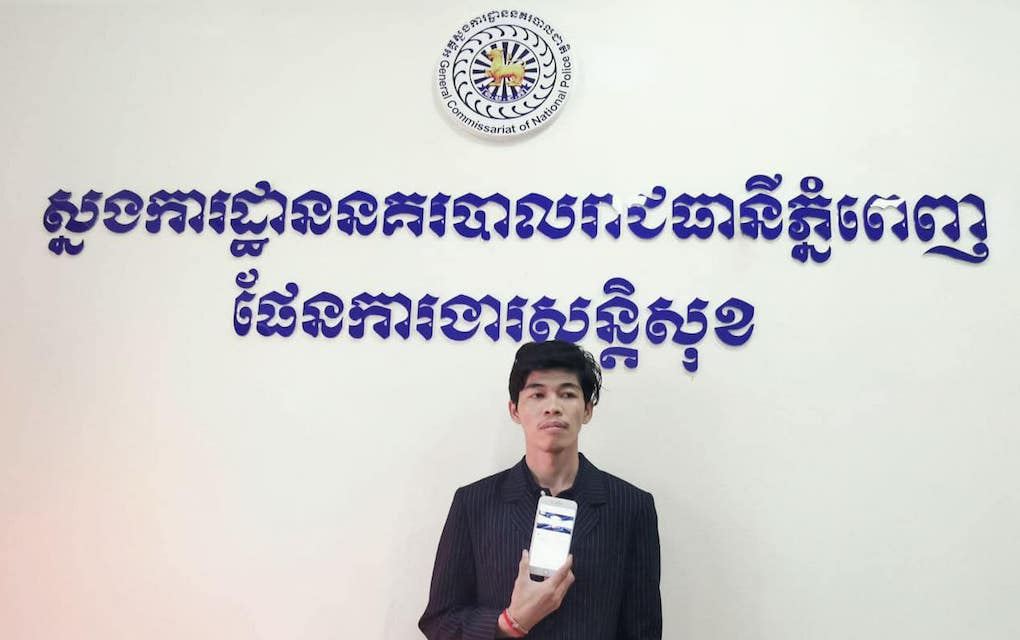 Srey Sotheavy, executive director of the Alliance for Conflict Transformation, said the government's actions against the news outlet were unacceptable, suggesting that authorities could have sent a warning or educated Rithy instead of doling out a harsh punishment.
"This is an act of expression, a broadcast that allows the audience to consider by themselves about the situation in society," she said. "That this led to the closure [of TVFB] and a criminal charge [for Rithy] seems severe. This impacts individuals' rights of expression and press freedom."
In 2018, the government ordered the Information and Telecommunications ministries to monitor and investigate businesses and broadcast news outlets for legal violations. In recent months, authorities have arrested about 20 people over social media posts related to the spread of Covid-19.
Daniel Bastard, head of Reporters Without Borders' (RSF) Asia-Pacific desk, on Wednesday called on the government to release Rithy and reinstate TVFB's license.
"Imprisoning a journalist for quoting a statement by the prime minister word for word is more than absurd," Bastard said in a statement. "The Covid-19 crisis must not be used as pretext for getting rid of journalists who do not blindly toe the government line."
Cambodia is ranked 143rd out of 180 countries in RSF's 2019 World Press Freedom Index.
During a press conference on Thursday, the Information Ministry's Sophorn told reporters that organizations that criticized the government's actions were violating the nation's legal jurisdiction "by making judgements about facts before the competent institutions in Cambodia."
In his own Facebook post on Wednesday, Sovann Sokha, Rithy's father, apologized on behalf of his son and asked the government to pardon Rithy.
"My son Sovann Rithy has made serious mistakes, and I, as his father, have not educated him properly so that he would not act this way," Sokha says in a two-minute video.
"I am very regretful," he adds. "Please forgive my son."
Additional reporting by Ouch Sony
(Translated and edited from the original articles on VOD Khmer)