Since Cambodia turned off the neon lights of its nightlife venues in March, as the nation's Covid-19 cases rose, Ouk Sothea said she has struggled to find a new job with the same stability as her nightly waitress shifts in a beer garden in Phnom Penh's Chbar Ampov district.
Sothea, a 25-year-old single mother, said she has been picking up any daily job she can just to pay for her 15-square-meter rented room and feed her four children.
"[My] income is very small, brother, sometimes 10,000 riel, 5,000 riel [per day], and sometimes [we have] no food," she said. "Some days, we have it in the morning, but nothing in the evening. Now, there's no milk for my child, just rice porridge."
Many nightlife industry workers — from bartenders and cleaners to waitresses and hostesses — have gone months without a stable salary, and some say they are discouraged by the lack of social welfare funding for their sector's workers as Covid-19 closures continue with no clear end in sight.
After the Tourism Ministry ordered nightclubs, dance halls, beer gardens and karaoke venues, known as KTVs, to close in mid-March, workers living in Chbar Ampov said they have struggled to find new jobs, with some picking up work at restaurants near the local market.
Ex-nightlife service staff told VOD that they often now have to work from 5 a.m. until evening — much longer than their eight-hour night shifts — taking short-term jobs like washing dishes, serving breakfast in noodle shops and peeling garlic in order to earn enough to cover their living expenses.
Dim Sreytoch, a 32-year-old who used to manage rooms at a KTV, said she seeks out jobs on a daily basis and most of them pay poorly. She also said the daytime schedule is difficult to maintain because her children are very young, and her husband, a construction worker, is also working during the day.
"Garlic peeling sometimes pays 3,000 riel ($0.75) and at most 7,000 riel ($1.75)," she said. "I'm working so hard without time off. If I take time off, [we have] no rice to eat for sure and so I need to work even when I'm sick."
Since January, Cambodia has confirmed 130 cases of Covid-19, with just two active cases as of this week and no coronavirus-related deaths reported. In March, the government closed schools, cinemas and other venues, and restricted entry to travelers from six nations in an effort to stop the spread of the pandemic. By mid-April, the rising curve in recorded cases began to flatten.
The nation had nearly 1,300 registered nightlife establishments nationwide, including 1,084 KTVs, 125 dance halls and nightclubs, and 84 beer gardens, which employed some 18,400 people as of March, according to the Tourism Ministry.
However, the Cambodian Food and Service Workers' Federation (CFSWF) estimates that the number of people working in the sector is much higher, employing about 80,000 people nationwide. Now, all their workplaces are officially shut.
Ou Tep Phallin, the union's president, said a minority of out-of-work service industry workers had returned to their hometowns outside the capital in order to try earning money on their families' farms, but some have no farmland or relatives on which to rely.
Tum Srey Ry, 36, spent every evening cleaning a karaoke parlor in Chbar Ampov district before the KTVs were shut. Now, with inconsistent work, Srey Ry finds herself without enough income to take care of her four children.
She generally starts her day washing dishes at a noodle shop near Chbar Ampov market and then spends the afternoon peeling garlic. But on some days, others pick up the informal work that's available, and sometimes the shops don't earn enough and don't need anyone to work.
"Cleaning at the KTV gave me over $100 [per month], and sometimes guests gave me some tips out of pity," Ry told VOD outside her rented room. "However, since the outbreak of Covid, [on some days,] I have no income at all."
Unionist Tep Phallin said nightlife industry workers across the country are struggling to cope with joblessness, and that daily expenses and rent fees will catch up with them if they do not receive the same government assistance offered to workers in the garment and tourism sectors.
"As of now, the government is in its sixth round of [Covid-19 economic] interventions and still does not include female entertainment workers in its subsidy scheme," she said last week in an interview with the Facebook talkshow "Voice of Civil Society."
"When closing [businesses], [they] said specifically to determine which sectors will be closed, but as of now, the government has not considered the food [and livelihoods] of women working in the entertainment sector, which is what they need," Tep Phallin added.
The Labor Ministry said as of Tuesday nearly 170,000 suspended workers in the garment and tourism sectors have received government subsidies.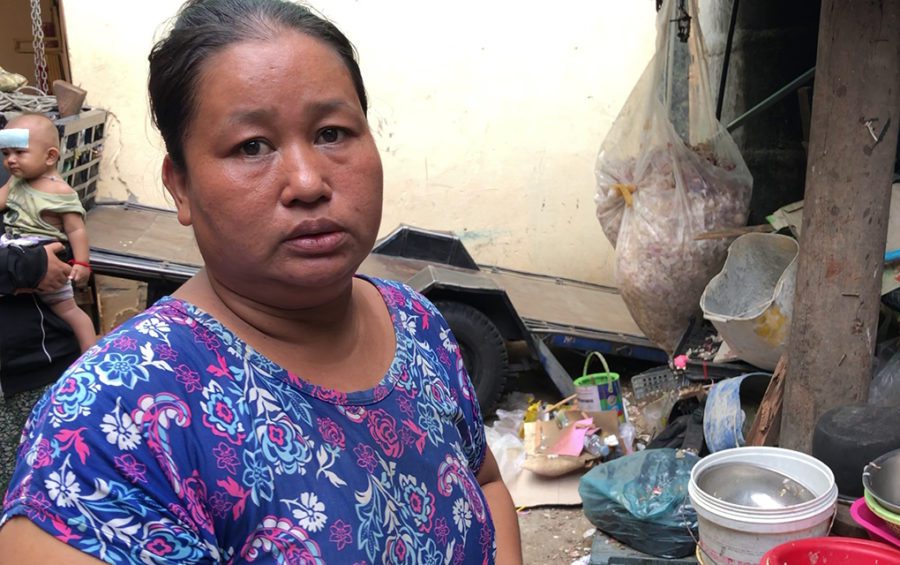 On June 13, more than 20 service industry workers submitted a petition to the Labor Ministry asking that nightlife sector workers be offered the same $40 per month payment that the ministry offered to garment workers who were suspended from factories amid the global economic slowdown.
However, the ministry responded to the CFSWF union president in a letter two days later, stating that it was encouraging businesses, including landlords, to aid suspended workers in need of financial assistance. The letter also said that officials would help workers find employment if they contact the ministry.
"In the free competitive market, the Royal Government has been proactive in requesting all private sectors to support each other in doing business in order to mitigate losses respectively, such as delaying payments of rental fees," the letter said.
Five workers interviewed by VOD said their landlords had been understanding and allowed for delayed rent payments, but they were still concerned about paying daily expenses.
Sothea, the beer garden waitress, said she was disappointed that the government did not seem to recognize that workers needed support while KTVs, nightclubs and beer gardens remained closed.
"I feel so upset," she said after seeing the ministry's response to the union. "We worked hard to ask for their help as we are facing hardships with our standard of living, but they did not help us."
The government this week announced a multimillion-dollar cash transfer program for poor families during the Covid-19 pandemic. Some 560,000 households, or 2.3 million people, registered in the IDPoor social welfare program are eligible for support, with more than 50,000 new families added to the IDPoor scheme this month, according to a statement from the German development agency GIZ, which supports the program.
But unionist Tep Phallin claimed that no members of her union were receiving IDPoor benefits.
"If the government receives the information about entertainment workers that we included in our petition and then verifies them to be poor people who need help from the government, it's the true way to help people," she said. "But if they decide [who receives social benefits] by bias, political trends and corruption, it's not the way."
On Thursday, about 100 women who lost jobs in the food and service industry due to Covid-19 closures petitioned the Prime Minister's Cabinet Office and ministries of Labor and Women's Affairs, calling for food donations and a livelihood subsidy of $40 per month while they were unemployed.
One former waitress who participated in the petition deliveries said she had been experiencing homelessness for nearly two months since she could no longer afford her rented room and was now living under the Chbar Ampov bridge.
"We have no rice to eat for one or two days," said 43-year-old Pheng Phoan. "We have no income and neighbors pity us and give us food."
Additional reporting by Khan Leakhena
(Translated and edited from the original articles on VOD Khmer)
Note: This report was produced with support from the Rosa Luxemburg Foundation under the financial support of the German Federal Ministry for Economic Cooperation and Development.