A new Covid-19 variant suspected of being highly transmissible but possibly less deadly has now been found in Canada, several European countries and Hong Kong as the World Health Organization cautioned that Cambodia should be prepared for a possible surge.
Omicron, which was first detected in southern Africa earlier this month, has shown signs of quickly spreading through populations.
The WHO was notified of the variant on Wednesday based on a sample collected in South Africa on November 9.
Within just two weeks, the variant was being found in 75 percent of new Covid-19 cases in South Africa, according to Tulio de Oliveira, director of the country's Center for Epidemic Response and Innovation.
"Omicron has also been detected at faster rates than previous surges in infection," the WHO in Cambodia said in a statement.
The variant may be able to infect people easily, but little is yet known about vaccine effectiveness and virulence, it said.
"Cambodia should be concerned about the newly detected Variant of Concern Omicron despite the high COVID-19 vaccination coverage," said Li Ailan, WHO representative to Cambodia, "Everyone should be ready for a possible surge, and we should continue to learn and adjust our response measures."
Cambodia's Covid-19 numbers have continued to decline since Prime Minister Hun Sen ordered a scaling back of testing to more quickly reach a "new normal." The country has high rates of vaccinations following a widespread public drive earlier this year.
Many countries, however, have faced another recent surge in cases. The Netherlands announced a tightening of partial lockdowns, mandating that cafes, museums and cinemas close at 5 p.m., as 22,000 new cases were found on Friday. Omicron has been found in Belgium, the U.K., Italy and several other countries.
Cases and deaths are also rising in the region, with Vietnam finding record levels of Covid-19 in recent weeks. The Vietnamese Ministry of Health announced nearly 13,000 new daily cases on Sunday, though no Omicron infections have yet to be detected, according to news reports.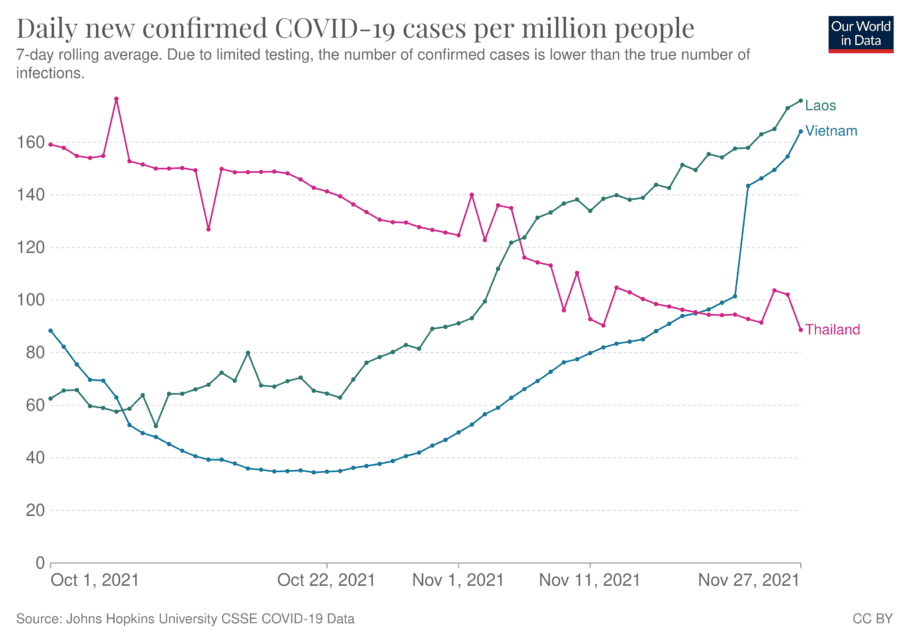 The U.S.'s top infectious disease official, Anthony Fauci, has suggested it will take two weeks to understand the threat of Omicron. Others, however, have speculated that the new variant could be less deadly than previous Covid-19 strains. A South African doctor who was among the first to detect the new variant said symptoms were so far mild and could be treated at home, Reuters reported.
The WHO said Cambodia would need to quickly adjust and change its response as more becomes known about the new variant.
"Information on Omicron is rapidly evolving and as more evidence comes to light, health authorities will respond appropriately to keep the community safe," it said.
"The pandemic is not over."