NEWS ANALYSIS — Traffic-clogged streets. Years of deforestation. New coal-fired power plants.
Cambodia might be one of the most vulnerable countries to climate change, but that does not prevent it from contributing to global warming.
Despite facing increased risks of floods, droughts, severe windstorms and seawater rise, there are signs that Cambodia's greenhouse gas emissions have also increased dramatically. But official data on file with the U.N. still reflects the country's output from two decades ago. This paints a picture of Cambodia's past and does not capture how the nation has developed — or how it has become a heavier polluter.
In 2000, the last time Cambodia took a complete estimate of its emissions of carbon dioxide and other greenhouse gases, the country had emitted a total of 47,709 gigagrams of carbon dioxide equivalent (GgCO2-eq), but was still a "net sink" nation, thanks to its forests absorbing at least 450 GgCO2-eq more than the country put into the atmosphere.
In 1994, Cambodia was able to offset much more greenhouse emissions, over 5,000 GgCO2-eq, according to a 2015 government report submitted under the U.N. Framework Convention on Climate Change (UNFCCC).
But now, Cambodia is surely emitting more than its forests can absorb, said Nick Beresford, the U.N. Development Program's resident representative for Cambodia.
"The emissions follow the same pattern as emissions of Lao PDR for instance, from net carbon sinks in the 1990s to net emitters in the last two decades," he said in an email.
Even without recent comprehensive data, available information shows that Cambodia's emissions are increasing. The country measured its forest emissions and absorptions in 2017 in order to develop its own REDD+ program, a carbon market scheme that funnels carbon purchase profits to conservation efforts.
Between 2006 and 2010, the country emitted 34 million tons of carbon dioxide per year. Then, carbon emissions increased by more than four times to 151 million tons annually between 2010 and 2014 — a period during which claims of deforestation and land grabs spiked and the government stopped officially granting ELCs.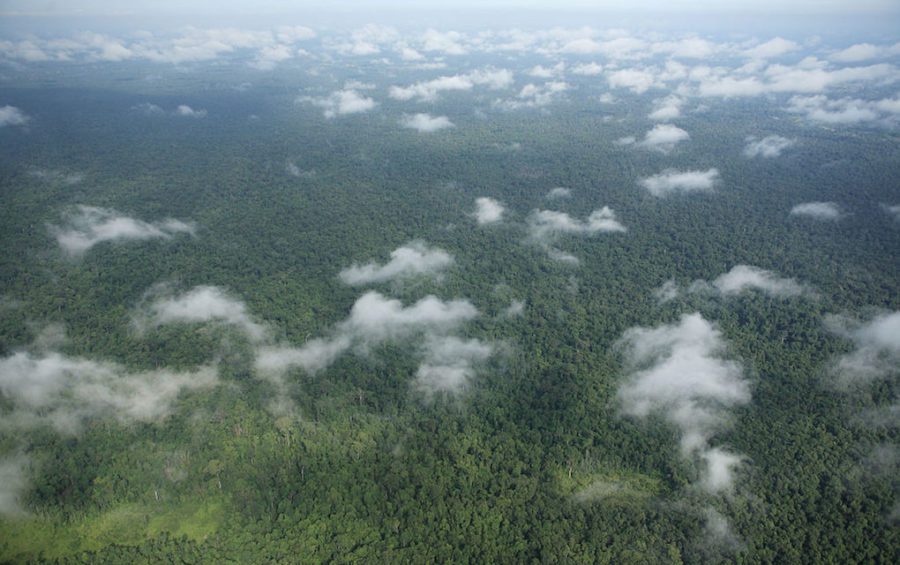 Environment Ministry spokesman Neth Pheaktra said the country would be developing and releasing a new report of its greenhouse gas emissions this year, using data from 2016. He gave few details about how Cambodia's emissions levels are projected to change, but he noted that the country will likely no longer be a "net sink," meaning the country likely now emits more carbon than it absorbs. Forestry and agriculture would remain top emitters, Pheaktra added.
"We expect the profile of emissions (allocation by sector) to remain broadly similar to the 2000 inventory, with some sectors such as transport, energy, waste, and industrial processes growing significantly but still representing a small portion of total emissions," he said.
Pheaktra also acknowledged that Cambodia's capacity to collect data was behind other countries, but said it had improved since the last report.
"As a Least Developed Country party to the UNFCCC, Cambodia submits her national communications and BUR at her own discretion. There is no obligation to do so," he said in a message, referring to Biennial Update Reports in which countries describe what they've done to meet their greenhouse gas reduction goals.
Cambodia's biggest source of emissions — about half of the total in 2000 — has been land use change and forestry, a blanket category that includes emissions from some of the nation's most controversial environmental problems, like deforestation and economic land concessions.
Still, in 2000, Cambodia's combined land use emissions and absorption of greenhouse gases resulted in a net sink of about 25,000 GgCO2-eq. But more recently, from 2010 to 2014, the nation's annual forestry emissions and removals were recorded as a net positive, an estimated 131 million tons of carbon per year on average. Cambodia's forests are no longer absorbing the emissions they once were.
Pheaktra defended the country's levels of land use emissions, saying that developing countries commonly experienced similar levels. He also said that Cambodia has no obligation to remain a net sink.
"Some changes in land use necessarily happen when a country develops and population increases, due for example to infrastructure needs, urbanization, and industrialization," he said. "However, the Government has also demonstrated its commitment to maintaining high levels of forest coverage."
Although there are no recent forest emissions estimates, data from satellite imagery in recent months suggests that deforestation, and related emissions, are ongoing. Global Forest Watch, which measures forest cover loss, estimates that Cambodia lost about 109,000 hectares of natural forest cover in 2018, the equivalent of about 45.5 million tons of carbon emissions.
Total emissions from agriculture, which exceeded 21,000 GgCO2-eq in 2000, or some 44 percent of emissions, might rise as well, as the country's agricultural land coverage increased from 27 percent of the country in 2000 to 31 percent in 2016, according to World Bank data. Rice cultivation accounted for nearly 70 percent of agricultural emissions in 2000.
Energy was just a small portion of Cambodia's emissions in 2000, releasing about 2,800 GgCO2-eq, or about 6 percent of greenhouse gas emissions, according to the UNFCCC report. But the amount of Cambodia's delivered energy increased by 12 times in the past 15 years, according to a 2019 report from the Electricity Authority of Cambodia, which would have corresponding emissions growth.
Most of the nation's energy generation is from coal and hydropower, the latter of which on the surface emits minimal greenhouse gases. The country received sustainable development funding from the U.N.-created Clean Development Mechanism to build four of its largest hydropower dams in Kampot, Koh Kong and Pursat provinces. Dam projects receive funding because they're intended to offset potential fossil fuel developments, but Cambodia still approved two new coal-fired power projects with nearly 1,000 MW of combined energy capacity this year, as well as offshore oil drilling.
A study last year by researchers Mira Kakonen and Try Thuon shows that hydropower dam development also contributes to emissions by clearing forests, which results in the release of greenhouse gases from the soil and removes trees that could capture carbon.
Pheaktra, from the Environment Ministry, did not address the country's decision to invest more in fossil fuels like coal and oil, but he noted that Cambodia was also incorporating renewable energy into its plans to increase domestic power production.
"The proportion of renewable energy in this mix has increased significantly in recent years and will continue to expand," he said.
Indeed, the percentage of Cambodia's domestic power generation coming from renewable energy nearly doubled from 2018 to last year, but it's still less than 2 percent of the overall energy mix, according to government figures.
Lonn Pichdara, a researcher of sustainable development, environment and forestry management for the Cambodia Development Resource Institute, said he was optimistic of the energy-saving steps that he saw some tourism businesses taking as he studies the low-carbon capacity of Cambodian enterprises.
But Pichdara said the country still had to develop its economy further, and he said efforts such as adding new coal-fired power plants were necessary to do that.
"I'm optimistic about this development of using green clean energy, but I think it's not enough for the country's needs," he said. "If the community wants to reduce poverty faster, it's only coal that can generate a lot of energy."
Even though energy emissions, and the industrial users of energy, seem low compared to more industrialized nations in the region, Karolien Casaer-Diez, Cambodia's representative for the international think tank Global Green Growth Institute (GGGI), said the country should work toward reducing them further.
Casaer-Diez noted that organizers of the UNFCCC are planning to tighten its requirements for monitoring and reducing emissions — and future funding to governments will be tied to their success at self-monitoring efforts to cut emissions.
"I think we'll increasingly see finance tied to results and tied to capacity to monitor and the level of ambition in the [national reports to the U.N.], provided the [data] is credible," she said. "I think there's going to be increasing pressures on developing countries to put those systems in place and to monitor and see what the progress is."
Casaer-Diez said she did not know enough about Cambodia's major contributor to emissions — deforestation — to comment on how that could change. But in the industrial sector, where GGGI is working to reduce reliance on coal, she argued that business owners and officials could be convinced to go green when it also means they can save money overall.
"There's a very strong economic and business case to green the industrial sector," she said. "It's actually one of the sectors where I'm more optimistic, because the willingness is there because the economic and environmental agendas align."