After previous memorial events were restricted by authorities, supporters of slain political analyst Kem Ley have appealed for greater freedom to celebrate the late commentator's life ahead of the fourth anniversary of his murder this week.
Kem Ley was fatally shot in broad daylight at a Phnom Penh gas station shop on the morning of July 10, 2016. In late July, streets flooded with mourners following Kem Ley's funeral procession from Phnom Penh to his home province of Takeo. But by the third anniversary of his death last year, police and military officials tried to restrict or ban memorial events across Phnom Penh, arresting a handful of activists.
For the fourth anniversary of Kem Ley's death on Friday, supporters say they will mark the day individually or online in order to avoid restrictions by authorities.
Seng Sary, secretary of the Kem Ley Foundation, a group organized by the analyst a month before his death to encourage more sophisticated political dialogue, said the organization would not host a formal memorial. However, he said he would individually pay respects at the Caltex gas station where Kem Ley was killed and attend a formal gathering on Friday hosted by Kem Ley's family in Takeo.
In a letter dated July 1, the group's president, Sao Kosal, asked authorities to refrain from using violence or the law to stop supporters from memorializing Kem Ley, a man known for his sharp government critiques who some activists have called a Cambodian hero.
Sary encouraged people to show their support through individual acts, such as online posts, visiting Kem Ley's homeland or leaving flowers at the Caltex gas station.
"[Kem Ley's] heroism could be a new approach or new method [to practice in] a democratic society, a modern society, in which intellectuals use their scientifically-informed knowledge to participate in developing the country," Sary told VOD.
Though the anniversary of Kem Ley's death might pass without a large public gathering, Sary said support for the political observer had not faded.
"I think his legacy will not disappear," Sary said. "If there is a government that gives value to democratic principles, gives value to freedom of expression, then I think his legacy will still go on."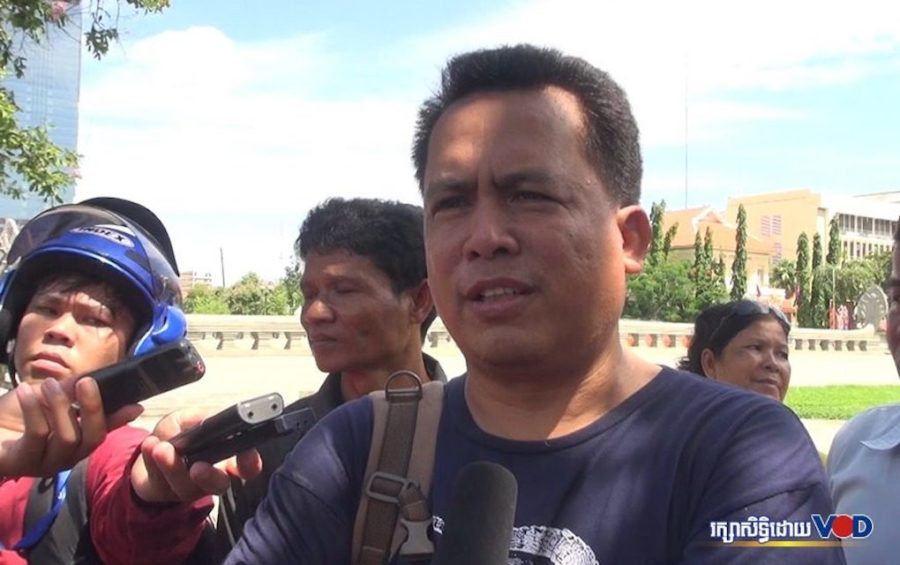 Kem Ley was killed days after giving a radio interview in which he discussed a report from corruption watchdog Global Witness that detailed the vast wealth and political and business links of Prime Minister Hun Sen's family members.
The gunman was arrested and sentenced to life in prison, but many continue to call for an independent investigation into the murder and suspect the incident was a hired hit against the popular government critic.
Ou Tep Phallin, president of the Cambodian Food and Service Workers' Federation, attended a memorial gathering on the anniversary of Kem Ley's death last year at the Caltex gas station, where dozens of police and military officers attempted to restrict supporters. Authorities removed a floral arrangement placed outside and made one man put on a jacket to cover a T-shirt with the image and words of Kem Ley emblazoned on the back.
This year, Tep Phallin said she was concerned that authorities would cite the global coronavirus pandemic as justification for restricting public memorial gatherings.
"We are worried that while Covid-19 is happening, it seems to give officials a good chance to exploit that situation," the union leader said.
Phnom Penh City Hall spokesman Met Measpheakdey could not be reached for comment.
Tep Phallin said her organization planned to post messages and photos of Kem Ley online on Friday, and she would attend the memorial in Takeo province with other union members. She appealed to authorities to allow supporters to express their opinions of Kem Ley both in public gatherings and online.
"We can use online platforms as an advocacy," the unionist said. "Using social media is still beneficial in this new era, especially for youths. If it is not beneficial, the government would not have created the [draft] Cybercrime Law."
On Tuesday, Tim Malay, secretary general of Solidarity House Confederation, a union and advocacy group network, said that some supporters and youth have already started to post messages related to the anniversary on social media. He said this was a good way to recognize the political analyst while reducing the chance of supporters being targeted by authorities.
Malay also noted that Kem Ley fans aim to remind the government to support and protect activists and social critics who seek to find solutions to societal problems.
"People will not dare to talk if when they do talk, they will be punished or have problems in their lives," he said. "So, protecting those who are doing good and proper things is necessary."
"It is a kind of reminder, adding to the strength of heart [that motivates supporters]," Malay said of the social media posts from Kem Ley's supporters.
"We are all those who dare to talk about the truth, to find the truth and continue to talk about the truth," he added.
Last year, a group of 24 local and international NGOs urged the government to conduct an impartial investigation into Kem Ley's death, noting "significant gaps" in the trial of Oeuth Ang, who was sentenced to life in prison in 2017 for killing the analyst.
Justice Ministry spokesman Chin Malin said that people who demonstrated on the anniversary of Kem Ley's murder were using his death as an excuse to criticize the government. The spokesman claimed that justice had already been served to Kem Ley's family and supporters after Ang was charged and sentenced.
"What we can provide is justice through legal means. We cannot provide justice for the feelings of the groups who criticize or want revenge on the government," he said. "They keep using this case for their political agenda every year to attack and oppose the government's legal actions."
Social analyst Meas Nee said there was lingering disappointment and suspicion surrounding Kem Ley's killing and the ensuing trial of Ang. The government should conduct a clear investigation and close the case or risk cultivating more distrust among citizens, according to Nee.
"If the government still does not look for [those involved] and still prevents people [from commemorating Kem Ley], people will continue to be disappointed and suspicions will remain," Nee said.
He said he would wait to decide how he would commemorate his deceased friend, explaining that he would attend a public gathering if it appeared authorities would not intervene, or otherwise he would hold a private memorial at a pagoda. He also said he will wait to judge the strength of Kem Ley's followers, especially as authorities may use Covid-19 as a reason to clamp down on public gatherings.
"How far will Kem Ley's supporters go, or will they burn out quickly like rice straw and fade away?" Nee said. "We will wait and see what percent of those millions of people who turned out to participate in his funeral will recall his work."
Resettled with her five children in Australia, Bou Rachana, the widow of Kem Ley, predicted that authorities would try to stop any further memorials to her late husband.
"This is not strange because authorities have no duty to protect the people, no duty to make it easy for people to show respect or hold any ritual ceremony in the Cambodian religious way," she told VOD.
"We do not go [to memorials] and cause chaos. We just go peacefully and respectfully," she said. "What caused the [traffic] jams and chaos in society came from the authorities themselves."
Rachana, who was granted asylum in 2018, said she appreciated the memorials and held respect for those who remembered and celebrated Kem Ley.
"I admire them the most because they know that every year when there is any celebration [of Kem Ley], authorities will always ban [gatherings] and use violence against them, but they still strongly participate," she said. "I respect their kind hearts."