A business associate of the prime minister's daughter has received 67 hectares from the state on the rapidly filling Boeng Tamok lake in Phnom Penh.
Boeng Tamok, one of the city's last lakes, has been doled out to tycoons and officials' family members in recent years, and is now being filled with sand for development.
Previous recipients of plots include Senator Kok An, Land Minister Chea Sophara's daughter Chea Sophamaden and military commanders Vong Pisen and Sao Sokha.
Meanwhile, lakeside residents are facing eviction and have protested the exchanges offered to them.
As part of a set of government sub-decrees signed by Prime Minister Hun Sen in May but publicly released last week, Orkide Villa director Nuth Ton received 67 hectares on Boeng Tamok in Prek Pnov district's Poansaing commune.
Orkide Villa is chaired by Hun Sen's daughter Hun Mana, and its directors also include Khieu Sarsileap: a senator's daughter, chair of Hanuman Beverages and shareholder for infamous logging company Timbergreen. Hun Sen's other daughter, Hun Maly, and daughter-in-law, Pich Chanmony, are also directors in other companies linked to the Orkide brand.
Ton has also received 93 hectares in Preah Sihanouk's Stung Hav district. His wedding in February was attended by Hun Sen's family and many of the country's most powerful people.
Poansaing commune chief Chhuon Chhay said that he did not know about the land privatizations nor the recipients.
"I have never heard of him and them. Our land has been cut off aggressively and only very little remains," Chhay said. The commune spanned around 5,000 hectares and homed more than 2,000 families, he said. "The land around Boeung Tamok has been filled up aggressively. There is no empty land."
A woman who picked up a listed phone number for Orkide Villa said she had to check with her boss about who could speak on behalf of the company and did not provide contacts.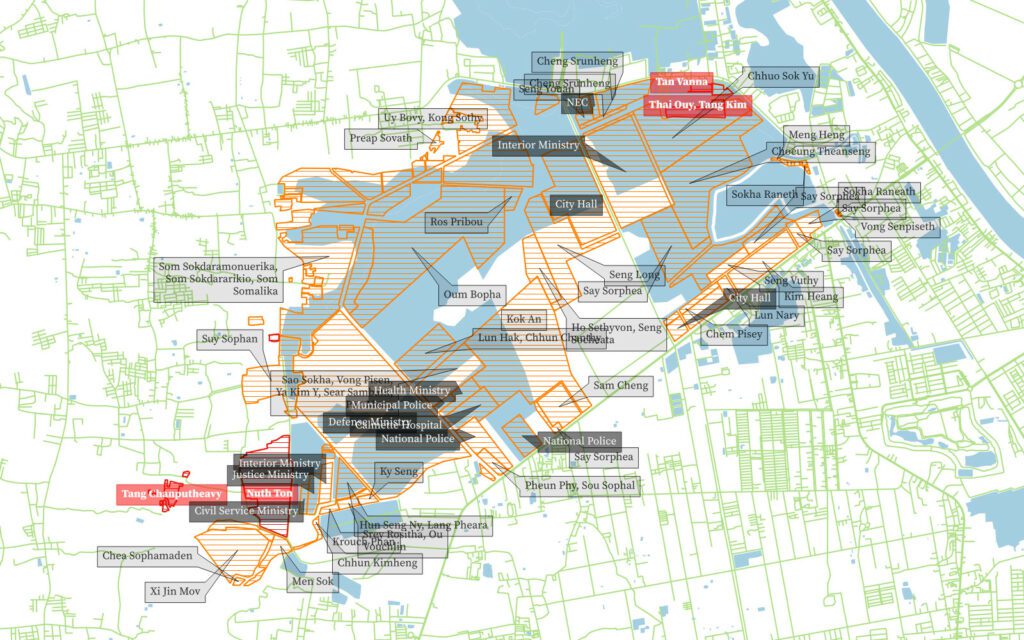 On the other side of the Boeng Tamok, land has recently been parceled where residents have been protesting evictions. The residents, who have faced court prosecution over their protests, live on lakeside shacks facing imminent landfilling. They have been offered resettlement elsewhere, but say their livelihoods depend on the lake.
Protester Prak Sophea said on Monday that the way the development was proceeding was an "injustice."
"The whole lake, which is our ancestors' heritage, has been cut off for institutions and officials … but for 104 families who live on the land, they have no solution."
Other sub-decrees signed by Hun Sen on May 20 also gave 3 hectares on Boeng Tamok to an individual Tan Vanna and 8 hectares to Taing Chanputheavy. Neither individual could immediately be identified.
In a sub-decree signed May 27 and released last week, Hun Sen privatized 3,448 hectares for 1,658 families in Pursat's Krakor, Kandieng and Bakan districts. Krakor is near the Tonle Sap lake, where the government has promised land to residents following a crackdown on land encroachment.