More than 1,400 female and juvenile prisoners have been evacuated from Prey Sar Prison's Correctional Center 2 and squeezed into Phnom Penh's other overcrowded prisons amid flooding over the past two weeks, officials said on Tuesday.
According to officials, the rains and flooding that have swept over the country, killing at least 25 and flooding 200,000 hectares of farmland, are set to continue for another week.
The Interior Ministry's prisons department spokesperson, Nuth Savna, told VOD that Prey Sar, in the capital's heavily flooded Dangkao district, had seen its detention center for women and juveniles fully evacuated.
About 900 of the detainees were moved to Correctional Center 1 on the same complex, while 500 were sent to PJ Prison, which was recently also moved nearby. PJ has historically been considered a more comfortable stay for detainees.
"It is an emergency," Savna said. "All have been evacuated."
On Tuesday, flood levels at Prey Sar had risen another 8 centimeters overnight due to heavy rain, he added. He did not know if there was further damage.
Savna acknowledged that the prisons were already overcrowded even before moving in the flooded prisoners. "It's crowded, but what we [must] do is get people out of the flood," he said.
Prison supplies — including 2 tons of rice and some meat and vegetables — were lost to the flooding, he added. He was not yet sure what the cost to the prison for rebuilding and restocking would be.
Licadho monitoring manager Am Sam Ath said he was concerned for the health and sanitation of the prisoners.
"Correctional Center 1 and PJ were already crowded, and now they've added more people," Sam Ath said.
He added that if flooding continued, both CC1 and PJ could also be affected by floodwaters. "It's also difficult for prison guards to control the prisoners since they have a limited number of guards," he said. "When it is too crowded, it could cause a lot of risks."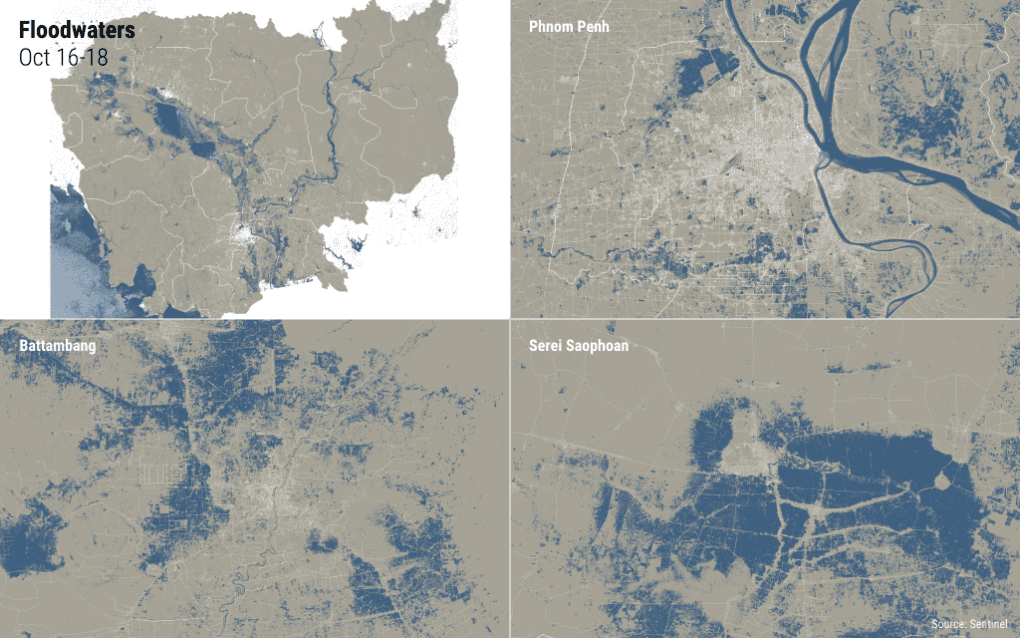 National Committee for Disaster Management spokesperson Khun Sokha said on Tuesday that flooding in Dangkao district had receded somewhat but remained at dangerous levels.
Meteorologists have forecast that rains would last for another week until the 27th or 28th of the month. Until then storms are expected to deluge the entire country, Sokha said.