Yim Sareth's crime was posting a photo of himself online wearing a mask, says his wife, Ouk Chanthy.
That was in late March, as Covid-19 case numbers grew in the country and the government rounded up dozens of social media users for allegedly spreading "fake news" about the virus. Many were released, but those linked to the outlawed opposition CNRP remain in jail.
More than six months later, Chanthy protests every week outside the Phnom Penh Municipal Court alongside a group of wives and family members of individuals whom Human Rights Watch labels "political prisoners."
"At that time he mentioned Covid, and our country had Covid," Chanthy tells VOD. "But it has not been so serious as to cause any deaths, so I hoped that after Covid faded, they would release him."
"His words were not incitement," she continues. "He just spoke the truth that he was wearing a mask to protect [himself] from Covid and dust because he was a worker."
They couldn't convince him to join them and walk away from the CNRP, so they used Covid as an opportunity to arrest him.
Sok Polyma's husband Khim Pheana is also in jail. He "shared news" about Covid-19 precautions online, leading to his arrest on April 2, Polyma says.
But that isn't what his continued detention is really about, she says.
Pheana, like Sareth, was a commune councilor for the opposition CNRP when the Supreme Court dissolved the party in 2017, removing him from his position alongside more than 5,000 others in the party.
Polyma says the ruling CPP asked her husband to switch sides, but he refused.
"They couldn't convince him to join them and walk away from the CNRP, so they used Covid as an opportunity to arrest him," she says.
Both Pheana and Sareth were working in construction at the time of their arrests.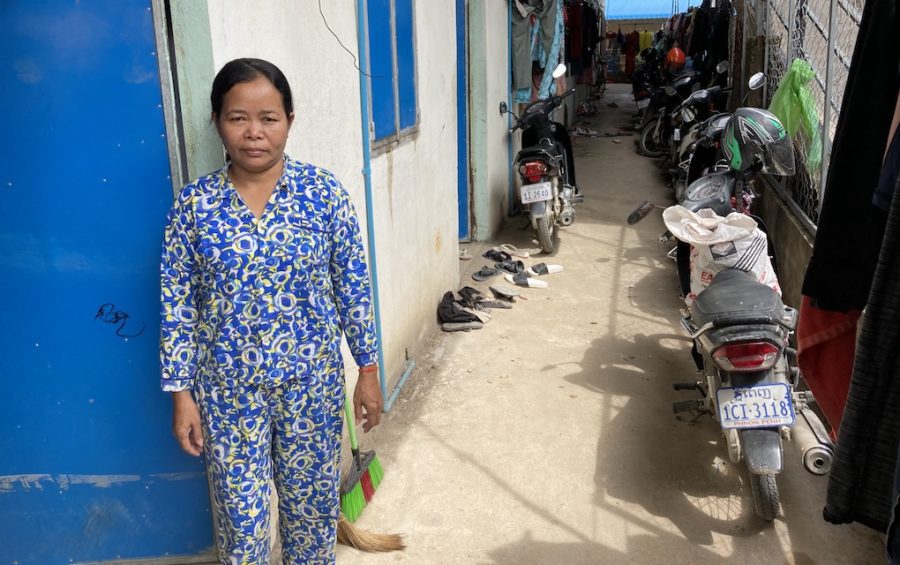 'I Heard Your Conversation'
Cambodia is down to five active cases of Covid-19 with no reported deaths, but even as the disease fades from public consciousness, opposition members who posted about coronavirus on Facebook remain in jail. They've been joined by other party members who participated in nationalist protests, or had old charges against them relitigated.
According to Human Rights Watch's count, the country's prisons currently contain 52 political prisoners, most of them arrested this year. Both the ruling party and its critics say that the reason for the arrests, though they span a range of issues, ultimately boil down to continued support for the outlawed opposition.
Prime Minister Hun Sen said in a speech this week that he had recently listened in on a conversation between an opposition official and a supporter.
"I heard your conversation," Hun Sen said, and recounted the CNRP supporter saying: "I will go to jail because in jail there is free rice to eat."
Those outside push for action, and once [the supporters are] pushed to act, they're arrested.
In speaking about the eavesdropping, Hun Sen noted that the outlawed opposition continues to coordinate activism inside the country. Most senior leaders of the CNRP currently live in exile abroad.
"Those outside push for action, and once [the supporters are] pushed to act, they're arrested." Hun Sen said. "Those outside push those inside to be imprisoned."
He continued that CNRP supporters both inside and outside the country were violating the party's court-ordered dissolution. "If you break the law, you are causing insecurity," Hun Sen said, before adding a retort to an overseas CNRP supporter who he said recently cursed him online. "You will die alone," the prime minister said.
'Ill-Intentioned' Crimes, Political Pressure
Waves of arrests have recurred since the CNRP's dissolution in 2017. In 2018, ahead of a practically uncontested national election eventually swept by the ruling party, the CNRP organized a "clean finger" campaign urging an election boycott. Ink stains on forefingers are used as a mark to prevent double voting.
Last year, the CNRP urged activists to show support for the opposition by eating Khmer noodles, or num banh chok, en masse. It later tried to gather thousands of supporters for a promised return from exile by party co-founder Sam Rainsy in a "nine fingers" campaign representing the November 9 return date. Rainsy did not make it to the country.
This year, Rainsy has variously posted on Facebook about Covid-19, microfinance debt and a renewed promise to return. Each push has correlated with further arrests.
Human Rights Watch deputy Asia director Phil Robertson says local CNRP supporters have risked a lot for their ongoing loyalty, which he says likely arises from a belief in reforms.
"The CNRP local leaders are people who are fed up with local corruption and misrule, and they have community supporters behind them," he says. "These people are ideologically committed to reform, exercising rights, and seeing better, more democratic rule — and to date, they have been willing to risk a lot for those beliefs."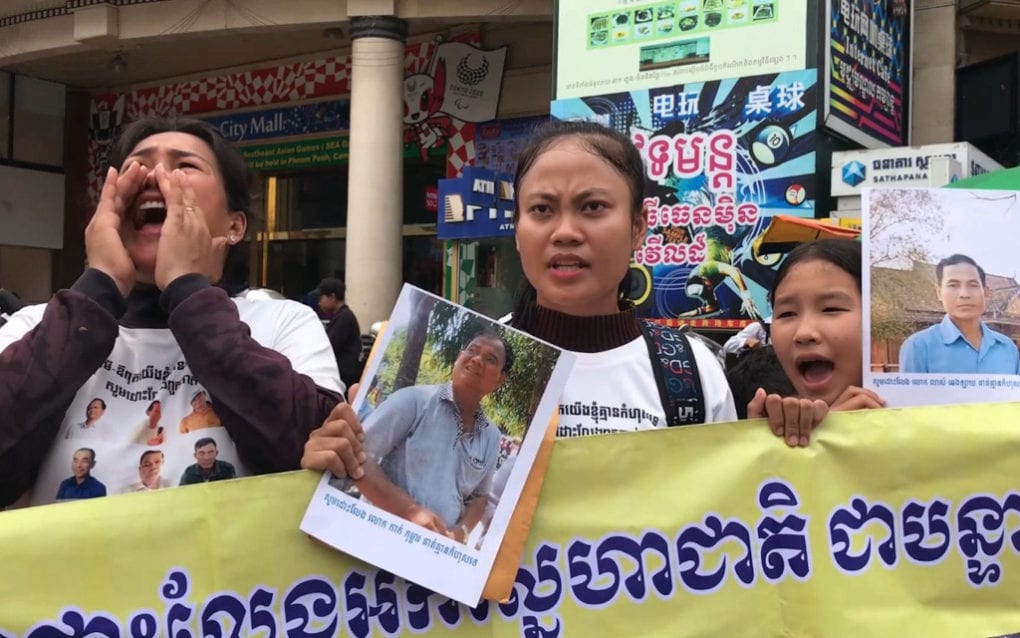 This year's arrests — notably for Covid-19 "fake news" — ultimately targeted those still backing the CNRP, he says.
"For those without political affiliation, they faced intimidation but ultimately release after signing a form promising not to do it again," Robertson says. "But those connected [with] the CNRP got the full charges, and prosecution under incitement charges — reflecting the fact that the government will never fail to use a chance to put CNRP members behind bars."
Justice Ministry spokesperson Chin Malin says the arrests are all about intent.
"The measures taken under the law are not about whether people died or didn't die of Covid, or about the freedom to express views and make posts related to Covid," Malin says. "They were crimes because they were ill-intentioned, to frighten [people] and cause chaos."
Asked why some remain in jail even as others were released, Malin says it is about showing remorse.
If the accused "acknowledge the mistake in participating and agree not to do it again … they could [avoid punishment] and receive only a warning," Malin says. Those who remain in jail are unrepentant or have repeatedly committed the same crimes, he says.
Mu Sochua, vice president of the CNRP, says opposition supporters are under constant pressure to defect.
"Those arrested are always pressured to join the CPP," Sochua says. "The psychological pressure is a violation of their political rights."
Questioned about whether Rainsy would again break his promise to return despite putting supporters in Cambodia at risk, Sochua turns the question around on Hun Sen.
"If the return is actually unlikely to happen then what justifies the arrests and Hun Sen's verbal and public order for the arrests to resume?" Sochua says.
Sochua and Rainsy were prevented from arriving in Cambodia last year, she says. They are prepared to "face the consequences" if they can make it back.
"Lift all the bans imposed on the airline companies; then we will find our way home," Sochua says. "The question should be asked to Hun Sen: If Rainsy is a criminal, why not let him return and arrest him the minute he lands in Phnom Penh?"
Polyma, the wife of the former CNRP commune councilor in jail for sharing Covid-19 news, acknowledges that her husband's troubles could be over by backing down. But she is still proud of his stand.
"He is a loyal man, and he stands up to bullying and cannot be bought."
Additional reporting by Michael Dickison
This story is part of a pan-Asian series on rights during Covid-19 initiated by International Media Support (IMS).