It's the third time Sakiros has washed her family's clothes in two days, she says as she scrubbed children's clothes and blouses Tuesday morning. Though she's cleaned them repeatedly, the water in her steel basin comes out murky after the garments sank with her boat and all her family's possessions in Sunday evening's storm.
"There's nothing left," the 40-year-old fisherwoman says on the shores by the Chroy Changva ferry terminal, in the shadow of Sokha Hotel. "All the rice is underwater. We have to throw away all the rice. All of our food sunk with the boat. Some of the stuff floated and some sank to the bottom."
Sinking boats and furious gusts are a new occurrence for the families who live on boats at Phnom Penh's riverbanks, they say, and according to forecasts, more storms are expected before the end of May.
While she rubs the dirty water out of her family's clothes in her large basin, one of her four young children wades from the river to her spot by the riverside, and grabs a lump of bubbly foam from her washing. He flicks some suds onto her face in the process, and she chastises him briefly for his carelessness.
On the other side of Sakiros's clothes line, the ferry drops off another group of commuters at the Sokha Hotel ferry stop, stalling for more passengers to board.
Most of the about 20 fishing families living on boats in Chaktomuk, or the intersection of the Tonle Sap and Mekong rivers, saw worse damage to their boats in the first week of May, when vicious winds ripped through the city and Facebook users shared videos taken at a Phnom Penh ferry dock that looked like a tumultuous sea storm. But Sakiros's boat — home for her family of six — submerged not then, but on Sunday evening.
"My boat has been affected by storms like this before, but it has never sunk," she says.
When the storm during the first week of May whipped her boat, Si Fah, 30, says she brought her three children to sit on the flat sandy shore, deeming it unsafe to stay under the boat's low-hanging roof. Her shallow boat has a roof with open sides, and only space for storage underneath, offering cover from the sun but little safety in a storm.
"The storm that day affected everything," she says on a bright but overcast Tuesday morning. "We lost everything. I just tried to save my little children."
Her husband, Ly Safi, can only remain seated since that storm, spending the days sitting under the boat's sunshade. He went underwater with the boat during the storm, and his right foot was trailing blood when he pulled it out of the water.
"This is almost like at sea," he says. "The waves could drown us and all the boats. We are living in fear and hunger."
"I wish I could have a home on land, even if it is just a small house to protect [us] from the storm," he adds.
Fah could not take her husband nor her children, who got sick after the storms, to a clinic, so Safi wraps his foot and rests, while his wife and children now handle all the fishing. An Islamic organization provided some food donations immediately after the early May storm, but Fah says it was not enough, as the community's about 20 families have between seven and 10 members each.
Fah says the storms have been horrible, but there is nowhere else for them to go.
"We cannot do anything except try to endure it," she says. "We have no houses on the land. My life depends on the boats."
The Water Resources Ministry told citizens this week to be prepared for more thunderstorms and heavy rainfall through the end of May, with monsoons coming down through the Dangrek mountains at the Thai border as well as inland from the sea.
Fishing communities in particular should be cautious, the ministry warned.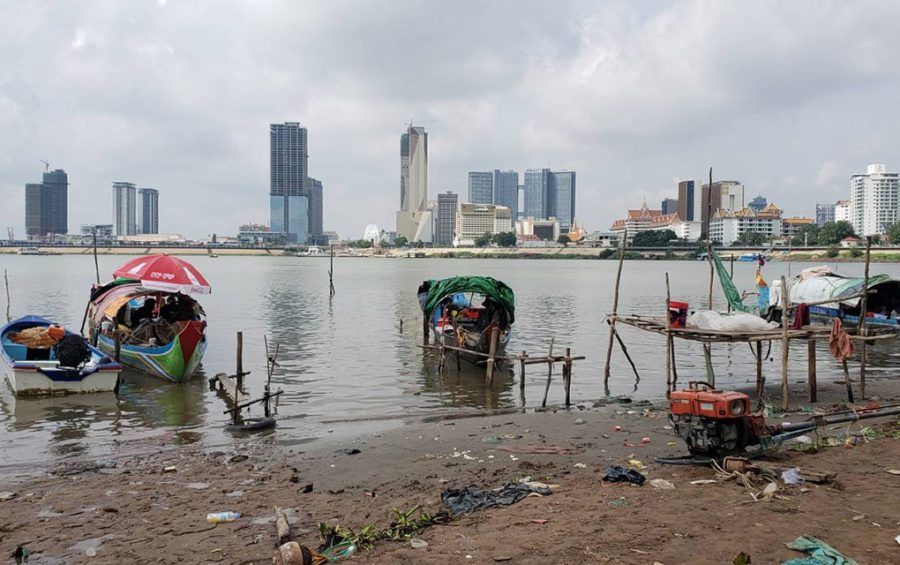 Officials from the Water Ministry and the National Committee for Disaster Management could not be reached, but NCDM spokesperson Seak Vichet told the Phnom Penh Post that the country was experiencing more severe storms than it had in years.
The toll of storms can add up in the long term. Floods alone cost Cambodia between $100-170 million per year, according to a government estimate in 2010. The Finance Ministry and National Council for Sustainable Development suggested that Cambodia's GDP in 2015 was already 4.6 percent lower than it could have been without climate change. By 2050, GDP could decrease by 10 percent of its potential because of climate change alone, according to a 2019 disaster risk reduction report by the Asian Disaster Risk Reduction Center and the U.N.
The economy's reliance on agriculture and fishing — with fishing contributing to up to 12 percent of Cambodia's GDP alone — could also push Cambodia to suffer more from storms and other disasters related to climate change.
The report says the country is facing "increasing flooding, intensity of storms and inundation," and that "Cambodia is among the most exposed countries to disasters worldwide."
The increasing storms are just one more strain to the families stuck at Chaktomuk.
Ta Ly, a man in his 60s, says both he and his children lost all their money and food in the storm.
"Last time, the donation we got was 10 kg of rice, noodles, canned fish and some money, but it is not enough for us," he says. "The wind from the storm blew away everything."
The community has been told multiple times by Sokha Hotel staff that they must vacate the shores, says Fah, the wife of the injured man. The hotel's room rates start at $129 per night, according to booking site Kayak.
"We often get told by the Sokha Hotel to go away, but I come back as I have nowhere to go," she says. "Our leader tries to beg them so that we can stay for a while."
Sakiros says her family was already struggling for food even before it all went into the water. She suspects there are fewer fish in the two rivers because of consistent sand dredging, so she can only catch fish to feed themselves, rather than sell for income. And when the Covid-19 lockdown was severe in April and early May, markets were closed, so she started planting some morning glory and other water-growing vegetables in a marshy corner of the riverbank to supplement her family's diet.
"This year is very difficult, there are big storms, we cannot fish and there is also Covid," Sakiros says. "The last time I was able to fish and sell was in November, December, January, but this month, it is very difficult to find," adding that improved fishing conditions wouldn't return until November.
Just as they must wait for storms to pass, Sakiros says the families can only wait for better fishing.