POIPET, Banteay Meanchey — The small space outside Keo Srun's home in Poipet is filled with recyclable waste she collected over the last week. The 67-year-old cart-pushing porter recently started working with her younger sister, Keo Chen, to walk the streets of Poipet, sift through thrash and collect plastic bottles and aluminum cans.
Srun used to push a cart, along with her husband, transporting fruits and vegetables across the border with Thailand. The work was grueling — each roundtrip was around 6 kilometers and paid $2.50 — but with one or two trips each a day the couple made enough to support their family.
"It helped us to buy food, pay our debts and live our lives," she said in Banteay Meanchey's Poipet village, less than 2 kilometers from the land border. "We could survive."
Their work came to an immediate halt in late March when Thailand unilaterally closed the border with Cambodia to stem the spread of the novel coronavirus, which at the time had registered around 90 cases on this side of the border.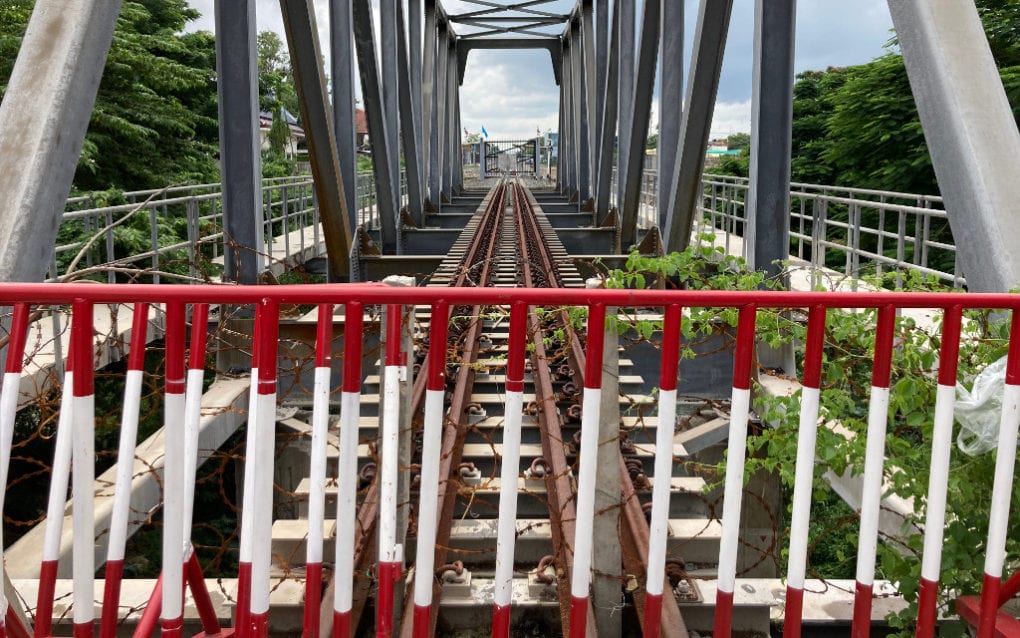 Left with no other employment opportunities, Srun started to help her sister collect recyclable materials from the streets of Poipet.
Every day, Srun is tasked with pushing the handcart as Chen, 57, moves quickly along the street to collect the bottles and cans. But after an entire day of work they earn at best $2.50, with Chen taking home around $2, leaving her sister 2,000 or 3,000 riel ($0.50 to $0.75) a day.
Srun's husband, Yau Doeun, 64, has had little success getting daily work at construction sites in the district. Meanwhile, she occasionally will collect herbs or snails from a nearby lake to make the occasional 5,000 riel ($1.25) a day. Srun said she found the work "shameful" and wanted to return to transporting goods across the border, but Chen was happy to have her sister's assistance.
"It is good when she comes to help and I can earn a little more," said Chen.
The Covid-19 pandemic and ensuing border closures have dealt a heavy blow to informal workers in Poipet, said Din Puthy, who heads an informal worker group called the Cambodia Informal Economy Reinforced Association.
A large section of Poipet's informal workers either transport goods across the border using push carts, or will sell their wares — usually clothes and food products — at the Rong Kleu market on the Thai side of the border.
With the border closed, the market vendors were unable to access their inventory, putting a stop to their income, Puthy said.
In June, Cambodian and Thai border officials agreed to allow 50 trucks daily to collect and bring back goods owned by Cambodian vendors, but Puthy said the process was cumbersome.
"They have to line up to register to bring back their goods, through a random selection process," he said. "There is only one doctor [for mandatory temperature checks at the border] but many people are trying to get across."
While market vendors have been able to recover their goods, Puthy said the situation is worse for porters who have been unable to earn a living because immigration officials have only allowed the transport of large goods trucks.
"There is 100 percent no revenue or income for them," he said.
Most of his association members, he said, have resorted to being edjai, or recyclable waste collectors, or do the occasional job at construction sites. Some have had to sell their assets, like motorcycles, to feed themselves and their families.
The local organizer attempted to stage a protest with more than 1,000 porters and transportation workers on June 1 to protest the border closure, but was denied permission by provincial officials.
Local authorities deployed a heavy security presence across the border city in the run up to the planned protest. Loudspeakers attached to motorcycles warned residents of participating in the protest and to not follow "ill-intended people," Puthy said.
The association leader was not spared. He said plainclothes security personnel were deployed outside his home and they even followed him around the city.
"There are too many threats," he said. "When we talk they threaten to arrest us."
Puthy said the protest was only to highlight how unfair it was to allow large trucks to transport goods but prevent individual porters from transporting goods to earn a living.
Vouch Oun, director of the Poipet International Border Checkpoint, said the border remained closed to people, including cart-pushers, but trucks were still allowed to carry goods over the border.
"When [the border] is closed, how could [porters] walk their carts?" he asked. "Thailand is more restrictive with the closure than us."
Asked about the demonstrations that had been planned for June, Oun said informal workers were merely trying to get information about when the border would reopen.
"They did not come to protest," he said. "They thought the Thai [border patrol] would allow them to cross, and we responded to them that when we receive the latest information we will inform them. When Covid is gone, we and Thailand will reopen [the border]."
Banteay Meanchey provincial governor Um Reatrey said the government had assisted nearly 100,000 families with food and financial support since the pandemic began, mostly in Poipet, including some cart-pushers.
In addition to the national welfare program, IDPoor, Reatrey said cart-pushers could transition to subsistence farming to feed their families, and sell excess food for additional income, repeating a message that Prime Minister Hun Sen has carried throughout the pandemic — that out-of-work Cambodians could go back to the land and become farmers.
"Because in the past they could earn money from pulling carts, and now they have no income so they have to get a local job and farm around their houses," Reatrey said, adding that the government would not let citizens starve.
"For the people who do not have food, we always solve [the problem], and as for the people who are starving, we do not have [them], because we continue to solve this issue for them," he said.
Around the corner from Keo Srun's house lives Keo Pao, a 67-year-old edjai who has sorted trash for nearly her entire working life. The space outside her house is filled with 10 women, all of whom have lost jobs as porters or market vendors.
Some of them, like Srun, have started working as edjai to make money during the pandemic. This increase in edjai workers has been detrimental to Pao's income.
The woman is sympathetic toward her neighbors but admits there has been increased competition to collect a dwindling amount of recyclable waste.
"There are so many picking waste. The people who used to push carts are also edjai now," Pao said.
"Before we could pick more waste, but now the casinos are closed," she added, explaining that waste from casinos was filled with plastic bottles and cans.
Pao used to earn around $12.50 from three nights of collecting, but after the Covid-19 border and casino closures, she makes $5.
The edjai was worried about paying her rent and a $200 microfinance loan she took from Ponleu Kaksekar Khmer to fix a sinking and sewage-filled entrance to her sheet-metal-walled home.
She has just received $50 from the government on account of being classified as IDPoor, but Pao has used 70 percent of that money, around $35, to repay two monthly loan installments.
"The owner of the house will be understanding, but this will not," she said, pointing to her loan documents.