Police and military police have built new headquarters in a Phnom Penh public park where a large banyan tree has long been used as a gathering place for protesters.
Wat Botum Park, in Daun Penh district, regularly attracts crowds of people exercising in the evenings as the city's heat cools off.
In a well-worn tradition, petitioners caught up in land disputes — and unable to find sympathy among local officials — gather at a tree on the park's edge carrying a letter for Prime Minister Hun Sen asking him to intervene in their dispute. After some time, a representative from his cabinet arrives to the tree and takes the petition.
In recent months, two structures have been built near that corner of the park. The first is the new Daun Penh district headquarters for military police, while the other is the new Chaktomuk commune police station, said City Hall spokesperson Met Measpheakdey.
"This is a site for the management of our civil servants," Measpheakdey said. "They have this location to perform their duties to serve the people conveniently and comfortably."
Asked why the structures were built in a public park, the spokesperson said the land was owned by the state.
"We use all means to organize our civil servants so they can work decently and conveniently," he said.
Chaktomuk commune chief Say Chantha said the commune police and district military police units were moving to Wat Botum park from old locations near the Chuon Nath roundabout near the NagaWorld complex.
"It is designed to facilitate security and order, especially because at the public park people hang out at night and it's very crowded," Chantha said. If anyone sees a problem, "people can turn around and they can see the authorities and report it."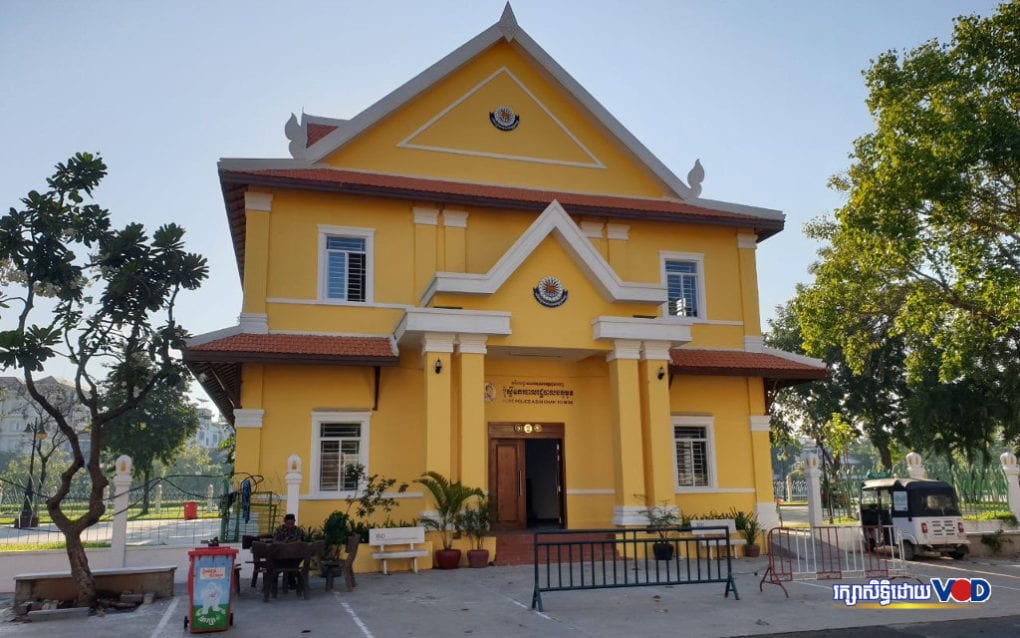 Neither the Daun Penh district military police commander nor the Chaktomuk commune police chief could be reached for comment.
Nim Chray, a long-time activist from Boeng Kak — a lake filled in for development amid violent evictions — said land protesters, unionists and other activists have all used the site to hand over petitions to Hun Sen's representatives.
"Now when they come and see this, it will shock them to find security and police surrounding them — they will be scared," Chray said.
But pressure from authorities was not new, she said. "In the past we've sometimes seen only five or six people … from a land community there while as many as 50 or 60 security guards and police officers surrounded them."
Previously, Daun Penh district military police headquarters were controversially built in the middle of the Boeng Kak neighborhood, meters away from the homes of its most high-profile anti-eviction activists.
Right group Licadho's monitoring manager, Am Sam Ath, said the Wat Botum location was likely chosen to monitor protesters.
"The main reason is because protesters often go there," Sam Ath said. "If police and military police are there, they already have forces and there is no need to send [officers] from somewhere else. It's convenient."
In addition to being intimidating for protesters, the new structures also cut into public space, he said.
"When public parks get smaller and smaller, people lose places where they can get fresh air and be in a clean environment," Sam Ath said.
Soeng Senkaruna, spokesperson of rights group Adhoc, said authorities have the right to manage public order and security, but the structures would hinder peaceful protesters.
"They feel scared when they see armed forces," Senkaruna said. "We do not want to see authorities using public areas like parks for private use or for their forces. It damages this landscape."
Clarification: An earlier version of this story stated that there is a cabinet office by the banyan tree. There is a security guard booth but no office. A representative of Hun Sen's cabinet comes to the tree when petitioners gather.