Tbong Khmum police brought in three residents for questioning on Saturday over a T-shirt emblazoned with the slogan: "Thank you for peace, but respect Article 2 of the Constitution."
The slogan, a reference to the Constitutional clause on Cambodian territorial integrity, aroused suspicion among local police, provincial police told VOD.
Sin Raksmey, 24, said he had been drinking coffee at the Memot commune market in a group of five people all wearing the T-shirt around 8:20 a.m. As they left, two Memot district police officers arrived and took three of them to the commune hall.
They were then sent to the district police station and questioned from around 9 a.m. to 3 p.m., Raksmey said.
"[An officer] threatened us that we were wearing the shirt illegally because we wanted to cause social unrest," Raksmey said. "He said that if we did not tell where we bought the shirt and who had asked us to wear them we would be detained for seven years."
The group signed an agreement to stop wearing the shirts, which they handed over to police, and they were allowed to go home, he said.
Su Yean, whom the group identified as having provided the shirts, said he was a former opposition provincial councilor and had bought all five shirts in late September in Phnom Penh while visiting the capital for a medical check-up.
He considered the T-shirts to be "meaningful," Yean said, though he would not explain the meaning.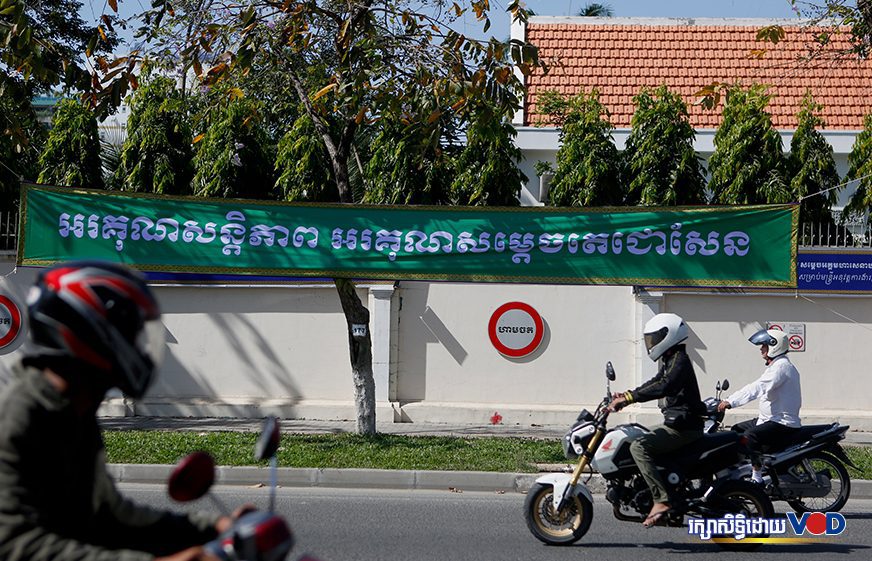 "Thank you for peace" has been the slogan of a recent government campaign echoing the ruling CPP's claim to have brought peace to the country following decades of war.
Banners with the slogan have been placed on many buildings around the country.
Article 2 of the Constitution, meanwhile, stipulates that Cambodia's territorial integrity shall "absolutely" not be violated according to borders defined by a map made between 1933 and 1953 and internationally recognized between 1963 and 1969.
In recent months, several activists have rallied around the border issue — stretches of the Vietnamese border remain undemarcated, causing periodic nationalist controversy that Cambodia is ceding territory to its neighbor.
Provincial police chief Pen Rath said the hours-long detentions for questioning were not arrests.
"We just asked for information. We were just suspicious about it," Rath said. "Because there is no law that forbids it, we let them go home. … We did nothing."
Hing Samphors, 27, another of the three questioned on Saturday, said the group had been accused of "inciting people to fight with each other."
"They said we could be sentenced to seven years in prison. I thought to myself: People rob and steal and serve less than seven years, and I just wore a shirt and could serve seven years."
CNRP vice president Mu Sochua wouldn't say whether the T-shirt and slogan were organized by the outlawed party. However, she said it was a form of free expression as stipulated in the Constitution.
"Any arrest related to people wearing t-shirts is untenable," she said in an email.
Last month in Tbong Khmum, seven former opposition members were sentenced to jail for incitement, with two handed suspended sentences and the other five given seven years in prison. One of the five is in jail, two are abroad, and two are currently in hiding.
Chok Hour, one of those currently on the run, told VOD that he wanted to flee to Thailand but closed borders due to Covid-19 had made it impossible.
"We are very concerned about safety," he said. "They are looking for us."
"In this regime there is no justice — the only way is to flee," he said, though he added: "How long can we run?"