A minor party politician has been tossed from a government-mandated watchdog body, the Supreme Consultative Council, without any reason given after investigating an ongoing land dispute in Banteay Meanchey province.
Chan Yet, president of the Nokor Democracy Party — a minor party formerly called the Republican Democratic Party — was removed from the council by a royal decree dated Wednesday.
Yet said he had gone down to Banteay Meanchey's Malai district on December 1 after receiving a complaint from about 230 families saying they were facing eviction.
"When I went down there, I questioned five representatives and they handed me many documents including [images] showing the bulldozing of their rice fields," Yet said.
But he did not take the investigation further because he was told to stop.
Yet shared a Telegram message from Supreme Council secretariat head Chhim Phal Virun saying, "Please, his excellency, do not put your hand into Tuol Pongro commune … because for this issue, the authorities are solving it. So please consider this work as the authorities' duty and allow them to work with the people. Please, His Excellency Chan Yet inform the people to implement the authorities' solution."
Yet said he accepted the government's order to remove him from the council, but would like to be clearly shown what mistake he had made.
He said he was concerned that others on the council would be afraid to look into land disputes due to worries about also being removed.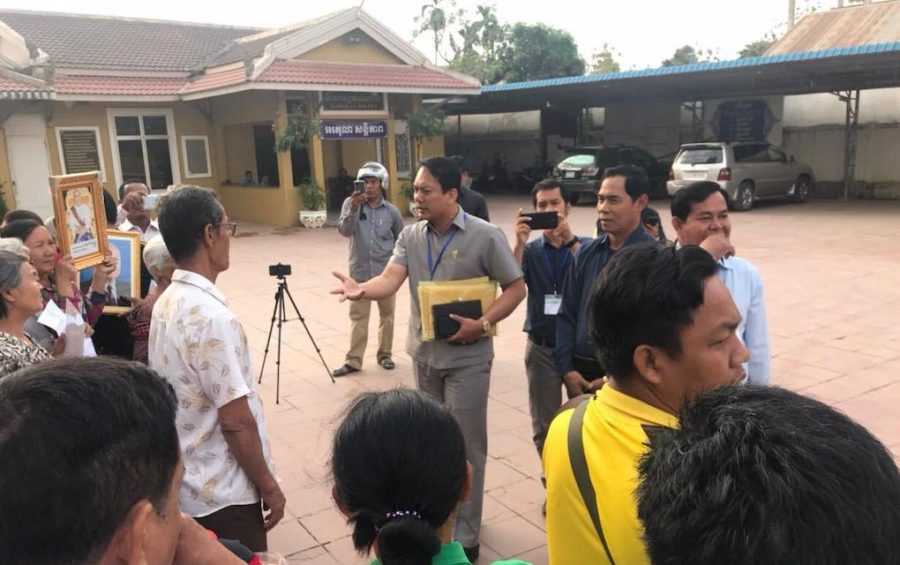 The Supreme Consultative Council was formed in 2018 after the ruling CPP swept every seat in the National Assembly in an election that year. The main opposition CNRP had been dissolved by the Supreme Court the previous year.
The Nokor Democracy Party first contested the 2012 commune elections as the Republican Democratic Party but has never won a seat.
Last year, former party president Sok Rat Sovann Panhchakseila and deputy Chan Pheap were arrested for intervening in a land dispute in Preah Vihear, and also kicked off the council.
Sok Phat, 63, a representative for families in the dispute in Banteay Meanchey's Tuol Pongro, said locals knew of Yet as a politician who was a former Khmer Rouge soldier, and had called on him for help.
The dispute involved a private company looking to pursue a development project, Phat said, but didn't know the details. Families were offered five hectares each as compensation to move, but Phat said only about half had accepted, since they had lived on the land for a long time and wanted to stay.
Earlier this year, Khmer Rise Party president Sok Sovann Vathana Sabung, also known as William Guang, was kicked off the Supreme Consultative Council after investigating a land dispute in Preah Sihanouk province.
Cambodian Youth Party president Pich Sros, a council member, said on Friday that the removal of Yet from the council should have come after an investigation.
"I think his termination was done in a rush," Sros said. "The firing is regrettable."
Another council member, Beehive Social Democratic Party president Mam Sonando said the firings seemed to be turning into a trend, and could lead to council members withdrawing themselves from participating.
Phal Virun, the Supreme Council secretariat head, berated a reporter when contacted.
"There is a royal decree — why doesn't the reporter check it clearly by yourself? Asking what do [I] think? Learn how to raise the right questions properly. You earn your living with your journalism career and you raise such a question. What do you mean?"