Prime Minister Hun Sen said garment workers who are suspended due to Covid-19 disruptions would receive an even smaller partial salary than he originally announced, while also postponing the Khmer New Year holiday and claiming that the "safest place" amid the pandemic was at work.
In a press conference in Phnom Penh on Tuesday, Hun Sen said suspended garment workers would receive a total of $70, or about 37 percent of the monthly minimum wage for workers in the sector. The government would provide $40 while factories would offer $30, he said.
The notice came after the Garment Manufacturers Association in Cambodia said last week that factories that suspended operations and had their cash flow severed by buyers would be unable to pay workers 40 percent of the minimum wage, as proposed by the premier in February.
Suspended workers would no longer be required to attend job skills training hosted by the Labor Ministry in order to receive the government payout, Hun Sen added.
The prime minister said in February that workers would be paid 60 percent of the $190 minimum wage — about $114 — with 20 percent coming from the government, if workers attended training, a requirement that had been criticized by unions.
On Tuesday, Hun Sen encouraged factories to remain open during Khmer New Year, during which time millions usually stop working and travel to visit family and friends, in order to limit the spread of Covid-19 in the provinces.
"The safest place at this time is at factories, companies and institutions," the premier said. "It is the safest option, so please, civil servants and workers, understand this difficult decision for the nation because it is not just the problem of the government alone."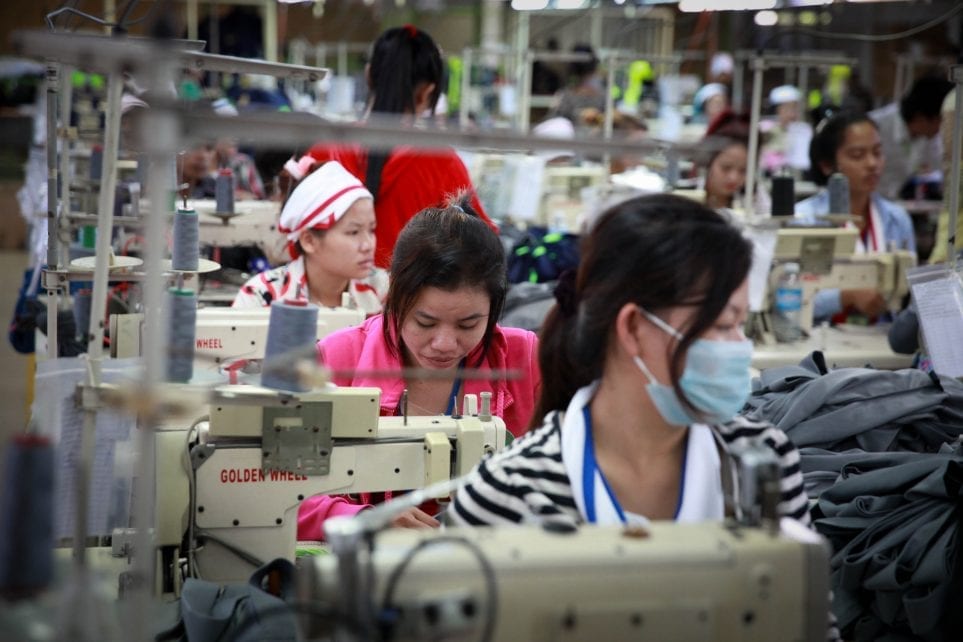 Ath Thorn, president of the Cambodian Labour Confederation, welcomed the government's decision to remove the requirement that workers attend skills training to receive suspension compensation. However, he said the decrease in suspension pay was detrimental to workers.
"I think this provision is too little," Thorn said. "Our workers still have difficulty with their daily expenses," noting that workers' monthly expenditures are generally $200 to $250, higher than the industry's minimum wage.
Thorn said unions would ask the government for the originally proposed suspension payout of 60 percent of the minimum wage for workers in the garment, construction, hotel and casino sectors; better support under the National Social Security Fund; assistance with securing microfinance and bank loan payment deferrals; and freedom for jailed union representatives.
"Unions are doing their best to help workers," Thorn said. "Regardless of the decision the government makes, we will wait and see what actually happens."
Hun Sen said five days of holiday time, instead of the usual three, would be offered to the workforce after the pandemic subsides, and that families could still celebrate at home, but large gatherings would not be permitted.
Last week, before Khmer New Year was postponed, police warned that they would ban big gatherings to limit the virus' spread.
Cambodia has confirmed 115 cases of Covid-19 in 12 provinces and Phnom Penh, with a total of 58 recoveries, according to the Health Ministry.
Seng Somony, spokesman for the Cults and Religion Ministry, said the decision to limit travel and gatherings throughout the country in order to slow the spread of the virus was the right one.
Small ceremonies and gatherings would still be permitted at pagodas and monk's dormitories, but the Sangha Board, which oversees the Buddhist monastic community, was still deciding on guidelines on the size of gatherings, Somony said.
Many monks were already complying with Health Ministry guidelines, reducing attendance at gatherings, using face masks and hand sanitizer, and trying to maintain distance as they collected alms, the spokesman noted.
The New Year cancelation "does not affect our practices, but it is great that the state is supporting us, making sure our monks are clear from disease and infection," he said.
Even though the national holiday has been postponed, National Police spokesman Chhay Kim Khoeun said forces would not clamp down on travel within the country. Police were still tasked with preventing large gatherings, which he described on Monday as meetings of more than 10 people.
"We don't have any orders to close the provinces, districts or communes," Kim Khoeun said on Tuesday. "But we will strengthen measures of patrolling and monitoring to guarantee security and comply with the Health Ministry's announcements."
Social analyst Meas Nee told VOD that the government seemed to have two reasons for canceling the public holiday a week before it was scheduled and limiting large gatherings: to prevent the spread of Covid-19, and to control the population and avoid possible protests over unemployment.
"There are unemployed [people] from abroad and those unemployed from inside and when they are gathering, it could become another matter while the government has enough reasons to worry," Nee said.
Tens of thousands of migrant workers have returned to the country from Thailand in recent weeks, raising concerns that traveling workers could spread the virus.
Nee also said keeping people at work was not a good option, since the risk of viral transmission was still high.
"[Infection] can happen at any time, both while traveling and staying [home]," he said.
The analyst recommended the government allow people to take a break from work by providing sufficient wages as a means of preventing Covid-19's spread.
Hun Sen also defended his decision to prevent a flight from Malaysia from bringing 150 Cambodians to Phnom Penh, saying that while the nation was in a difficult situation, the stranded nationals had not suffered as much as those who lived under the Khmer Rouge regime.
"We have not reached the point where people are dying like they did under the Pol Pot regime," he said. "We used to suffer through the Pol Pot regime but now in Malaysia, they won't let people starve."