Land protesters have begun camping out at a controversial lake, activists are undertaking a hunger strike, and unionists will continue their casino protests despite threats of legal action for gathering during the Asean Summit.
Phnom Penh authorities have issued a warning about security as Chinese Premier Li Keqiang, U.S. President Joe Biden and others come to town for the summit from Thursday to Sunday, but most of the city's active protest groups said they would not be put off.
This week, Boeng Tamok residents pitched tents to stave off landfilling near their lakeside shacks, NagaWorld strikers continued their nearly yearlong call for the reinstatement of sacked union leaders, and the Khmer Thavrak activist group began camping out at Freedom Park in a hunger strike demanding the release of a jailed opposition activist.
Hunger Strike
Five Khmer Thavrak activists began a walk to Freedom Park around 1 p.m. Wednesday. The park, which was formerly in the center of the city and attracted mass protests after the closely contested 2013 national election, has since been moved out to the northern outskirts.
The activists are calling for the release of jailed U.S.-Cambodian lawyer and political activist Seng Chan Theary. They began their hunger strike on Monday in Preah Vihear, where Chan Theary is imprisoned, before moving to Phnom Penh. They said they would continue for seven days, though they would take water, milk and Royal D supplement drinks.
The five activists were barefoot and wore orange prison jumpsuits as they walked north from the Chroy Changva bridge to the relocated Freedom Park, with around 10 officers following behind on motorbikes and taking pictures.
Activist Hun Vannak said he had not expected to make it all the way without authorities stopping them.
"They've softened their actions because Cambodia wants to save face during the Asean meeting," Vannak said. "I didn't believe we would get there."
The activists brought tents to the park, and said they intended to stay until Monday, November 14. There are public toilets at the park.
Chan Theary, a member of the banned main opposition Cambodia National Rescue Party, was part of mass trials against the opposition and moved to the Preah Vihear prison for "control."
Labor Rallies
Protesters from NagaWorld gathered again on Wednesday afternoon after pledging to demonstrate outside Phnom Penh casino during the Asean Summit from Friday to Sunday.
More than 1,300 workers were terminated last year, and 200 continue to seek reinstatement, saying the company illegally targeted union leaders and members in the layoffs.
Choup Sophorn, 40, said she was not part of the layoffs but has participated in the protests, which began last December.
Some officials had followed the protesters on Wednesday, she said, but otherwise the gathering was not stopped.
However, getting to the protest site could be a problem once traffic restrictions begin on Thursday, she said.
"We will see if they still open the road for us to come here. But if not, wherever they stop us we will demonstrate at that place," Sophorn said, adding that she was not concerned about the threat of legal action from City Hall. "This is scary but it's been almost one year. They just threaten us but nothing will happen."
NagaWorld protesters have previously been arrested, assaulted and summoned to court.
"I must come. If I don't come, they won't find a solution," added Kok Sreymom, 34. "We can't pause. We want to stop but they do not agree with us to stop. It would be better to find a solution and it will end it."
Lake Protest
Around 30 residents at the controversial Boeng Tamok lake began camping out on Tuesday to try to prevent further landfilling.
The lake has been parceled out among politicians' families, military officials and others, and is being filled with sand for developments while lakeside residents face eviction.
Around 250 residents along Road 151 on the lake's northeast have been told they are living in their shacks illegally and must make way for a road expansion.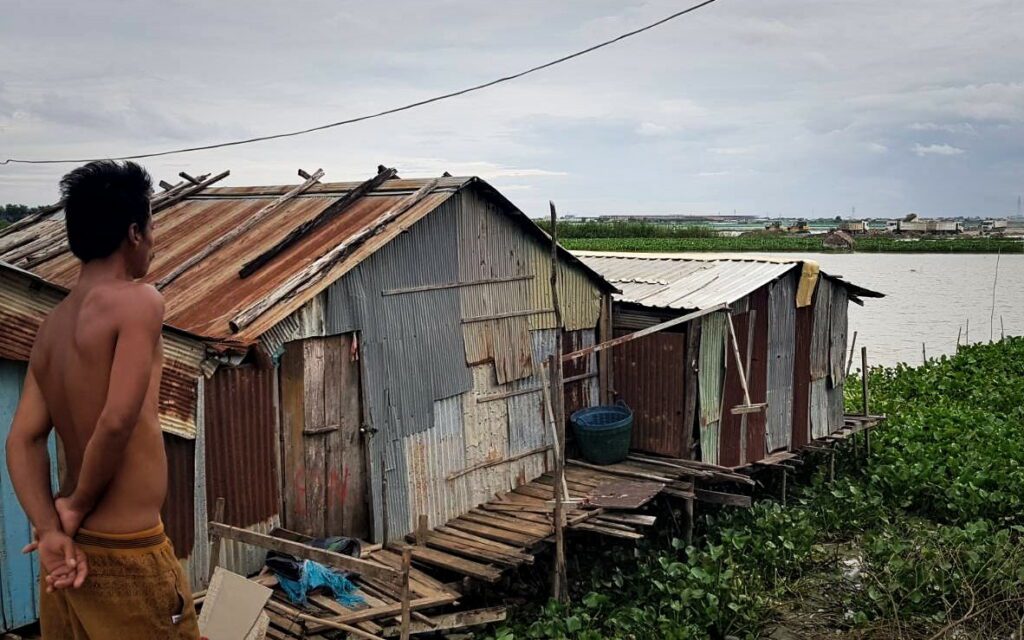 Sandfilling has affected the residents' fish farms and water vegetables.
"All the companies who are filling our land have never lived in our village even for one hour, and received hundreds of hectares, especially powerful people. We've lived here since 1990 and we don't want to move. We want to ask why would we leave this land of 3,000 hectares? We only want 5 hectares. Why don't you give it to us to live here?" said resident Sa Davy.
Residents would take turns staying in the tents, they said.
Prek Pnov district governor Thim Sam An said officials would find a compromise for the residents — after the Asean Summit is finished.
Friday Women
Another active protest group — the Friday Women, who have been calling for their opposition politician husbands to be released from jail — said they did not think they would be able to gather this week due to traffic restrictions.
Prum Chantha, whose husband, CNRP official Kak Komphear, is in jail, said most of the group's members lived outside Phnom Penh.
"We had planned to do it, but the situation seems already restricted. We want to go to the U.S. embassy [to submit a petition]. But we won't get there anyway," she said. "I really want to go. But it's impossible."