ORAL DISTRICT, Kampong Speu — The muddy-brown leaves with their pink spidery veins blend into the damp earth of Knong Psar's forests on the boundary of Kampong Speu and Koh Kong provinces. Until recently, Hing Sao stepped over the plants like any other as he traipsed the mountains for almost two decades.
But this plant, a jewel orchid native to Cambodia's cooler mountain ranges, is no longer ignored, said Sao, 32, a community leader in Kampong Speu's Tang Bampong village. After the peak season for hiking tours from May to July, Sao and other community members return to the forest to collect the jewel orchids for a little-known couple believed to be running a Chinese medicine business.
The jewel orchid collected by the community is one of many riches that the community guide said can be found in the forest, generating a new source of income for the remote residents by selling it for Chinese medicinal uses. But both a botanical expert and the guides themselves warned that it could be picked to near extinction — and if it is exported as claimed, the industry is illegal under international wildlife trafficking laws.
Sao guided VOD reporters through a 7-kilometer incline he says he traverses multiple times a week, into an area called "Knong Psar," a hiking area that's gained social media fame for its vibrant, mounded hillsides and stunning sunrises viewed from hilltops that reach higher than the clouds.
After community guides cash in on the peak tourist season in June and July — when the hills radiate green from the first rains of the monsoon season — Sao said the community spends a season collecting jewel orchids, taking multiple-day trips walking through dense patches of forest with their eyes on the ground.
Wearing sandals and socks covered in fish sauce to prevent leeches from latching onto him, Sao brought reporters into the forest, weaving through thin tree trunks and stopping frequently to brush off the intrepid leeches that snuck a bite anyway.
In the patch of forest close to his base camp, Sao spotted multiple jewel orchids, called pkaa thmor, which translates to rock flower. The teardrop-shaped leaves nestle close to the ground, and though Sao did not want to collect while touring reporters through the forest, he demonstrated how the flower can be cut at its stem so he can propagate it and grow another base of roots.
"Even though it's becoming popular, it will still be OK, it will still exist, if people here know how to pick it," he told reporters.
Uncovering Jewels
According to Sao, residents of Tang Bampong and surrounding villages began searching for the plant around two to three years ago, after a couple from Phnom Penh came to the village and spoke to a local shop owner in the Oral district village.
In Tang Bampong village, where Sao and other Knong Psar guides live with family, Nom Rakoeurn, 33, and his wife, Vong Sat, keep a small shop in their house, selling drinks, gasoline and sundries to residents.
Behind their wares are netted bags filled to the brim with uprooted jewel orchids. Collectors appear to pull out the plants from their roots, rather than cutting to propagate as Sao explained.
Rakoeurn said his father first met the orchid's buyers in 2019, when a Chinese husband and Cambodian wife visited his family's shop with pictures of the orchid. Rakoeurn and a small group of residents went into the forest with pictures on his phone for two days, and he came out with samples of the plant.
"At first it was very difficult to find because we never knew it before, but after two days we got to know it and it was a bit easier to find," he said.
Since then, the family has bought the plants from community members, who usually go in small groups of two to seven collectors to pick the plants from about July through October, toward the end of the rainy season.
Sat, 31, his wife, said they usually buy the plants at around $100 to $125 per kilogram, depending on the price offered by the couple. They receive a small amount of compensation in return, but she said it's not enough to sustain the family.
"My main job is still selling groceries. This is just for a few months of business," she said.
A Rare Find
Reporters received a contact for a woman named Phalla, who the community said was one of the pair who buys orchids to sell as Chinese medicine. Sat claimed that he had been to the couple's house in Phnom Penh and had seen a local customer come to buy the dried and crushed plant to drink as tea. She heard from the couple that they export most of the plants to China.
Phalla initially agreed to speak with VOD but said she was outside Phnom Penh and could not meet. In multiple follow-up calls she said she was still out of town or did not answer. VOD has not been able to get further information from the couple, but online listings and a Dutch researcher have given clues to the plant's identity and uses.
The plant itself appears to only have been recently identified in Cambodia. There are multiple varieties of orchids found in Cambodian forests, but based on appearance, the plant seems to be Anoectochilus lylei — first identified in Cambodia in 2013, and later published in a paper by Dutch botanist Andre Schuiteman.
When sent a photo of the plant via email, Schuiteman said it was likely A. lylei, but it would not be possible to confirm the plant's identity without seeing the flowers — which he noted was a challenge.
Part of the problem was that it was difficult to find A. lylei in the wild because it's been collected excessively for traditional Chinese medicine, Schuiteman said in an email.
The plant appears similar to another orchid commonly used in Chinese medicine, Anoectochilus roxburghii. Referred to as jin xian lian, the orchid is dried and marketed for a number of uses, such as reducing blood glucose levels and treating diabetes or pneumonia.
A reporter found a specimen that looks like the jewel orchid selling for 600 RMB ($84) for 100 grams on Yimutian, a Chinese online shop for agricultural products. The vendor, called Zhou Chengjian Medicinal Materials Firm, could not be identified elsewhere, but its post mentioned that the plant originated from Cambodia.
"I have seen Anoectochilus lylei only a few times in the Cardamoms and always in low numbers, so I would say that these orchids were already quite rare a few years ago," Schuiteman said.
He expressed distress when learning the orchids were being collected, saying that their sale was "almost certainly illegal" under CITES, or the Convention on International Trade in Endangered Species.
Cambodia doesn't specifically ban A. lylei under its own CITES anti-wildlife trafficking laws, but generally orchids are banned from being picked from the wild and exported for sale in any state, according to CITES. Propagated plants grown in cultivation are fine for export, and A. lylei and its similar plants are also popular among orchid collectors as well as Chinese medicine users.
When asked whether the orchids could be propagated, Schuiteman agreed with the community guide, saying it would take two years for A. lylei to develop into new plants.
Chinese and Taiwanese researchers are propagating the plant "in huge numbers" from plant tissue cultures, but wild orchids are sparse, he added. What's more, it's a "red flag" that the medicine sellers prefer wild-collected plants over cultivated plants, as it could indicate that the medicinal properties are unproven, he said.
"In any case, this trade of wild-collected orchids for TCM is extremely detrimental for their conservation and it should be prohibited."
Forestry Administration head Keo Omaliss did not respond to requests for comment.
Community Knowledge
Back in the Knong Psar camp, three collectors relaxed in hammocks after searching for the jewel orchids in the forest.
Kon Channa, a 41-year-old collector from Sangke Satoap commune's Chumnoab village in Oral district, told VOD that during a one-week trip like this, he can generally collect between 1 and 3 kilograms of the plants.
Channa said that this was just a side job for him in addition to rice farming, but the weather brought him up to the mountain earlier than he would have, as he doesn't expect to make good money from paddy rice this year.
"This year, it's been raining a lot and it affects all the crops, it's not good," he said. "So I'm taking that time to be here. If I were busy working in the rice field, I wouldn't come."
Channa admitted he used to cut trees in the past for a middleman because logging paid better than other job options, but collecting orchids offered a less strenuous livelihood — even if there are uncountable leeches to contend with.
Heading down the mountain, community guide Sao said he, too, planned to return the next day to rejoin the group from Chumnoab village and earn a little extra income from the plants.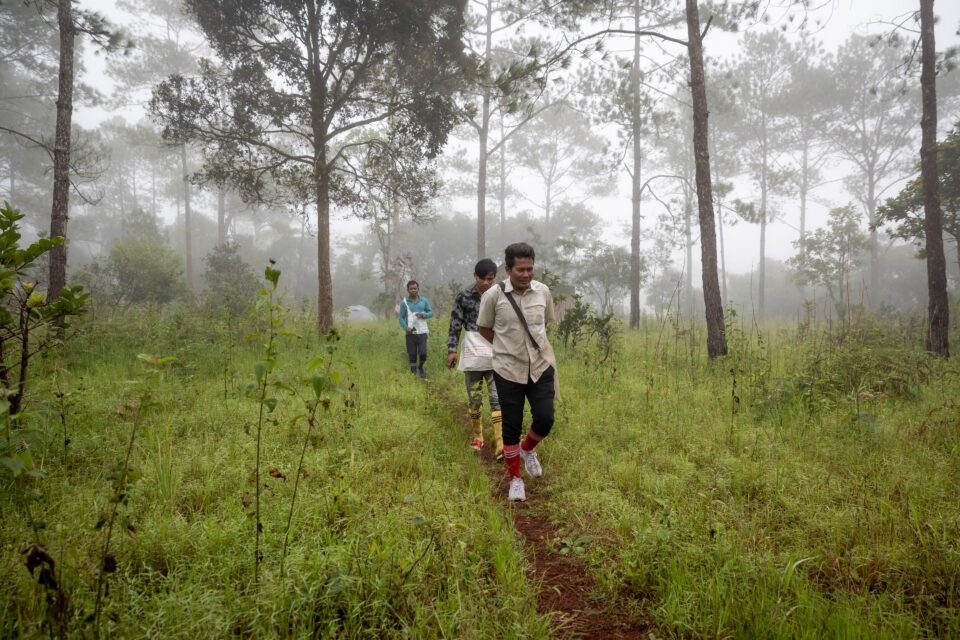 But at the rate they're being picked, and without care to propagate more, Sao believes the plants may disappear within five years.
"Before there were a lot, and since people started to look for them and pick them, it's hard to find them," he said.
Sao is not the first in his family to enter the forested mountains for his livelihood. He said his family and the other communities are from an indigenous group called "Choung," which appears not to be among the 17 indigenous peoples officially recognized by the government.
Though he's lost the language, Sao said his parents passed some of their stories onto him. A long time ago, he explains, Tang Bampong village used to be known as a hideaway, where spirits could hide their jewels in the forest for a period of time, and a worthy person could go into the forest, find jewels and borrow them.
According to the legend, people used to come to the forest in his village and pray to use the fine jewels for a celebration, and then find them among the trees — a luxury they can borrow and return when finished.
"As time went by, people came to take [jewels] from the forest and keep them, and it started to disappear," he said.
"I've never gone to look for it, but now that place has become a rice field for farmers."
The jewels might be gone, but Sao sees different riches within the forest. From their tangles on the ground, he pulls up several different types of vines, pointing out differences in the leaves or shape. Careful not to cut too deep, he shaves off bark with a machete to extract thin, fragrant chips of the fragrant doeum kravanh, or the cardamom trees that give these forests their name.
Sao explains that he can mix six different plants from the forest into a medicinal tonic that his community used to use to treat a range of illnesses before they started going to hospitals. But the tonic still has a special use: to stimulate a man's ability to have sex, Sao said.
The recipe was passed onto him by his grandfather, and Sao too had tried the tonic for its aphrodisiac purposes and found it effective. He was eager to share this knowledge with people who needed it, adding that the constituent plants were easily available and regrow easily in the forest, which made it more sustainable than the jewel orchids.
"I love to help people" using this tonic, he said. "Some people [don't find it] easy to confess what they want, especially when they lack sexual ability, and if I have it [advertised] online, people will easily reach out to me without having to confess a lot."
As more tourists come to Knong Psar in its peak season, Sao hopes to share these riches, rather than the jewel orchids, to promote his own culture and knowledge.
"Maybe now as we get access to social media and promote it, I think this will become more popular and we will be collecting it more than the Chinese [medicinal herbs], because these types are easier to find and now we can promote ourselves."
Reported with support from Konrad Adenauer Stiftung Cambodia