A forestry activist who said he was beaten by villagers for raising the alarm about illegal activities in Ratanakiri province forests has filed a new provincial court complaint against officials and others.
Chhorn Phalla said he filed a complaint earlier this week against 16 people in Lumphat district's Seda commune — including the commune chief, deputy village chief, a police officer, farmers and wood traders — accusing them of intentional violence and threatening his life.
Phalla had previously accused authorities of condoning or colluding in forestry crimes, including allowing encroachment into Lumphat Wildlife Sanctuary and Seda communal forest land, as well as grabbing land for private sale.
The activist said he faced abuse during a public forum in the commune on July 8, in which villagers allegedly threatened to kill him if he did not withdraw a previous complaint that he filed against commune officials for ignoring forestry crimes.
Phalla also said that a shelter on his plantation burned down on Sunday.
In the recent complaint seen by VOD, Phalla demanded punishment for the 16 accused and compensation of 120 million riel ($30,000). The activist also urged the government to investigate the violence against him as well as the alleged forestry crimes he attributed to the villagers and officials, saying he decided to protect the forest based on comments from Prime Minister Hun Sen.
"As for failing to handle [the problem] or [finding] no solution, it is their duty because they are holding an independent role as a judicial institution in order to make sure victims get compensation and an improvement [to their situation]," he told VOD on Wednesday.
Keo Pisoth, spokesperson for the Ratanakiri Provincial court, said the court had received Phalla's complaint and it should be addressed soon.
"It may not be long at the moment because his excellency, the Minister [of Justice Keut Rith,] has urged to speed up the work to reduce the backlog of cases," he said. "It will not be long but I cannot give a specific date."
Bun Theanseoun, the deputy chief of Samot Krom village who was named in the complaint, said he was not to blame for forest crimes.
"Frankly speaking, I don't see any threat," he said when asked about the complaint. "[We] are indigenous people and we don't know how to tell a lie."
Than Malel, a Samot Krom community representative who was also named by Phalla, declined to comment, while Chhoam Chamroeun and Orng Buntheang, Seda commune's police chief and commune chief, respectively, could not be reached.
Soeng Senkaruna, a spokesperson for human rights group Adhoc, which has provided Phalla with a lawyer, said the court should investigate Phalla's claims and ensure that he and other forest monitors are safe from violence.
"Whenever justice is provided, he can return back to his village and that will not be a problem," Senkaruna said. "But if he has not gotten justice through legal means, Phalla and other people who are escaping from villages will not be able to return to their village because the perpetrators are still free from legal actions."
Phalla said that he had worked as a forest defender since 2016 and had filed eight complaints against different officials and residents since 2017, however, he claimed that the courts never took any action.
Adhoc held a press conference about Phalla's experience last week, during which the activist said the district governor told him to stop filing complaints against authorities.
Lumphat district governor Nou The told VOD that Phalla had the right to file a complaint, and the provincial court would make a decision based on its own investigation.
"People have enough rights," The said. "Whoever [wants] to complain, let them do it. The important thing is the investigation by the court."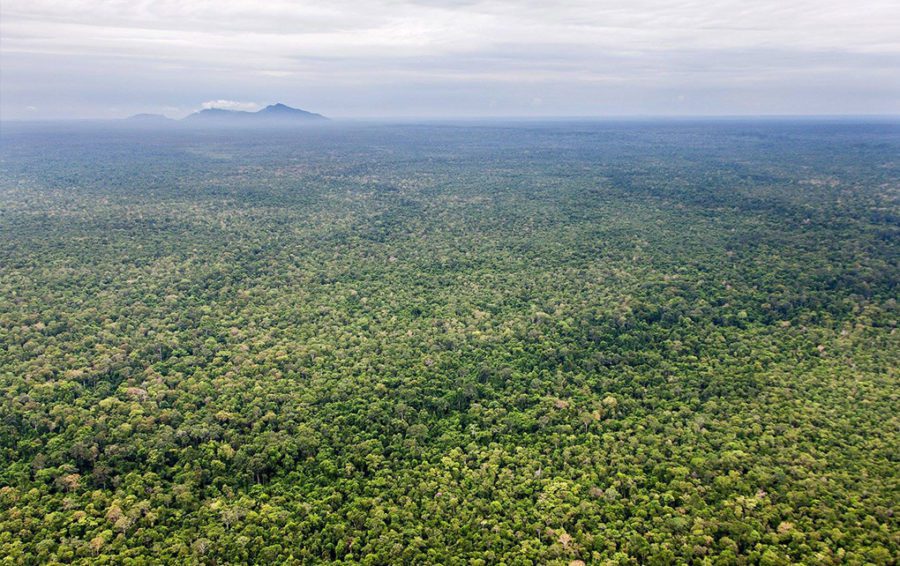 In a separate case, a group of 60 activists called for the closure of a timber business at an economic land concession bordering the Prey Lang Wildlife Sanctuary, where an activist died last week after fleeing from security guards while he and another activist attempted to investigate timber smuggling allegedly connected to the concession-holding company.
In a statement released on Monday, the 60 activists accused Think Biotech and its sister company, Angkor Plywood, of buying timber from loggers in the sanctuary and laundering it for sale abroad. The statement also said the company had changed its tactics to avoid open sawmills and instead was sending individual loggers into the forest, and evading crackdowns by forest rangers.
"We wonder why the government refuses to shut down these companies' timber businesses, even as USAID/Greening Prey Lang project, donors, national and international organizations, and the Prey Lang Community Network have issued official reports and provided evidence of deforestation and organized forest crime in and around the Prey Lang Wildlife Sanctuary," the statement said.
Sen Sothea, an activist from Stung Treng province and a former member of the Prey Lang Community Network, died from injuries from a motorbike accident after he and another activist, Heng Sros, were threatened by a Think Biotech guard, according to Sros, who was with Sen Sothea before he died.
Lu Chu Chang, director of the two companies, has said the firms were not connected to logging within the sanctuary.
Clusters of cleared forest within the sanctuary, which can be seen in satellite imagery, border the 34,000-hectare concession.
(Translated and edited from the original article on VOD Khmer)