Phnom Penh's "red zones," the areas of the capital with the most restrictive Covid-19 lockdown measures, were removed effective Thursday, leaving most of the city in yellow-designated areas with about a dozen "orange" pockets remaining.
The city's daily Covid-19 case numbers have mostly remained below 200 for the last week, with the capital recording 191 cases on Wednesday, slightly up from 143 and 130 cases on the two days prior.
Nationwide, daily new case numbers have trended down recently with average daily recoveries rising, resulting in a decline in active cases for the last six days.
While cases appear to be dropping, authorities this week stressed the need for continued health precautions as outbreaks have emerged across the region, adding that officials are keeping close watch on factories and dense urban areas.
In the last few days, clusters have been reported at factories in Kampong Chhnang, Kampong Speu and Takeo provinces, as well as at Phnom Penh construction sites.
In the capital, some whole villages and parts of others in six communes within five districts, Chbar Ampov, Toul Kork, Pur Senchey, Russei Keo and Meanchey, remain as medium-restricted orange zones, according to an order from Phnom Penh City Hall issued Wednesday evening and signed by Phnom Penh governor Khuong Sreng.
The orange-designated areas include:
– Parts of Doeum Chan village (located behind fish stores) in Chbar Ampov II commune, Chbar Ampov district.
– Village 23 in Boeung Kak II commune, Toul Kork district.
– Trapeang Thloeng I village, Trapeang Thloeng II village, Trapeang Thloeng IV village and Tuol Pongro village in Choam Chao I commune, Pur Senchey district.
– Parts of Chong Khsach village and parts of Bak Touk village in Toul Sangke I commune, Russei Keo district.
– Parts of Village V in Stung Meanchey II commune, and parts of Damnak Thum II village, parts of Damnak Thum III village and parts of Trea Boun village in Stung Meanchey III commune, Meanchey district.
"Besides geographical locations designated as orange zones, all other geographical locations in Phnom Penh are designated as yellow zones," the City Hall order says.
The newly announced orange zones will be in effect until May 26, while yellow zone measures in the rest of the city will remain for two weeks until June 2.
Authorities would "urgently enforce health measures" and seal off rental houses, rooms, buildings, businesses and small city blocks if positive cases are identified, and exposed people would need to quarantine and be tested, City Hall said.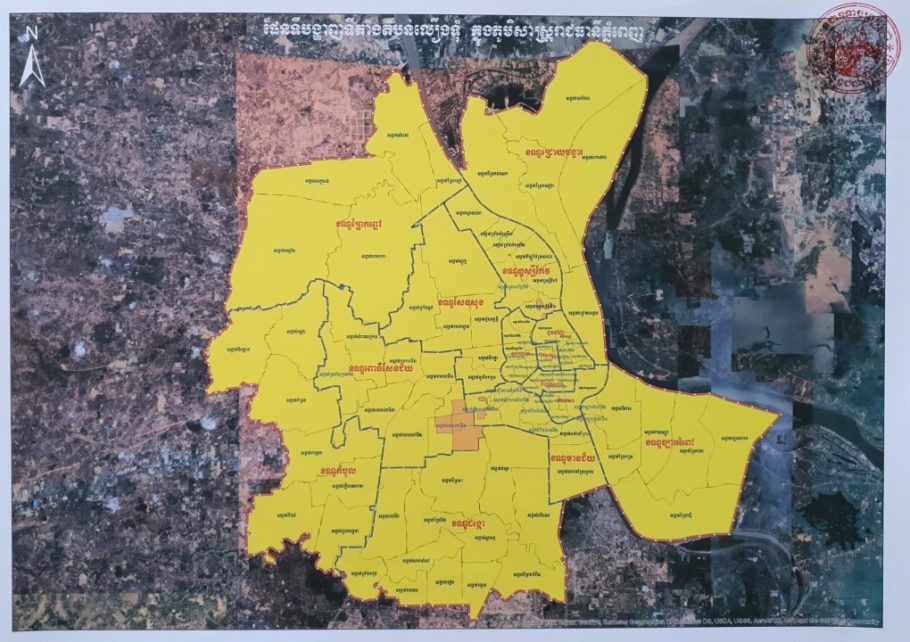 Despite Stung Meanchey III commune's Damnak Thum II village turning from a red zone to orange on Thursday, resident Sim Art, a vendor at Doeum Kor market, said her family continued to face serious livelihood problems and debt.
"I am about to go out to sell some vegetables on my bicycle but I do not know what will happen. I have no money," she said. "The bank [staff] arrived at my home yesterday. They only give one or two days more [to pay]."
Vorn Pov, president of the Independent Democracy of Informal Economy Association, an informal-workers union, welcomed the lifting of red zones and narrowing of orange zones. But he also called on officials to defend locked-down debtors from creditors requesting payments despite government calls for lenders to allow payment delays.
"The debt is still being demanded, no matter how [their area is closed off]. They are calling for it to be paid through Wing," Pov said, referring to the electronic money transfer firm.
"I ask the government to intervene specifically on the debt to the private microfinance institutions to delay for an appropriate time, and secondly, to make sure to support people to live properly."
Additional reporting by Nhim Sokhorn and Nat Sopheap
Correction: An earlier version of this article had mistranslated Boeng Kak II commune as Boeng Keng Kang II commune.