About 100 red-zone residents stood on Veng Sreng Blvd. on Monday morning demanding reduced rent, as increasing numbers of police officers and city officials gathered around them.
Police blocked traffic on their side of the road, deputy governor Nuon Pharath reprimanded them through loudspeakers for leaving the restricted area, and police officers began to wave the protesters back through a small gate.
"I have placed additional intervention forces. This is not about protesting … you are breaching the Phnom Penh lockdown measures so we must implement the Phnom Penh measures too. If you do not go to your room, we will implement administrative measures," Pharath told the crowd, backed by officers armed with assault rifles and electric stun batons.
"I do not oppose freedom of expression, but at this time I need to protect lives," the deputy governor said.
The workers on Veng Sreng had brought with them cardboard boxes branded with the logo for Vital bottled water, flattened for shade. Some had turned them into protest banners: "Decrease rents 50 percent in red zones."
Vital is the state's chosen bottled-water supplier for the lockdown, and is produced by a company run by a senator's daughter-in-law and formerly by a daughter of the prime minister.
"Brothers and sisters are in the red zone and you gather like this," Pharath said through an amplifier. "I want you to go back to your rooms and have only a few representatives to negotiate with the owner of the house."
Workers living in nearby apartment blocks looked down at the proceedings from their balconies. The protesters gradually returned through the gate to their red-zone residence.
Dor Thon, one of the protesting workers, said they weren't afraid.
"We do not have work for nearly a month. Where could we get the money for rent? Every day we're already challenged to get food," Thon said.
Wage payments from last month were due on Thursday and Friday for most workers, but it wouldn't be much as they had hardly worked, he said. They would need to ask family in the provinces to send them money, Thon said.
Voeun, 36, another protester, said she had lived for 10 years in the Stung Meanchey 3 commune complex, which had as many as 1,000 residents.
"They said if we were unhappy living in the rental rooms, they told us to move out. So this made us very angry," said Voeun, who would not give her full name. "In 10 years, we have never seen any people coming to protest. … This is the first time we've dared to protest since everyone has no money."
After two days of protests, the owner had at first agreed to a $15 discount and finally $20 off. Rents are typically about $65. "[Many] are not happy with it, but it's better than nothing," she said.
Monday's protest came two days after Prime Minister Hun Sen urged landlords to reduce or suspend rents for workers in the lockdown zone in an audio message posted to the premier's Facebook page. Landlords should share the burden as many workers had not received money from factory owners during the lockdown, he said in the recording.
"In summary, I would like to appeal to all landlords to do whatever it takes to show humanitarian gestures to our workers," he said in the message.
Krouch Darak, a landlord in Stung Meanchey III commune, said that he understood the workers were struggling, but he was also under pressure from the bank. He said he would be able to reduce the rent more than the $10 discount he already gave if the bank would delay repayments or charge less during the lockdown.
"Honestly, the bank knew that we are in the red zone, but the bank said no [we don't have] that kind of policy," Darak said. "I have asked since two or three months before. If the bank was understanding and charged only interest, then I could reduce the rental fee more."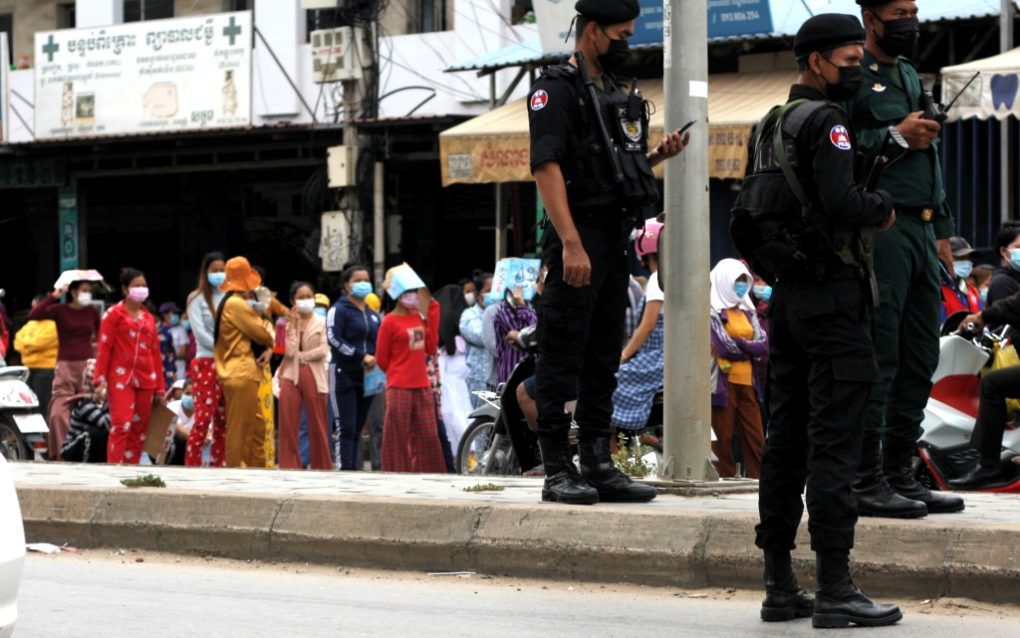 Up the street, another group of about a dozen red-zone residents, returning from a grocery run and waiting at a gate for their landlord to let them back in, said the 100 inhabitants of their block were also ready to resist.
"If they ask for money, we will also protest," one woman said.
Lockdown conditions have eased across many other parts of Phnom Penh amid previous food protests and complaints over jobs and livelihoods.
Even as Boeng Keng Kang market remains closed, many sellers were lined up on Monday on the road outside selling their usual wares. Olympic market also had roadside sellers, though they were behind ropes and an officer yelled for people to maintain social distancing.
Veng Sreng Blvd, the traditional heart of the city's garment manufacturing industry, runs through Meanchey district toward the airport, and is also at the center of most of the remaining red zones. By late morning, traffic was heavy with trucks, motorbikes, cars and tuk-tuks, but metal barricades variously marked "orange" and "red" blocked off most side roads coming off of it.
It is also no stranger to protests. In January 2014, military police opened fire on thousands of garment factory workers protesting for a $160 monthly minimum wage, killing four.
On Monday, the Church of Latter-Day Saints was made a Covid-19 testing center. Kun Nora, 47, a soldier, said he had brought his son, a suspected contact of a Covid-19-positive person, from Dangkao district to be tested.
"Everyone's experienced some hardships, because we couldn't go to work to earn money," Nora said. But the easing of restrictions had not simply solved all the problems. Many workplaces remained closed, and the outbreak itself "doesn't seem to be better since it keeps spreading," said Nora, who had already been vaccinated.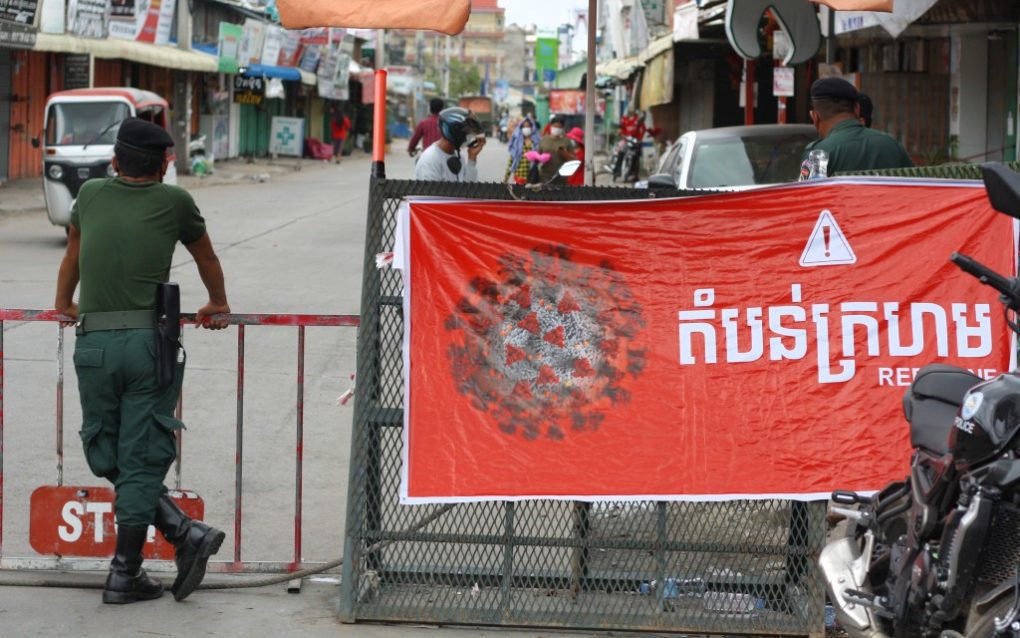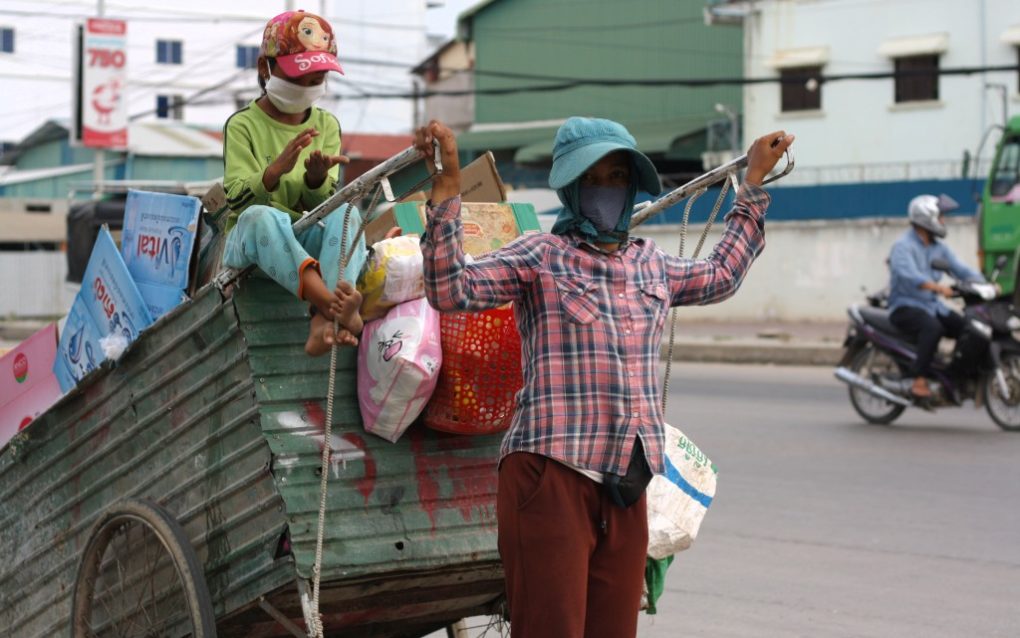 Da Sreyleath, 30, pulled a hand-drawn cart full of used plastic bottles and cardboard for recycling. She was a factory worker till about six weeks ago, when work was suspended. Monday was her first trip out as a recycler, picking up trash off the road, and her young daughter rode on the top of her hired cart.
"I borrowed money from others to pay house rent," she said. She was happy to have some work now, but "it's still not enough" to support her four children, Sreyleath said.
For Kub, 42, who would not give his full name, Phnom Penh was for now the worst of both worlds — at risk of infection, and without opportunity.
The construction worker was sitting on the roadside waiting for a ride back to his hometown in Prey Veng province. Work had halted at the small building site he worked at in Prek Pnov district, he said. He didn't have enough for the fare, so his family would pay the driver when he arrived.
"There's no work to do, no rice to eat," Kub said.
Additional reporting by Khan Leakhena