Nai Phun says her rice field was only one month old when the bulldozers came to clear it. The 46-year-old resident has been told she lives in the path of a future runway, and her family and 12 others are currently being pressured to move out and take compensation of $8 per square meter — much less than the land is worth, she says.
"They're trying to finish us off like corn, they take us one by one," she said on Tuesday.
Her husband, Nai Thorn, 48, had even taken a construction job at the airport until he realized how his family-of-four would lose their home.
"When the government first announced the airport project, we were happy because we would have work to do. But when we started to work, we realized that it will impact [the community]," he said.
Though they feel intimidated by provincial authorities, and a village official was detained and questioned over the weekend for standing up for the community, the residents protesting the "Airport City" development have built a small, makeshift barricade of branches and even held a cursing ceremony against the developers.
Since last month, residents have piled thin tree branches into a feeble barricade in Boeng Khyang commune, behind which they've set up a tent facing the Kandal province airport development. They wait at the tent to see if an excavator will try to come and plow up their plots of land. Almost 40 people sat around the shaded banks of a stream on Tuesday morning, saying they represent some 500 or 600 people from four communes in Kandal province. The residents are keeping up their promises to protest the 2,600-hectare new Phnom Penh airport and Airport City development, which has impacted homes and farmland in Kandal and Takeo provinces.
Kheang Sokhean, 30, a representative at the Boeng Khyang commune protest site, said the people protesting had been offered $8 per square meter for their land or to swap for a plot outside the area. However, he said the protesters have land titles and so they're holding out for a price that approaches market value — at least $20 to $30 per square meter. One woman pulls from a shoulder bag her land certification document for 3,192 square meters in Boeng Khyang commune, which was signed by the Kandal provincial land management department in 2010.
"We've learned that in 2023, there will be the first [airplane] landing, but so far there's no solution for us," he said. "We need to act quickly so we can buy the area we want" with appropriate compensation for their land, he said.
The protesters on Sunday held a cursing ceremony, asking the god of land to seek justice from the developer, Overseas Cambodia Investment Corporation, and its joint venture with Civil Aviation to develop the airport, Cambodia Airport Investment Co. Ltd.
In the ceremony, the residents asked spirits to bless the people of the four communes facing land grabs and ward off the developers, the "invading enemies": "If you come on the road, the car will overturn in a traffic accident. If you come through the air, the plane will crash and disappear. If you come on the waterway, the ship will disappear."
"It is a curse to show our suffering," said Sokhean. He said they used ash to represent how people in general — including protesters and the developers — will be left with nothing when they die.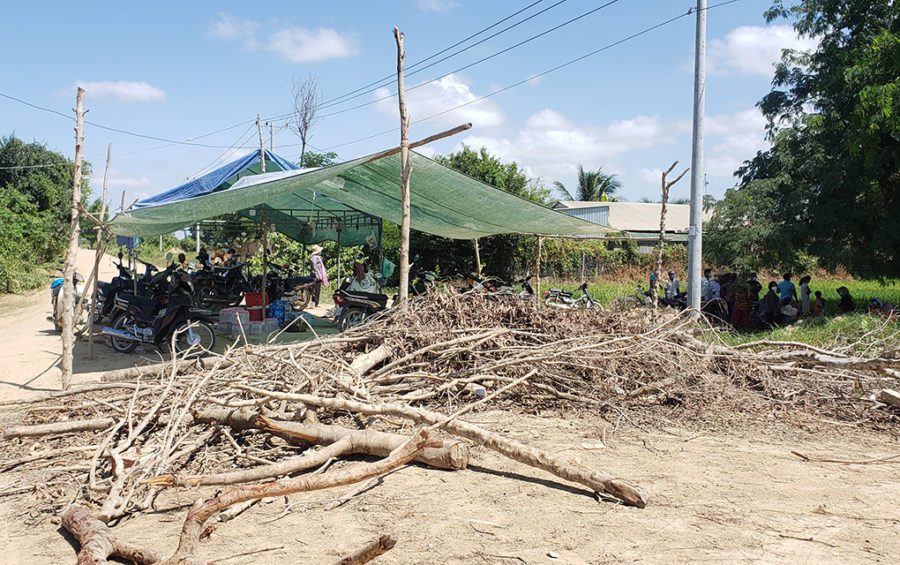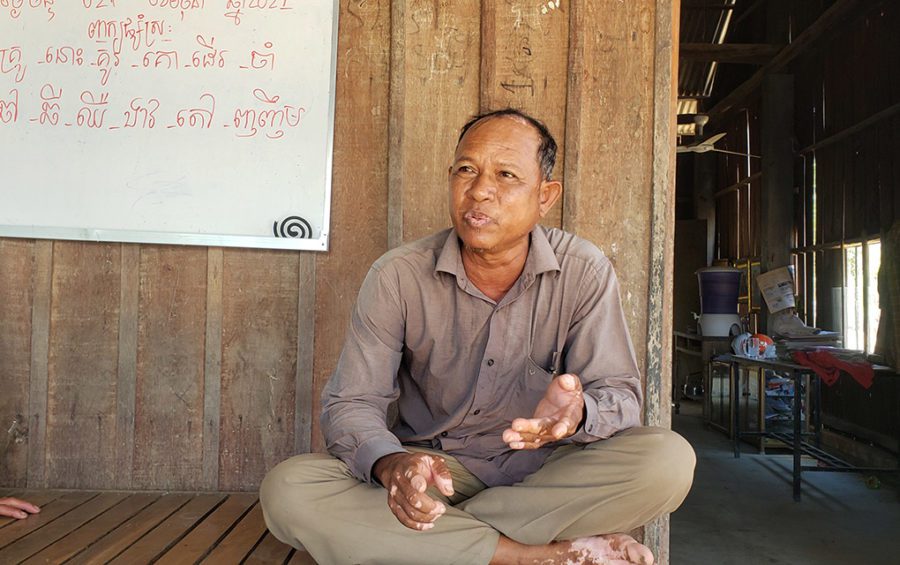 Village Official Questioned
For the three days after his detention, Mil Ra, 53, has not been able to sleep easy. The deputy village chief of Takeo's Pot Sar village, just a five-minute motorbike drive from the Kandal province protest site, said he had been sleeping at his brother's house, and he was growing weary of dogs barking at night.
Ra, deputy village chief of Pot Sar commune's Pot Sar village, said he had become nervous after he was taken in for questioning on Saturday. He was brought to the Pot Sar commune police station at 8 a.m., transferred to Kandal provincial police headquarters, and held for questioning until 5 p.m.
Two days before, the deputy chief started making appearances in news reports and Facebook videos, speaking out in support of his villagers and others protesting for better compensation. It was painful for him to see so many people suffering because of the land deal, so he decided to speak out, even though no other local officials, including the Pot Sar village chief, shared his view.
"If they get this price [for their land], they will die from one generation to the next because they are already poor," he said.
In one video posted on Thursday, Ra addressed Prime Minister Hun Sen, saying that he had helped win votes in the last election so the premier should work to protect land for Pot Sar villagers.
"You have to understand that you must work hard to get your votes and walk from home to home. … Before, I folded my knees before you and paid respect. But from now, there are no people who have merit."
Police took his phone for the entire time he was questioned, Ra recalled. He didn't fully remember everything he was asked or told, because the authorities spoke for a long time, but he said he had defended the speech that was captured on video.
"They asked: Who forced you to talk? And I replied, 'No one forced me. I speak from my heart,'" Ra said. "It's from my heart. I swear I would die and leave behind my five children" if it was forced, he said.
Takeo provincial governor Ouch Phea said he was investigating the land claims and compensation, but it was taking some time because some of his constituents held farmland in other provinces. But when asked about Ra's questioning, he referred questions to Kandal province authorities.
Lak Meng Thy, Kandal's deputy provincial police chief of minor crimes, could not be reached for comment.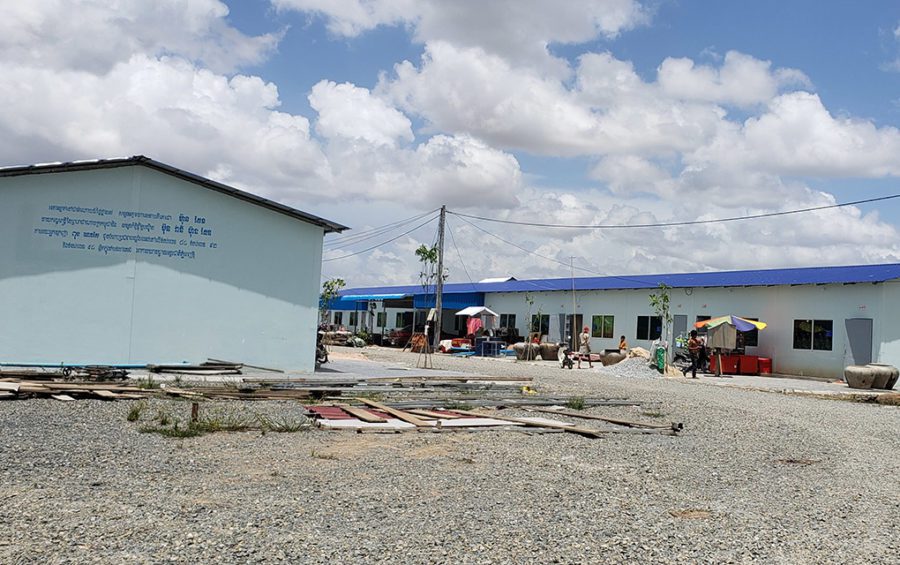 Unclear Timelines
Both in Takeo and Kandal provinces, residents indicated that they had not been aware of the span and timeline of the development. Sokhean, one of the Boeng Khyang commune protesters, said the community had never been given a deadline to accept compensation for their land, and it was unclear how a land swap would be carried out.
Another Boeng Khyang resident, Lonh Vanna, 38, said she was told around three years ago that her land would not directly be part of the project development, but there could be some adverse impacts like air pollution and noise. Her land is near the road, so she feels she could earn even more money by selling, but she would settle for $20 or $30 per square meter.
OCIC could not be reached through multiple contacts.
Thorn, the construction worker, stays at the protest site in the daytime, as he was fired from his job shortly after his wife began fending off bulldozers. Cambodia Airport Investment Company fired him more than a year into his employment after his supervisors found out he was participating in the airport protests, and he tried to stop an excavator from digging up his family's rice field. Over that protest, he lost his daily income of 35,000 riel ($8.75) from the OCIC joint venture.
"Now they try to purify [the workforce], but they used to take anyone," he said.
Thorn also expressed frustration that fishing families who were squatting on the edge of the stream near the protest site were granted houses and a piece of land, even though they were untitled.
About five minutes away, rows of newly-constructed blue houses rise out of an empty field, made of thin siding and tin roofs. Some of the buildings say in painted letters that they were gifted by Prime Minister Hun Sen.
Phea, 50, has been living in one of the sparse houses offered for relocation for about a month. He heard that he would receive a hard title signed by district authorities for the land, but he had not received it yet. However, he lives too far from the lake so he can no longer fish, and he is not sure how long the arrangement will last.
"They tell us we can live here permanently but we're not sure," he said.
Oun Soeun, a 69-year-old Pot Sar resident, said the authorities had previously told villagers not to sell their land, because it could become an airport with a better price. So she's frustrated now to see such low compensation offered for their territory.
"They say the state is poor, so the government is building an airport and asking the people to help," she said. "If [Hun Sen] comes here face to face and says he's poor, the children can help [him]."
But she said she doesn't believe the government is poor, based on the luxury cars she sees.
Note: This report was produced with support from the Rosa Luxemburg Foundation under the financial support of the German Federal Ministry for Economic Cooperation and Development.