POIPET, Banteay Meanchey — Many guesthouses and hotels across Poipet have been fully booked out by "online" companies to house their foreign workers, turning the city into a boomtown for the hazy work.
"I don't know what it is," says O'Meas Hotel receptionist Uy Nita. "I just know they say 'online,' 'online.'"
The word is repeated across the city among local residents waiting tables, driving tuk-tuks and working in tourism. Asked to elaborate, they can't explain what "online" entails, but they say it's what has driven Poipet's rapid growth in recent months.
In Sihanoukville, the country's ban on online gambling at the end of 2019 transformed a booming, if crime-ridden, casino industry into global scam operations worked by at-times trafficked, tortured and detained foreign nationals. Poipet's "online" industry grew in a similar timeline before really picking up in the last few months, locals say, but foreign workers here appear to be mostly free to go in and out or commute independently.
Nita, at O'Meas, says she's approached almost every day by Chinese and Thai agents to inquire about booking out the whole hotel on National Road 5 near the Thai border.
Hath Neth, who works at Stoeng Meas guesthouse nearby, says the offers are to book entire buildings for one year.
"People keep coming to ask," says another neighbor on the road, Sopheak Mongkol guesthouse owner Tan Ay Hay. "It started a few months ago because they're full in town."
Just north of National Road 5 is the main Poipet town, with its markets, shops and at least a dozen buildings where security officers are standing guard and say there are no rooms available for rent because companies have booked them long-term for foreign workers.
One building manager says his whole building is rented out to Indonesians, who do their "online" jobs inside. Across the corner is a building rented out for Thai workers, and down the street is an under-construction site that has already been booked out, he says.
One street has five such buildings on one block, and a large sign: "Online gaming office space for rent."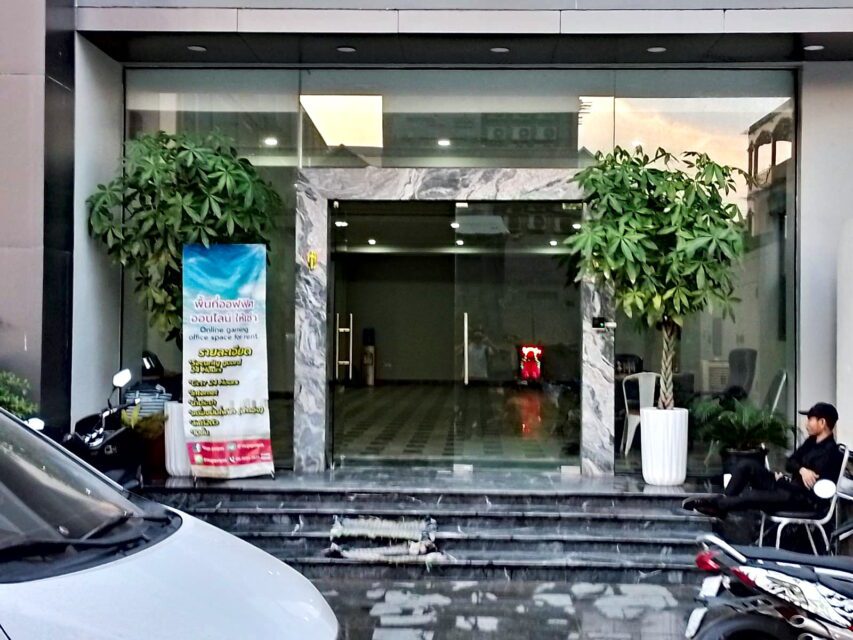 Inside converted hotels, there appears to be strict security, including metal detectors and fingerprint readers. The Sand Palace Hotel has casino tables and electronic slot machines on its ground floor on threadbare carpet, and staff who say that "online" is upstairs. A group of foreign workers in town who are approached by reporters say they are Thai and don't speak English or Khmer.
Banteay Meanchey provincial spokesperson Sek Sokhom says investors are simply showing faith in Cambodia's peace.
"When we have proper security and rule of law, they come to do business in our [area] so the huge and high buildings and casinos have increased because they trust in the government," he says, drawing parallels to developments in the other side of the country on the Vietnamese border. Svay Rieng's Bavet city has also seen a rise in casino developments — and reports of human trafficking.
Sokhom says he is not sure what "online" entails, but it is part of "industry 4.0."
"I am not clear and you can ask the spokesperson for the Ministry of Telecommunications, they know what is '4.0' … people selling their products online, playing games online, downloading world news," he says. "They all use electronic systems so the managing and sending of information and gambling is conducted online, and some companies are registered with the Ministry of Economy and Finance."
Telecommunications Ministry spokesperson Meas Po hung up on a reporter, while another spokesperson, So Visothy, could not be reached.
Whether it is online gambling, scams or something else, Poipet's burgeoning "online" industry has also lifted the surrounding economy. Even guesthouses that have not rented out to companies say they are busier than before, and migrant workers are arriving from around the country for work.
Ke In, 60, arrived in the city on Saturday afternoon from Kampong Thom with three relatives. He says they are following his son, who earlier moved to Poipet and is working as a laundryman.
"Poipet has a lot of jobs," In says, smoking a cigarette as he unloads luggage from a van. "I'm looking for a job."